Notice something different about us? That's right, eagle-eyed parents out there… we've dolled ourselves up for the mother of all makeovers – a brand new site!
Here at HoneyKids, we love it when our nearest and dearest celebrate new additions to their families. So imagine how happy we are to see the latest arrival in our midst: a brand spanking new website! Cue the happy dance! Whether you're an old friend or a newbie to the site, first off: a big, HoneyKids welcome. And, before you get stuck in to the latest and greatest reads about all things parenting in Singapore, let us show you around…
A poppin' palette
We've gone big, we've gone bold… yep, our colours are bright and glorious and we're totally digging them.
Read, baby, read
Can't get enough of our content? Cancel your plans and read on, baby! When you're reading one of our articles, you'll find our suggestions for similar pieces to keep you hooked and in the know. You're so welcome.
Videos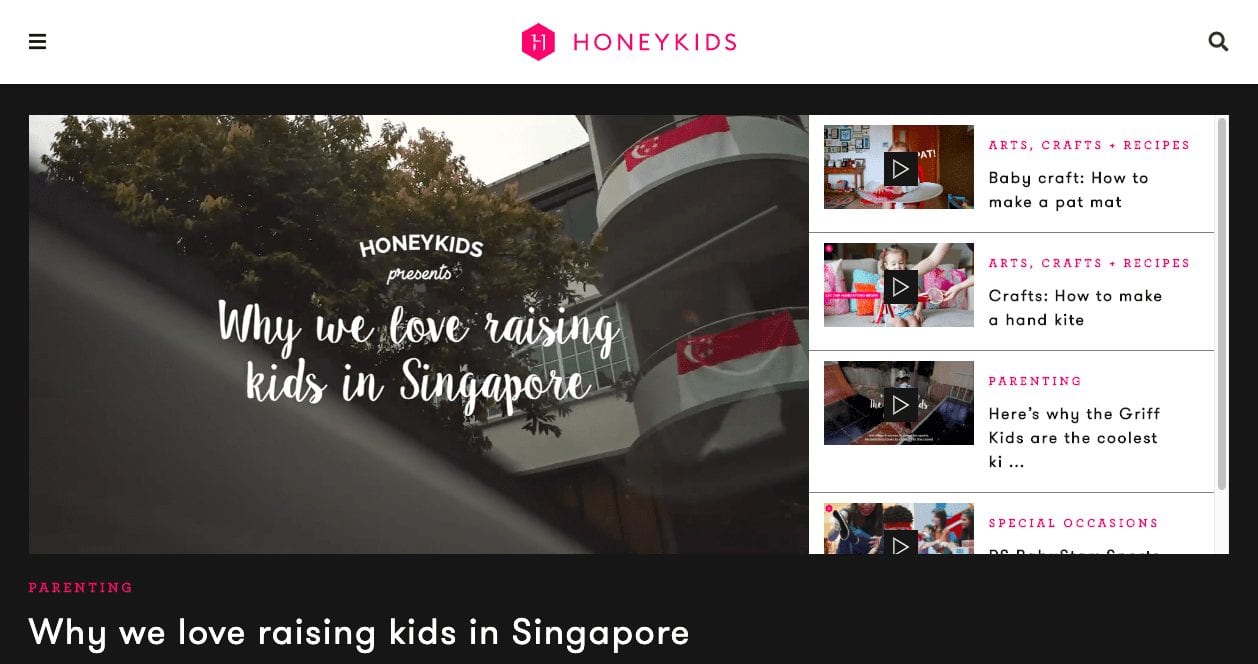 We're all about binge-watching, so we can totally recommend our Watch List video gallery. It's a dedicated page full of all the cool vids we make here at HoneyKids – from sneak peeks inside schools and handy craft tutorials to awesome folks and a look at our fabulous events. Go and take a look – you know you want to!
Calendar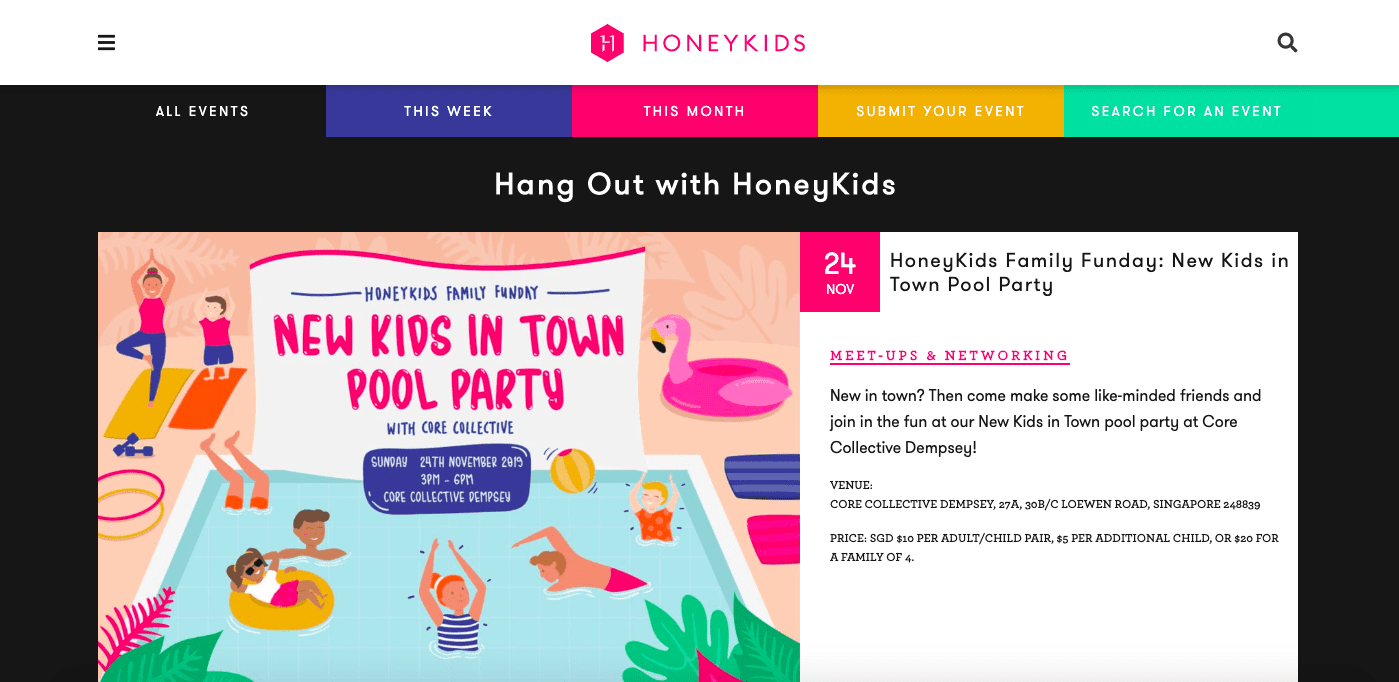 Busy parent? Always looking for things to do with the kids in Singapore? We hear ya. Enter our calendar, a handy resource to make planning your life with little ones way easier. We've revamped it too, so you'll always know about our own latest events (we've got an awesome New Kids in Town pool party and Quest Fest at The Perse School Singapore lined up this month – book in quick!), as well as other cool happenings around the Little Red Dot. Even better, you can filter your finds according to what's on this week or this month. Simply click on a listing to get all those important deets.
You can also submit your own events  if you're the brains behind something super that you want to share with other like-minded parents! Fill out our simple form, upload an image (don't forget to read the guidelines, folks!) and it will soon be on its way to our team for consideration. Job done!
School Selector
Our School Selector section is your one-stop shop for everything school related here in Singapore. Looking for a school for your kids? We can help! Use our super-handy Find Schools tool to find the perfect fit for your family. Then, once you've narrowed it down to a few contenders, you can use our Compare Schools tool to list your picks out side by side to help you make your final choice. Want more info? Check out parent testimonials from those who know best, or watch some of our awesome videos to take a peek inside some of Singapore's international schools.
Bumps and Babies
For all you pregnant ladies out there, we've got you covered! Head on over to our Bumps and Babies site for our latest articles on pregnancy, newborn life and parenting tips. We've even separated our articles out to cover every age and stage of babyhood – score!
We hope you like the new HoneyKids site as much as we do. Have a look around and if you have any feedback, we'd love to hear from you. Drop us a note at [email protected].
And, while we've got you, don't forget to subscribe to our weekly newsletter: it's jam packed with deets to ensure you're always first in the know about what's on for kids in Singapore, our awesome events and our latest competitions (like our current NERF competition – check it out!)
Enjoy, guys!