Visiting the Gallery Children's Biennale with your tot? Here's a simple guide to making this a fun and artsy (and stress-free) day out with the fam!
The Children's Biennale by National Gallery Singapore is back for its fourth edition, and (not gonna lie) we're super excited for it!
This year, the Gallery's vibrant children's programme features 11 artworks crafted by local and international artists to the theme of "Let's Make a Better Place". Families, including foreigners, are welcome to explore this free experience, and see for themselves how each artwork is connected to the theme's core values: care, respect, imagination, and collaboration.
Another cool feature about the Biennale is that while all artworks are kid-friendly, there are some that are specially designed to be toddler-friendly. Amazing news for parents with little ones!
Thinking of heading to Gallery Children's Biennale soon? Here's our guide to make your artsy day out a fun and stress-free one.
Toddler's guide to Gallery Children's Biennale 2023
Before heading to the Biennale with bub
Heading out with a toddler always requires pre-planning – you know the drill. Aside from making sure your going-out bag is packed with all the necessities, we recommend:
1. Visit during your child's longest wake window: As there are a number of large scale artworks and activities at the Biennale, you're most likely gonna spend quite some time there. If your tot has yet to drop naps, it's best to visit during their longest wake window so they can get the best experience there.
2. Snack up before heading out: Crankiness aside, a hangry child won't be able to enjoy the Biennale fully. So make sure you fill those little tummies up with a healthy meal or snacks before visiting the Gallery.
Grab a copy of My Biennale Buddy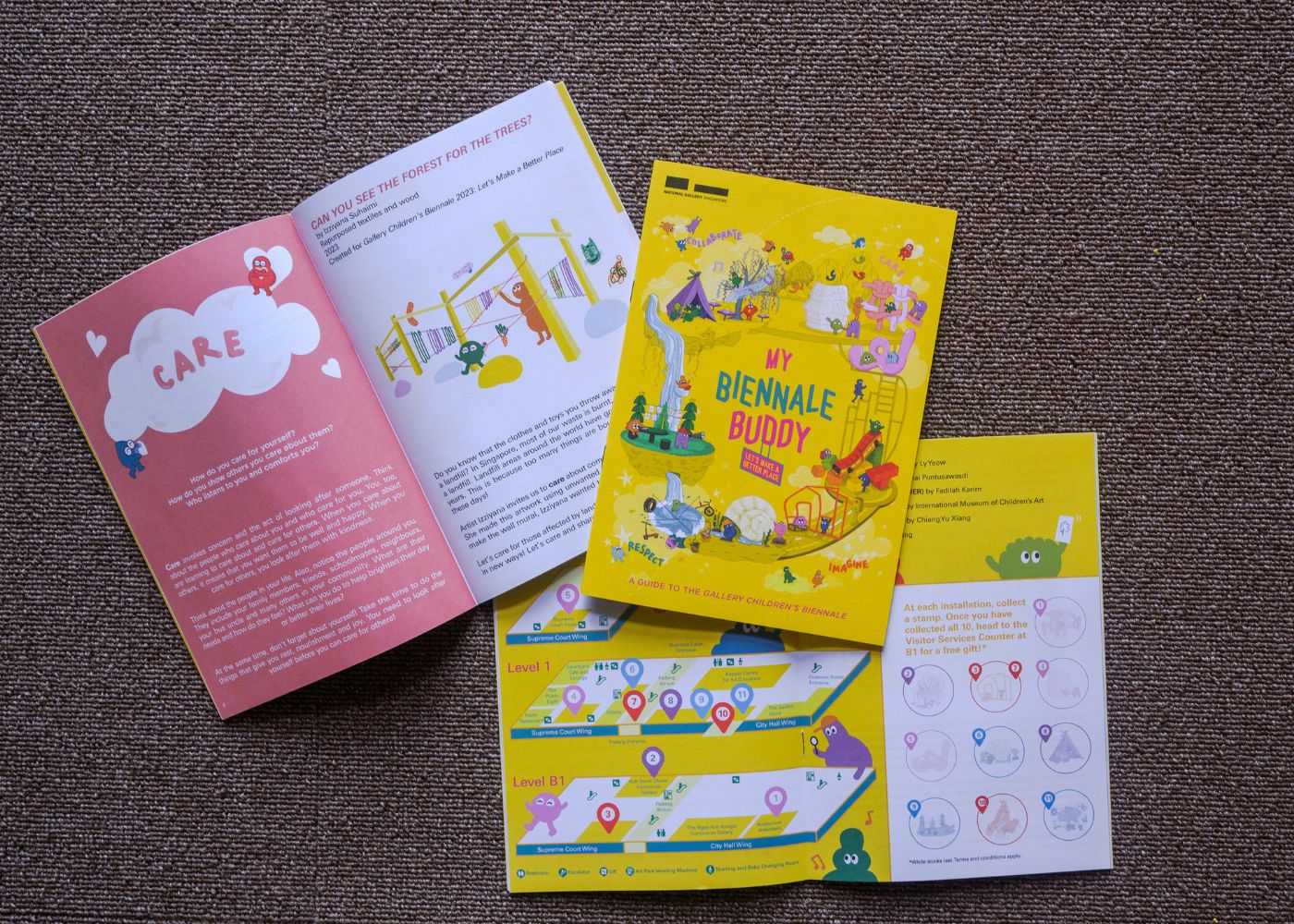 My Biennale Buddy is your guide to Gallery's Children's Biennale. This little booklet comes with a map to help you navigate the festival: including locations and details about each of the artworks and their artists. You can refer to it as a guide when you explain the meaning of the artworks and how it represents each of the Biennale theme's core values to your little one. Plus, you can collect stamps after visiting each of the artworks with bub to redeem a free goodie from the Visitors Services Counter at the end of your visit.
My Biennale Buddy is available at the Gallery for a small donation (the recommended amount is $2, but you're always welcome to contribute more).
All the toddler-friendly artwork to check out
On to the main event!
Your little ones will have a blast at We Move This City, an artwork by local artist Chiang Yu Xiang. This piece invites you and your kids to imagine what transport would look like in the future. For this, the artist has crafted soft blocks that tots can use to create their own vehicles. So let your tot's imagination run free and help them build the futuristic vehicle of their dreams!
Where to find it: City Hall Wing, Level 1, City Hall Foyer
Another toddler-friendly artwork to check out is HUTAN by LittleCr3atures x Jevon Chandra x Lynette Quek. Inspired by the Tree of Life and forests of Southeast Asia, the artists use video projection, light, and sound to create this immersive space for families to explore. Ask your toddler to pay close attention to their surroundings here. Is that a deer they see? What did they hear? Do the mushrooms light up when they walk near it? You'll be surprised to hear how creative their answers can be! With your help, your tots can also push the rattan soundmakers in the artwork.
Where to find it: Supreme Court Wing, Level B1, Koh Seow Chuan Concourse Gallery
Other artworks that toddlers will love
Though We Move This City and HUTAN are the two artworks that are categorised as toddler-friendly by the Gallery, that doesn't mean your toddler won't enjoy seeing other artworks. Kids of all ages will be delighted at the sight of the vibrant Can you see the forest for the trees? by local artist Izziyana Suhaimi. The artwork is made up of embroidered structures created from repurposed textiles and recycled materials.
Kids can learn the different weaving knots and even create their own artworks using recycled materials in the activity corner!
Where to find it: City Hall Wing, Level B1, The Ngee Ann Kongsi Auditorium Anteroom
Another eye-catching artwork is Compound by Thai artist Tawatchai Puntusawasdi. In fact, the artist encourages children to play with the sculptures' colours, shapes, and lines. A good way to experience this artwork is to ask your child what these steel and wooden lines look like from different angles.
Where to find it: City Hall Wing, Level 1, Padang Atrium
Last but not least, step into the cosy space called SAMA-SAMA, created by Malaysian artist Fadilah Karim. The artwork invites you to build a fort with your little ones. But if your kids are too young, you can spend time in a ready-made one too. Look up and you'll see lovely drawings of flowers, animals, and all the beautiful things that come to a child's mind when they're allowed to channel their creativity. In fact, the artist invites you to do just that with your child. So pick up a pen or crayon, and start drawing!
Where to find it: City Hall Wing, Level 1, Opposite Keppel Centre for Art Education
You can check out our full list of top artworks to check out at Gallery Children's Biennale here.
Keep an eye out for toddler-friendly activities at the Biennale
Artworks aren't the only things that kids can enjoy at the Biennale – the Gallery has prepared toddler-friendly activities to keep them engaged and learning too. Check out the Biennale website's calendar of events for activities you can register to join (we especially like the Music & Movement workshops).
Nursing and baby-changing rooms at the Gallery
Need a nappy change? Or is it time for milk? You'll be happy to know that there are nursing and baby-changing rooms at every level in the Gallery. We've listed them here for your convenience:
Inside the Keppel Centre for Art Education (hot and cold water available)
Near Lift Lobby A and Auditorium Foyer at Level B1
Near Courtyard Café at Level 1 (hot and cold water available)
Next to Lift Lobby A and B at Levels 2-4 (hot and cold water available)
You can also view more information here, including an Access Guide for wheelchair access, and in case your kids are sensitive to sound and light.
Toddler-friendly dining options at the Gallery
Whether you're looking for a quick bite or a hearty meal for yourself and bub, the Gallery has got you covered with a variety of family-friendly restaurants and cafés. Try some Catalan-inspired dishes at The Great Mischief (kids menu available); enjoy signature Singaporean food at National Kitchen by Violet Oon (plant-based menu available); or grab some Straits Asian food and snacks at Courtyard Café & Lounge.

Bonus: Courtyard Café & Lounge recently launched a new kids menu with items like Junior Meatball Pasta and Macaroni Chicken Soup. Plus, it's also offering 10% off your total bill if you collect all 10 stamps in My Biennale Buddy!
And there you have it – our comprehensive HoneyKids guide to visiting Gallery Children's Biennale with your toddler. The Biennale is free for all to visit regardless of age and nationality, and no ticket is required for entry. You can check it out any day from now till 31 March 2024, as the Gallery is open daily from 10am till 7pm. Head to the website for more info.
Have a great time exploring!
This post is in partnership with National Gallery Singapore.