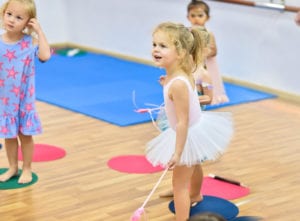 If you're looking for tap, hip hop or ballet classes for tots age seven months to seven years, then you need Dance at the Difference on your radar, stat!
Fact: there are few things in life cuter than a tot in a tutu or a small dude breaking out some hip hop moves. And when it comes to finding dance lessons for little ones where class sizes are not too daunting, and a low teacher-to-child ratio is the name of the game, we've found just the place… Dance at the Difference! We just checked it out ourselves and are happy to crown this super duper boutique dance studio our Find of the Week! Psst: it also runs some pretty cool classes for grownups which are not only great for getting fit, but are jam-packed with fun too.
Tell us more about the tot's classes!
With so many different classes to choose from for bubs as young as seven months, there really is something for all your mini-wannabe dancers:
Baby Boppers: Created for the tiniest of tots age seven months to 1.5 years, this lovely intro class to rhythm, music and movement is a fab bonding opp and perfect for early social interactions for little boppers.
Mini Movers: Bring your small humans age 1.5 to three years for a class filled with everything from nursery rhymes to fairy wands in a parent-child participation class that's full of imagination and creativity.
Tiny Tots: If your little one age three to five years is ready for a drop off class, then this is the pick for you. Ballet and jazz concepts will be introduced while teachers encourage independence, imagination and teamwork.
Little Dancers: Once your kiddo has graduated from the Tiny Tots class, five to seven year olds will have a blast while continuing to develop their techniques and skills in all things dance and rhythm. The 60-minute class is divided equally between ballet and jazz for all-round dance perfection.
Little Tappers: If your five to seven year olds have busy feet that just won't keep still, then Little Tappers is oh-so-perfect for keeping them not only busy, but focused too! This intro class into the world of tap dancing is a fun-packed, fast-paced lesson that will definitely keep the kids on their toes.
Hip Hop: We brought our own small, cool dude along for this one and the verdict? A giant hip-hoppy thumbs up! Boys and girls age five to seven years will love busting out their best moves to the latest tunes with high-energy teacher, Mr Jon.
Tell us more about the adult classes!
It's not all about the kids, after all…
Dance Fitness: Ladies! It's time to work up a sweat, burn some calories and dance your way to an awesome workout (and possibly even a smaller butt).
Barre Fitness: Uber cool class alert! This fun fusion of ballet, yoga and pilates will leave muscles aching but minds focused with its full body resistance training focus.
Bollywood Fitness: Get ready to get that heart pumping to the energetic rhythms of Bollywood, ladies! Prepare to shimmy those hips and work up a sweat, Bollywood style.
Tell us about the teachers!
In a nutshell? So. Much. Talent! Classes are run by the collective awesomeness of Laura Jane (founder and principal teacher of Dance at the Difference and known as LJ), Francesca, Jo, and Mr Jon. All four of them have years of professional experience under their dancing belts, and are not only fantabulous teachers, but super lovely too.
Don't just take our word for it though: book a trial for your groovers to try a class for themselves. Cameras at the ready!
Dance at the Difference, 203A Thomson Rd, Goldhill Centre, Singapore 307638; www.danceatthedifference.com
Like this story? Here's more we think you'll enjoy:
Find of the Week: Glamping in your own home
Find of the Week: Turn your tot's fingerprints into jewellery
Find of the Week: Revamp your wardrobe with the right colours
Find of the Week: colourful stationery to perk up your desk
Don't forget to subscribe to our weekly newsletter and follow us for fun moments on HoneyKids Instagram!