Photography: Cristiano Pinto via Unsplash
Too busy to cook for the fam? Here's a simple healthy meal plan for busy parents, with top picks from our fave kid-friendly restaurants!
Dear working parents, we get it – sometimes you just don't have enough time to cook! While we're aware of the benefits of home-cooked meals, getting takeaway is sometimes preferable as it means we get to spend the limited time we do have with the family.
If this is you, then you may want to try out foodpanda's pick-up option that's designed with working parents in mind. Instead of paying for delivery, this convenient self-collection option allows you to skip the queue and pick up your family meals at your chosen timing. Plus, there are discounts of up to 50% when you use foodpanda's pick-up option! This also makes eating healthy with the family possible – and more convenient – as there are so many healthy restaurants to choose from on foodpanda.
All you need to do now is to have a weekly meal plan to make sure your family's nutritional needs are met without overspending (or spending too long thinking about what to eat!). And the good news – we've made it even easier by picking some of our faves that are available for pick-up via foodpanda to have on your list…
OUR RECOMMENDED WEEKLY MEAL PLAN
Meat-free Mondays
Plant-based diets are on the rise, with a growing pool of research pointing towards the health benefits. Having a full plant-based meal at least once a week is great as it's high in fibre (a good thing to have on your kid's plate if they're prone to constipation) and helps you and your family maintain a healthy weight. And they can be really yummy too!
Try: Genius Central's Happiness Bowl, Mexican vegetarian quesadilla, and portobello mushroom burger.
Hearty Tuesdays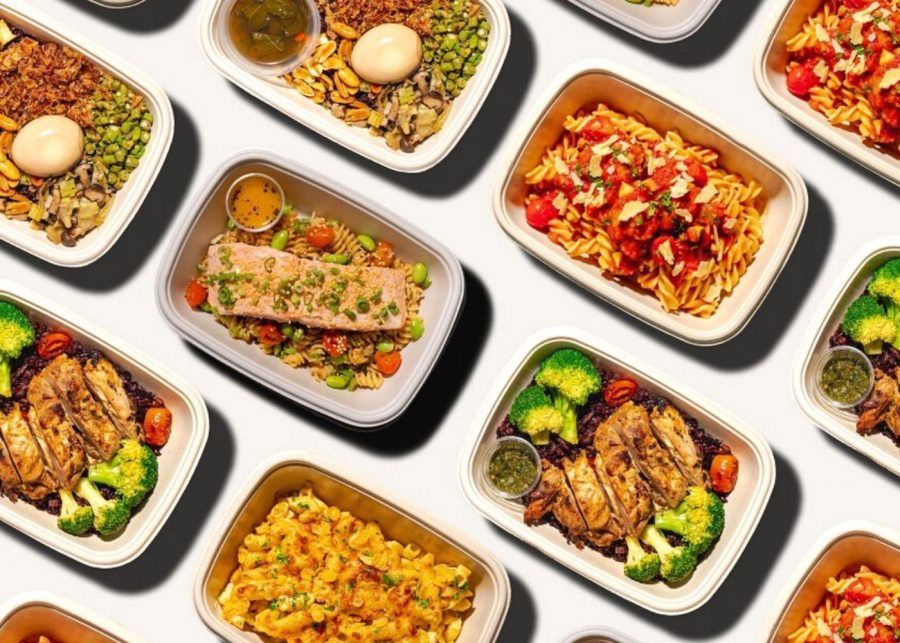 Since it's still the early days of the work and school week, why not fuel up with a hearty whole-grain meal? Not only is it high in fibre and nutrients, but whole-grain is also a good source of energy – perfect to help you and the kids soldier on for the rest of the week!
Try: Grain's basil thunder tea rice, flame torched Sanchoku beef steak and Okinawa potato carrot curry.
Soupy Wednesdays
Ah, hump day. Wednesdays aren't the easiest. But hang in there; the weekend is almost here! It may be a good idea to have something comforting for dinner – and nothing is more comforting than a hot bowl of soup!
Try: The Soup Spoon's wholesome soups (the SG Chicken and Mushroom Ragout is a top pick!) and pair them with your choice of healthy sides.
Sous vide Thursdays
Sous vide cooking, cooking food in a vacuum-sealed bag in temperature-controlled water, is one of the healthier ways to prepare proteins. This is because the method uses less oil and fats, retains more nutrients than conventional cooking methods, and reduces the chance of food getting overcooked. Proteins cooked sous vide style are also easier to digest, making them a great dinner time choice.
Try: Wafuken's wholesome bowls – choose from salmon, chicken breast, prawns, smoked duck, steak, and unagi with your favourite carbs and sides.
TGIF aka cheat day!
It's finally the weekend! Reward yourself and your family with a meal from a favourite restaurant for dinner, or order something fun and yummy like fajitas or burritos! A surefire hit with all the family!
Try: Super Loco's chorizo and brisket taco, fish Baja taco, and churros.
Brunch Saturdays
Maybe you and the kids had a tough week, or perhaps you just feel like sleeping in. Whatever it is, any reason is good enough to pamper you and the fam with a yummy and healthy Saturday brunch. Burgers, anyone?
Try: PS. Cafe's Breakfast Grand Slam bunwich, PS. Impossible Burger, and truffle shoestring fries.
Indulgent Sundays
Sunday dinners are usually an indulgent affair, but you don't have to cook up a storm for it if you rather spend that time at the park with the kids. In fact, why not take a walk to the fam's favourite restaurant nearby after your excursion and pick up some roast, BBQ, or anything the kids fancy!
Try: The Dempsey Project's smoky BBQ pork ribs, Atlantic salmon, and French platter.
BONUS: Desserts
Everyone loves desserts! If you're concerned about sugar levels, we've shortlisted some healthier options for you and the fam, try:
Something fruity: An Acai Affair's Pitaya Punch and Coco Glow.
Something sweet: Delcie's Desserts and Cakes' Keto Rocher Balls and Banana Fudge Cake (vegan and baby-friendly options available).
Pro-tip: Opt for the pick-up option on foodpanda and place your order up to three days in advance
foodpanda allows you to pre-order your meals for collection in 10 minutes and even up to three days in advance. This makes getting takeaway for the family so much easier, as you can plan ahead and schedule to pick it up from the restaurant around the time you leave the office for home. You get to save on delivery fees, skip the queue, and even enjoy up to 50% discounts with the pick-up option.
And if you've yet to try foodpanda's pick-up service, key in "NEWPU" in the promo code section to enjoy 30% off your first five orders.*
Happy meal planning!
This post is in partnership with foodpanda.
*Valid from now till 28 February 2022, with a minimum order value of $12. Maximum discount value of $5.