It can be tough to squeeze all of your little one's activities into the week, especially if you work full-time. Here's a handy class that might help, while giving your tot and helper the chance to have some fun together.
Between swimming lessons, play dates, art sessions and birthday parties, the weekends tend to flash by in a whirlwind of bag-packing and cries of "we're supposed to be where now??" We're all for activities, but sometimes a little out-sourcing is necessary for everyone's sanity. That's where this class at Swish Swimming comes in handy – this one is especially for helpers to jump in the pool with the little ones, where together they learn crucial safety skills and have a great time! We spoke to four mums who have taken advantage of the classes, to see what they think.
Our editor Selina gave the classes a try with Fely, her helper, and her two-and-a-half year old son Grayson. Here's what she had to say:
"One of my strongest memories as a child was stepping into water over my head in a pool when I was five, and being terrified when I realised I couldn't get myself out. My sister scooped me to safety. I want my boys to be equipped with survival skills in the water, and to enjoy swimming. And because my helper Fely is such an important part of my son's life, I want her to learn how she can safely help him have more fun in the pool too!
The class is so playful: Grayson loves the songs and actions, and we've gotten some great ideas for playing in the pool while building his swimming skills. And let's face it, this is a brilliant way to tire out toddlers so they go to sleep without a fight!"
Katie signed up her daughter Isla when she was just over a year old. She's been enjoying the classes with their helper, Chi, for 17 months now.
Katie and her husband were keen for Isla to go to swimming classes twice a week, as they felt once wouldn't be enough to build her skills and confidence. They both work full-time, so they signed Chi up for a weekday class, while they take Isla on the weekends. They have the same coach for each class, so they can all share what they've learned and their observations about how Isla is going in the lessons.
"It was the first time for all of us taking a baby to swimming lessons from such a young age," Katie told us, "so we've all learned techniques that we can practice at home to reinforce what she is learning at Swish. I also think it's another really fun thing they can do together, where the babies are learning such a fundamental life skill at the same time."
Katie says that the classes have further reinforced her utmost confidence and trust in Chi, and that she would absolutely recommend the classes to anyone with little ones in Singapore.
Kasia's son Avi and their helper Mila started classes at Swish when Avi was just over a year old. They've now been attending for 18 months.
For Avi's mum, safety was the main concern. As an Australian who grew up with swimming as second nature, Kasia loves the fact that living in the tropics means it's a daily activity! As a result, she feels it's important that Avi learns water safety as early and as quickly as possible. Like Katie, Kasia believes two lessons per week is more beneficial than one, and full-time work means the Baby & Helper class is a great solution during the week. 
"I do believe Mila is more aware of the age and skill-appropriate activities that Avi is capable of in the pool, and that swimming is not simply splashing around in knee-deep water. The safety aspect at Swish is so well ingrained in the lessons that the importance of safety in the pool is made even more apparent to Mila," Kasia says. "I've had family and friends abroad comment on Avi's confidence and abilities in the pool at only two-and-a-half years old. I can only thank Swish for that."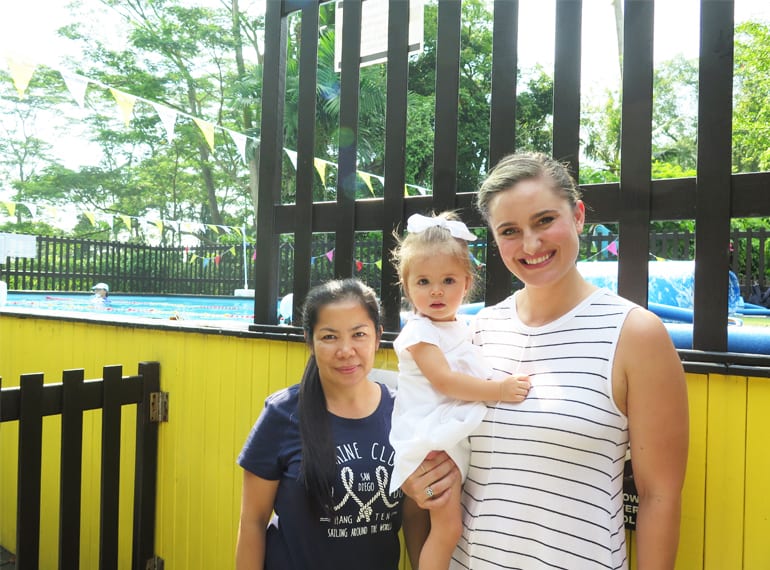 Meredith's daughter Florence and their helper Sally started classes when Florence was six months old.
Hailing from Australia, Meredith is accustomed to very strict pool fence rules and regulations, so in the absence of these she felt it was critical for her daughter to learn to swim. In Singapore's tropical climate, her family is in and around the water every day, so it's also important that she and Sally feel confident handling little Florence when she's having a splash. Not to mention have some fun together: "My daughter literally lights up when we arrive at Swish because the classes are so action-packed and joyful."
"Swimming is a skill for life. I'm proud of the progress my daughter has made and I love seeing the enjoyment she gets from being in the water. Sally and I have gained knowledge on how to handle her in the water confidently, and her understanding of Florence's ability and limits in the water has increased."
The 'Auntie & Me' classes at Swish are open to babies and toddlers aged between four months and 40 months (not quite three-and-a-half), and it's not essential for helpers to have swimming experience. The water is temperature controlled and only one metre deep to ensure the babies are kept within arm's reach of helpers and coaches at all times.

Act fast! The first 20 people to sign up for the class by 29 October will get to attend an introductory course, where you'll meet the coaches, check out the facilities, and hear all about what your baby and helper will get up to in the lessons. This session also includes a free baby CPR course valued at $30!
Plus, keep an eye on the HoneyKidsGo Facebook page – soon we'll be giving you the chance to win Swish vouchers for these great 'Auntie & Me' swim classes!
This post is sponsored by Swish Swimming School.