Ease Into Snow Destinations with Kids
For all those kids growing up near the equator, encountering snow for the first time is definitely a big deal! To make the experience even more memorable for them – and also for you – we've tasked our go-to travel gurus, Lightfoot Travel, to give us the low-down on the best ski destinations to head to with kids.

Courchevel 1650, France
The French Alps are renowned for their ski slopes, beautiful traditional chalets and fondue Savoyarde. Amongst the best of the best ski resorts, is Courchevel. For families, we recommend sojourning in Courchevel 1650, the second highest ski resort. The slopes are less crowded than Courchevel 1850 making it less stressful for kids going on their first ski venture.
Best Chalet: Chalet Blanchot, the perfect ski-in ski out option. The chalet can host up to 12 persons, and has a hammam and an open fireplace which are both enticing after a day on the slopes.
Best ski school: Magic in Motion has been operating in the region for over 22 years and know the Three Vallees better than anyone. Their staff is bi-lingual (French and English) and are incredibly friendly and welcoming. Your children are in great hands!
Verbier, Switzerland
Verbier needs no introduction. As one of Switzerland's most famed ski resorts, Verbier offers plenty of sporting activities in winter (and summer), abundant nightlife, stunning scenery, charming villages and chalets a-plenty. As a reputed destination, it goes without saying that Verbier caters very well to families and baby-sitting services are commonplace. If the little ones are getting weary on their skis, take a break and go for dog-sledding or ice karting instead. Oodles of fun guaranteed!
Best Chalet: Courtesy of Sir Richard Branson, allow us to present you, The Lodge. The tastefully decorated chalet is the perfect mix of Savoyard meets contemporary, with 9 bedrooms that accommodate up to 18 people. The chalet's party room – twinkling disco balls included – is a great hangout for families: shoot some pool, pop in a film or dance the night away. The outdoor Jacuzzi and indoor pool make for a soothing return from the slopes. But what makes The Lodge outstanding is the staff: attention to detail is their motto and, needless to say, they truly make you feel at home!
Best ski school: Altitude Verbier is our go-to ski school for your kids. Not only are the instructors great and multilingual, but kids are grouped into different categories depending on their level, allowing them to improve their skills with peers of the same level.
St Moritz, Switzerland
Another one of Switzerland's (many) spectacular ski resorts, St Moritz, is one of the most exclusive ski resorts in the Alps, and is centred around a beautiful lake. St Moritz will delight families by its world-class slopes, plush facilities and fun activities which include polo and horse racing on the lake. If you're into more adrenaline pumping activities, or just looking to experience something new, head straight to the St. Moritz Celerina Olympic bob run, the oldest and the last remaining natural ice run. That is bound to have your kids squealing in delight.
Best chalet: Chalet Chesetta, located 3km away from the heart of the ski resort, within walking distance of shops yet tucked away from noise and traffic is THE family friendly chalet in St Moritz. The 7 bedroom house is colourful, comfortable and has all the mod cons you need. Kids will have bundles of fun on the sledges that the chalet has at the ready.
Best ski school: ESS St. Moritz is the most international ski school of the Engadin Valley. In addition to your traditional ski lessons, the highly qualified instructors also offer freestyle, off-piste sessions for the more advanced.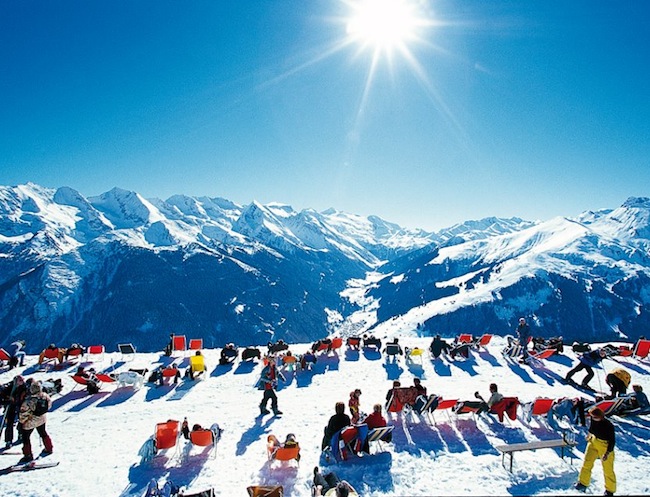 Whistler, Canada
Consistently rated the best ski resort in North America, Whistler does not disappoint. Its coastal location means no harsh winter temperatures (and yet lots of snowfall), making it ideal for families. Though skiing is the main activity, there are a number of ways to have a memorable time with the family: zip-lining, horse-drawn carriages, husky dog sledding, tubing and many more. If you have the time, head to Vancouver, only 2 hours away, for your fill of the city.
Best hotel: Fairmont Chateau Whistler is our go-to hotel in Whistler, for its prime location and ski-in ski-out access. The numerous interconnecting rooms ensure that it is truly family friendly, yet classy and luxurious.
Best ski school: Whistler Blackcomb Ski School is definitely the best ski school in Whistler. The team of ski experts will not only help you drastically improve your skills, but they will bring you to hidden runs and the mountains' best kept secrets. Kids are divided up by age so they can easily make new friends and have more fun on the slopes.
Niseko, Japan
Closer to home, Niseko easily rivals the Alps and the Canadian snow. In addition to fine powder, the famed Japanese ski resort has sumptuous family friendly accommodations and delectable cuisine.
Best luxury apartments: The Vale Niseko is a true home away from home. Watch your kids make their first attempt at skiing from the comfort of your balcony, soothe out those sore muscles in your onsen and enjoy proximity to a repertoire of gourmet restaurants.
Best ski school: In addition to their top-notch ski instructors, NISS is one of the rare ski schools with amazing learning facilities. Not only will your kids have fun on the slopes, they will also be pampered during lunch (included in their package).
This article was brought to you by Lightfoot Travel, a Singapore-based luxury tour operator offering expert travel advice & inspiration, tailor-made itineraries & full booking services.
All Images: Lightfoot Travel