Attention all parents of tweens and teens in Singapore: this is what your kid REALLY wants to do.
Here at Honeykids we are always on the look out for the best places in Singapore to take our children for a big dose of fun! But what about those amongst us whose kids have outgrown Singapore's amazing indoor play centres? We quizzed Honeykids' very own junior reporter, Jack, about what 13-year-old boys really like to do in Singapore. Here's his list of the cool places and fun hang-outs for the Tween and Teen Brigade…
PS If you're after more ideas, check out our guide to cool things to do in Singapore with teenagers!
I have been living in Singapore since I was five years old and now I am 13. I have just gone into Grade 9 in school. Growing up here has been fun and it is getting more so now that I am old enough to go out on my own and be more independent. The MRT here is really good so I can get anywhere in Singapore for not a lot of money!

Universal Studios
My absolute favourite place to go is Universal Studios, Singapore! Sometimes I go with my friends, and other times with my mum, my little sister and my little brother (Dad hates ALL of the rides so is a waste of a ticket!). I usually ask for a six-month pass for my birthday (which is in July) and then I ask for another one at Christmas. Any birthday or Christmas money I get gifted I use to upgrade the pass to an express one so that I can get as many rides as possible per visit! My favourite ride is the Battlestar Galactica one although I haven't decided whether I like the red or the blue one better yet.  My mum loves the roller coasters too, but if we take my younger sibs then she gets stuck on the Elmo ride mostly. Secretly I don't mind the Elmo ride anyway…  (And don't forget to check out the Honeykid's great Essential Guide to Universal Studios before you go!).
Even MORE exciting though are the Halloween Horror Nights at Universal. It only happens for one month a year and I nag my mum for months to buy our tickets. It is the best experience in Singapore by far. I am not allowed to go on my own but I think that is because mum loves to come too. Dad stays home with the two smaller kids as they are all too scared to try it out.
Wild Wild Wet
Another great place to go for kids my age (and all ages) is Wild Wild Wet in Pasir Ris. Singapore is hot so a water park is always a good choice for cooling off and having fun. I also love Adventure Cove but as Wild Wild Wet is closer to my home, and a LOT cheaper then I am more likely to persuade my parents to take me to there! Check out this guide to Singapore's best water parks for more places to go on a hot day.
The Sentosa scene
Sentosa is a place I love to go as there is so much choice. My favorite way to get there is by the cable cars. Especially as it freaks my sister out, who hates heights. Once you are in Sentosa there are so many activities to do, but I usually head straight to The Luge. It is a bit of a family challenge as to who is going to win and generally it is mum who wins! I think she cheats though as she makes my dad take my little brother and makes me 'be careful'. The ride back up the hill is pretty scary but fun at the same time on the sky lift thing.
I also went to the MegaZip Adventure Park recently for my birthday which was so much fun! I was super nervous when it was my turn but once I was air borne it was fantastic!  It was something I had wanted to try for ages and I know a lot of my friends my age want to do it too. Next on my list to try is the iFly which is a fake skydiving place. I don't think I would be brave enough to try real skydiving, plus I don't think you can do that in Singapore anyway! (There's more about iFly and the Sentosa Luge in this guide to activities for boys in Singapore.)
S.E.A Aquarium is another family favourite place, especially as my little brother loves it there! He is almost as interesting to watch as the fish as he gets so excited by it all (he is only three years old). The shark tunnel is really cool and we all love sitting and watching the massive tank towards the end.  My sister's name is Angelica and her nickname is Jelly, so the Jelly Fish are also a stop off that we all like!
There really is a ton of great adventuring to be had on Sentosa and you could literally stay there all day and night if you had the time and money! Honeykids' Resorts World Itinerary will give you some tips to plan your day there.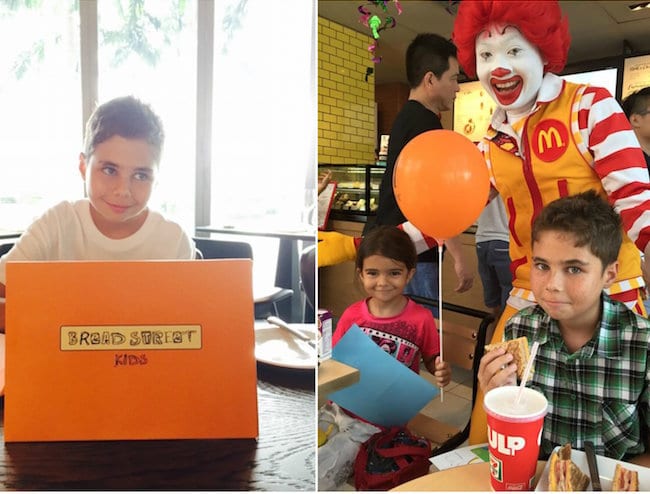 Fueling up
And then when we are done with Sentosa my absolute favourite place to have family dinner is of course Hard Rock Cafe. Aside from Hard Rock Cafe, if I had to pick my other best places to eat then it would be Bread Street Kitchen, Flutes at the National Museum, Chop House at Vivo and any Din Tai Fung anywhere! I can only go to these restaurants though if Mum or Dad are with me as I can't afford them myself. So if I am out with friends, and have to pay, then I usually go to Subway. There is no greater food on earth than a tuna and cheese Subway. Although I am also rather fond of a McCafe sandwich if there is no Subway in the area!
Hitting the outdoors
East Coast Park is not too far from our home so that is another place that kids my age like to go to. I usually hire roller blades when I get there or else take my swave board. If the weather is rubbish then there is Lilliputts Golf we can go to to get out of the rain and have some fun (check out a guide to East Coast Park for families here). Or we often go to Gardens by the Bay at the weekend as we have a family pass for the domes. And even if we don't do the domes then there is a really cool playground there and also Gardens by the Bay's big water play park. Plus Satay by the Bay is pretty tasty for dinner!
Fun and free (almost)
All of that stuff though can cost a lot of money and my pocket money doesn't seem to stretch to such expensive activities very often. So for a cheaper fun time I usually hang out with my friends. Living here means that most of us live in some really cool condos and so we take it in turns to go round to each other's place and hang out. My condo has a bowling alley, table tennis and a slide pool so I am very lucky and my friends do like to come to mine.
If there is a good film out then me and my friends like to go to the cinema too. Sometimes we just go straight from school as there is a cinema right next door!
Life in the Lion City
I do love living in Singapore. I feel very lucky that because it is generally safer here than my home country, I do get more freedom than I probably would get back in the UK. I miss my family back in England a lot but thankfully they all come to see me every year, and we go back there for visits. We are going back for three weeks this coming Christmas and I can't wait! I am not looking forward to the cold though as I am not used to it at all! We certainly have nicer weather and more that I can do by myself here in Singapore!
Mostly, being here is great. I would say though that apart from missing my family overseas, being in an international school rather than a local school (see the debate my mum wrote about international vs local schools in Singapore here!) can be tough as my friends do seem to leave every five minutes. I have lost count of the number of really great friends I have had to say goodbye to over the past eight years. Thankfully with Facebook and Skype I can stay in touch with some of them. But then on the flip side of always saying goodbye, it does mean that there are always new people starting in school and new friends to be made. And when I make a new friend then it means I can take them all to the fun stuff I've mentioned all over again!