What happens when Humpty Dumpty and friends have a feast at a local hawker centre? Lots of delicious sing-along fun for the whole family!
I have a simple checklist when it comes to shopping for books for my nine month-old; the books should have:
Lots of colourful illustrations. The brighter the colours, the better;
Cute animals, he loves books with sheep, tigers, or lions; and
Rhymes or repetitive words, as this makes reading more engaging for my boy.
So you can imagine how happy I was to find out about Sing A Song Of Hawker Food! We read the book to him for bedtime during the weekend, and it has been on his favourite book list ever since.
What is Sing A Song Of Hawker Food all about?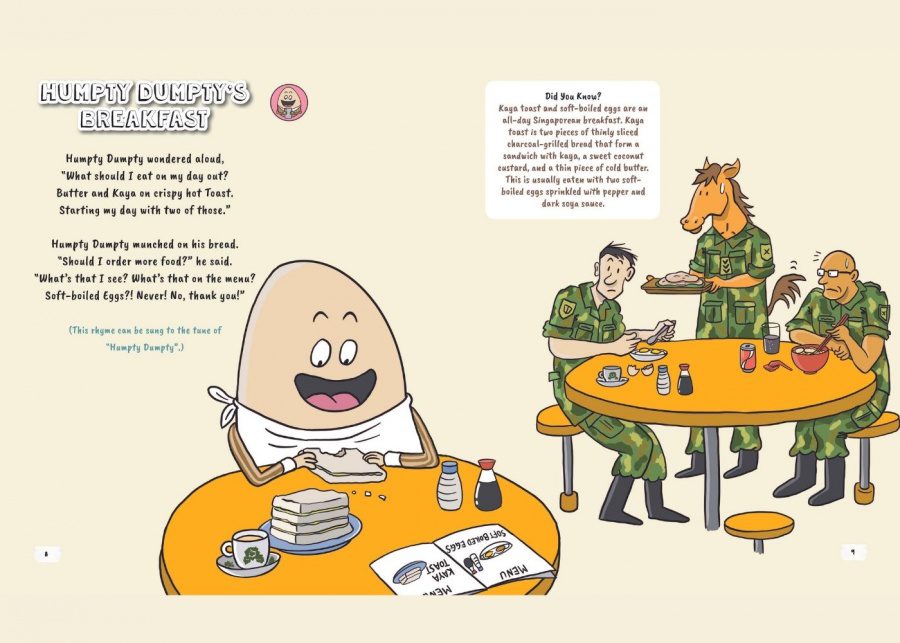 Sing A Song Of Hawker Food is a collection of localised nursery rhymes based on what Singaporeans love best – hawker food! This quirky book is written by both Lianne Ong and Janice Khoo, with adorable illustrations by Chao. You'll find rhymes about chicken rice, kaya toast, fishball mee and more written to the tune of classic nursery rhymes like Three Blind Mice, Humpty Dumpty, and London Bridge. Each rhyme is also complemented by illustrations of popular nursery rhymes characters enjoying Singaporean food at settings that could easily pass off as your neighbourhood hawker centre and coffee shop.
But that's not all! The book comes with bonus features such as sing-along videos and interviews with the authors, which can be accessed by scanning the Humpty Dumpty icon on each page with the SnapLearn app on your smartphone or tablet.
Why we love the book
It's not every day that you find a book that allows you to sing-along so easily – Sing A Song Of Hawker Food is one of those rare books. Precisely because it's written to the tune of classical nursery rhymes that we grew up with, it's super easy and fun for parents to sing it to the kiddos who also recognise the familiar tunes. As for my little superfan of Baa Baa Black Sheep, his favourite in the book is Baa Baa Black Sheep's Special Order (coincidentally also one of my favourite dishes, *spoiler alert* char koay teow). The bonus features come in handy as well, especially if bub prefers to have some background music to sing-along to.
We also love the bite-sized trivia and tips that appear in little blurbs throughout the book. While my boy may be too young to benefit from these, I can imagine them being really fun and useful for older kids to learn about the origins of Roti John or how to order in the three main languages of Singapore.
Grab a copy of Sing A Song Of Hawker Food today!
Sing A Song Of Hawker Food is available in hardcopy ($19.90*), softcopy ($12.90*), as well as in the form of an ebook ($10*). You can order a copy online or grab one from the nearest Times Bookstore and Kinokuniya.
Happy reading!
*All prices quoted exclude GST.
This post is in partnership with WS Education