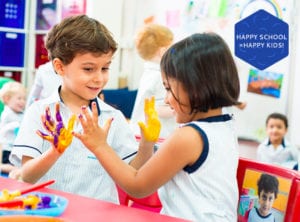 We ask the experts about how to help when kids are unhappy at school.
School can be amazing, but it can also be tough. All kids have great days, not-so-great days, and I'm-never-getting-out-of-bed-again days. Feeling unhappy as part of the full spectrum of emotions is a normal part of existence, but sometimes, these days might turn into weeks, and that's when both parents and the school need to rally together to help kids through. We've sung the virtues of One World International School (OWIS) before, particularly how they instill the value of kindness in their students, and how its smaller size helps foster a great community atmosphere. So, when we got thinking about how to help our kids when they seem unhappy at school, we thought we'd ask the team at OWIS for their take on this tough topic. Of course, there's a lot more to a child's happiness than what we're able to cover here, but we hope this gives you some starters on what to look out for, and how to help…
What are the signs a child isn't happy at school?
The signs are usually quite obvious, but may sometimes be attributed to something else, or perhaps disguised in larger environments. Signs of unhappiness at school can include:
Withdrawal from friends
Sleeping more or having difficulty falling asleep
An irritable mood – just not smiling or laughing as much as they usually do
A reduced interest in activities they previously enjoyed
Grades starting to slip
A lack of energy – they may feel tired often
And, if they don't want to go to school, that's a fairly clear sign!
Of course, these behaviours or 'symptoms' could also be signs of other issues, so it's important to pay close attention to your child's attitude and general demeanour, and seek help if you're unsure.
How can parents help?
The OWIS team recommends five steps to making school a happier place:
1. Talk to your child
Of course you talk to your child every day and no doubt ask questions such as "how was school?" but try to make more specific enquiries to figure out what's really going on. Questions like "who did you play with at break and lunch?" and "what did the teacher say or do when that happened?" can provide you with clearer insights about your child's actual school life.
2. Talk to the teacher
Teachers at OWIS are never too busy to talk to parents about their child. If you're concerned, make them aware of the issue and try to work out a plan to resolve the situation together.
3. Talk to the Head of School
If talking to the teacher hasn't resulted in the desired changes, approach the Head of your child's school department for a meeting. They're in a great position to provide a more holistic solution to the problem.
4. Get a tutor or help with schoolwork yourself
If the issue is related to academic performance, a tutor can offer specific strategies to address learning problems and be a source of increased confidence for the child. Alternatively, sitting down with your child and working through tasks together can give you more knowledge about the work and how your child is doing.
5. Look at extracurricular activities
These can be great motivators for kids and may help them to develop friendships and gain confidence. However, just make sure they don't take up too much time and don't reduce a student's focus on their schoolwork. Balance is key!
What does the team at OWIS do when they notice a child isn't happy?
The school pays close attention to research into happiness, and believes the relationship between the teacher and student is one of the most important factors in having happy students. This is why OWIS makes 'relationships' one of the three pillars of its education model. If they notice a student is down in the dumps and is showing no signs of improving, they work closely with the child to determine the cause. The school also aims to cultivate a general culture of happiness (prevention is better than cure, right?), by taking active measures such as:
Spending more time
There's a direct correlation between our levels of contentment and the pace at which we live our lives (read: slow down, people!). In the classroom, this might look like spending more time in Personal, Social and Physical Education lessons or taking extra time to engage students in a game at lunchtime.
Ensuring there's plenty of outdoor play
Being outside in the natural world, even for just a few minutes a day, can heighten our state of wellbeing.
Getting those bodies moving
Exercise increases our happiness. For this reason OWIS makes Physical Education (PE) an important part of the curriculum with two lessons a week for every student.
Embracing the power of music
Admit it – when we sing we feel better! So, OWIS makes music and performance a key part of character building. Just like PE, students receive two lessons a week of Music, and all kids are involved in performances with the aim of building confidence and self-worth.
Cultivating kindness
We all know how powerful a smile can be and there's no better way to get someone grinning than a random act of kindness. OWIS firmly believes in its Kindness Movement, with acts of kindness encouraged and celebrated regularly. It's cool to be kind!
We hope this 'taster' of tips has helped you think about how to steer kids back on track during the not-so-happy times at school, but if you'd like to find out more about One World International School's approach, the team will be happy to hear from you. OWIS caters for all nationalities from ages three to 13 years, and with only 160 students in the entire school, it's a friendly environment for kids to flourish – and hopefully be happy – in!
This post is sponsored by One World International School.