Kids grow up so fast, but unfortunately, their adorable clothes don't grow with them. So, what do you do with barely-worn children's clothes that are still in superb condition? This mum has found the perfect solution…
Yep, bub has outgrown their clothes again. And surprise surprise, they've only worn this adorable set twice. So what do you do with clothing that no longer fits your kid, yet still looks as good as new? Throwing them away seems such a waste, and when it comes to donating, well, you can't always be sure they'll actually be reused there either.
Sounds familiar? Us parents know all too well that kids tend to outgrow their clothes faster than they even get to wear them – in fact, they go through an average of seven sizes in the first two years alone! So, when Sarah Garner, a mum of two, saw how fast her own children outgrew their adorable clothes, she was determined to do something to minimise the waste and environmental impact created by used kids' clothes. And that's when Retykle was born.
What exactly is Retykle?
For Sarah, the solution to reducing fashion waste is to create a sustainable loop for it. Having worked in the luxury fashion industry for years, Sarah witnessed firsthand the unsustainable pace for new trends across the industry. After she became a mom, Sarah decided she wanted to apply her experience to a better side of the fashion world. She set out to create an effortless circular fashion solution with the sole purpose of positively impacting families, our communities and the environment.
So that's where Retykle steps in – an e-commerce platform that allows parents to buy and resell gently worn children's clothes that are still in great condition. To encourage this, she designed the platform in such a way that it's both convenient, rewarding, and affordable for parents to buy and sell secondhand children's items. This is done by Retykle taking on all the sellers' responsibilities, from providing free pick-ups for items that parents want to sell to pricing and delivery to customers as well as doing rigorous inspection for all their listings to ensure the clothing's authenticity, cleanliness and quality.
How you can join the Retykle-ing movement
Want to start Retykle-ing? You can start by going through your child's wardrobe for outgrown clothes that are still in good condition. Once you've found something to sell, create an account on Retykle and book a free pick-up or drop-off service for your kid's pre-loved items.
Retykle accepts clothing, accessories and shoes for newborns and children up to 14 years of age, as well as baby gear, toys, maternity and nursing outfits. Make sure these items are stain-free, clean, and in wearable condition. You can check out the list of cool brands currently in stock on Retykle (and the ones that aren't accepted).
After you've booked your pick-up or drop-off, there's nothing more you need to do except sit back, relax, and wait for the good news! You will receive a 50% commission in cash, or 55% in store credit via Retykle's Tyke Points. Alternatively you can choose to donate your earnings to one of Retykle's charity partners.
While you're waiting to see if your items are sold, you can also browse Retykle's collections to see if anything catches your eye. Items for sale are guaranteed to be genuine and in top condition, plus, they're priced at 50-90% off their original retail price. And, don't worry if the item you received isn't up to your expectations; you can request for a return within seven days and receive a full credit refund.
It may not be brand new, but it's definitely better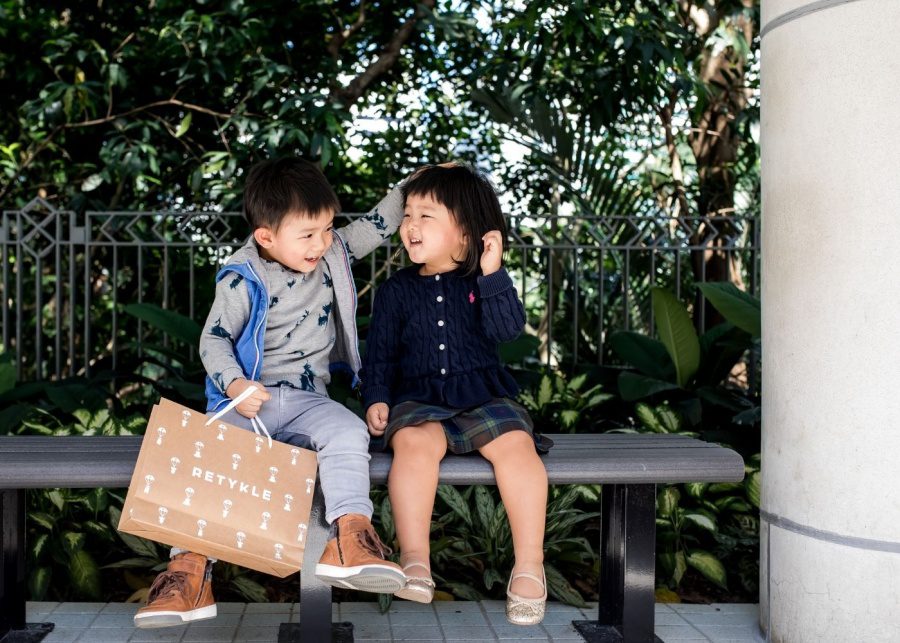 By Retykle-ing, you're doing your part in reducing the pollution caused by the fashion industry. You're also making another parent and child a happy recipient of high quality pre-loved items, not to mention, saving your cute buys from ending up in a landfill. So next time bub outgrows their clothes or crib, don't be so fast to toss them away – they may still have lots of life to live in a brand new home with happy new owners.
Want to become a Retykle-r? Check out Retykle's website; connect with them on Facebook or Instagram; or book a visit to their Studio at 50, Playfair Road, Noel Building #07-03, Singapore 367995.
Happy Retykle-ing!
This post is in partnership with Retykle