Photography: Tara Winstead via Pexels
Most of us have a rough idea of what ADHD is, but does it affect a child's ability to learn? We got the experts to break it down for us…
While most of us may be familiar with the medical term "Attention-Deficit Hyperactivity Disorder (ADHD)", we may be unfamiliar with the challenges and struggles that children diagnosed with ADHD go through. We spoke to two senior psychologists from Promises Healthcare's Child and Adolescent team – S. C. Anbarasu and Tan Su-Lynn – to understand more about ADHD, how it affects kids, what are the early symptoms, and how we as parents can support a child with a diagnosis.
Hello Anba and Su-Lynn! Can you briefly explain to us what ADHD is?
Su-Lynn: Sure! ADHD is a neurodevelopmental disorder that is characterised by patterns of inattention and/or hyperactivity and impulsivity. Children can be diagnosed with ADHD without hyperactivity though, and vice versa. There's various subtypes of the condition.
Anba: Yes, it's a condition that affects the brain. Some children can have trouble focusing, while some are hyperactive and impulsive. A child can have them to varying degrees, and not everyone has all three like Su-Lynn mentioned.
Got it. What are some of the early signs or symptoms that parents should look out for in their children that may suggest they have ADHD?
Anba: Many parents first observe excessive motor activity when their kid is a toddler, but it is important to keep in mind that symptoms are difficult to distinguish from typical behaviour before the age of four. ADHD is most often identified during primary school years when inattentiveness becomes more prominent and impairing. Some early features of ADHD to look out for include:
Inattentiveness: Difficulty focusing attention, concentration and staying on task. They may also have the tendency to daydream, be absent-minded and lose track of their things.
Hyperactivity: Typically fidgety, restless, and easily bored. The child may also have trouble sitting still or staying quiet.
Impulsivity: The child may be acting too quickly before thinking, often interrupting others. They may also act in risky ways, and have overly intense emotional reactions.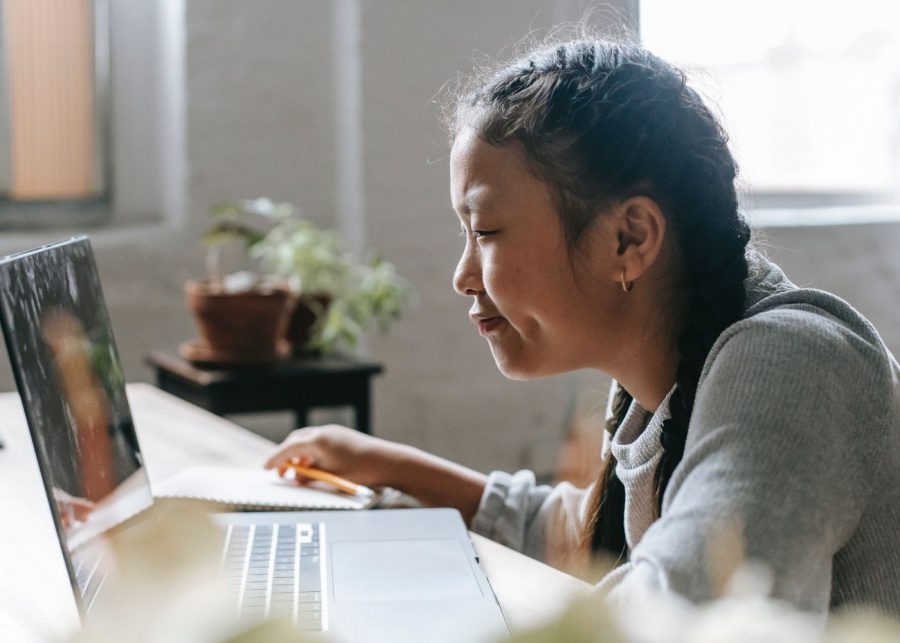 That's really useful – what about as kids get older? Do the signs change?
Su-Lynn: The onset of symptoms happens in the developmental period, so before the age of 12. In most children with ADHD, symptoms of hyperactivity become less obvious in adolescence but difficulties with restlessness, inattentive, poor planning, procrastination and impulsivity persist. In preschool, the main sign of manifestation is hyperactivity; but as they grow older, this may be seen as being fidgety, restless or impatient. And you might not realise it, but girls are more likely than boys to display signs of being inattentive.
Is ADHD considered a learning disability?
Anba: ADHD is not considered a learning disability by itself. Since learning requires the use of executive functions – especially the ability to focus, pay attention, engage in tasks, and use working memory – it can look a lot like ADHD when a child is struggling with a learning disorder. Many people with ADHD struggle with learning, but they may not face enough of an impairment for them to be diagnosed with a learning disorder.
Thanks for the clarification. How does it affect a child's learning experience?
Su-Lynn: Kids are more likely to have reduced school performance and academic attainment, as well as increased social rejection. Children with ADHD tend to struggle with tasks that require sustained effort which may often be misinterpreted by teachers or parents as being lazy, irresponsible or uncooperative. As they may come across as being disruptive, distracted or impulsive – e.g., blurting out or interrupting – children may face peer rejection, neglect or teasing. As Anba mentioned, as they grow older and become more aware of their own difficulties, they may display frustration and lower self-esteem, especially as they may feel that they may be putting in a lot more effort than others to meet academic expectations.
Is there anything parents can do to help their child academically?
Anba: Understanding a child's learning preferences may be helpful so that parents and educators can create learning experiences and environments where children can learn efficiently. In some instances, understanding what senses your child relies on when learning can make a big difference. Some kids may learn better visually, or via auditory or through kinaesthetic approach. Some things parents can try include:
Establishing a rewards chart: This helps motivate some kids, and works well for those who are easily distracted and struggle to acquire new skills.
Use checklists and planners: Parents can do this to keep track of their child's tasks and help them in remembering things better.
Focus on the strengths of the child instead of just zooming into things they are incapable of doing.
Su-Lynn: It's important to also engage the assistance and support of the school's learning/developmental support team as well as school Allied Educators. Parents are encouraged to collaborate with the school and to communicate with the class teachers regarding their child's strengths and limitations as well as their learning and behavioural gaps. This is vital so that teachers will know how to work with them and what learning/social/emotional areas to focus on.
Since Su-Lynn mentioned about school, is it necessary for children with ADHD to attend Special Education schools?
Anba: Not necessarily. Children with ADHD can achieve success in mainstream schools if they are able to get the support that they require. As Su-Lynn mentioned, it's definitely a good idea to let the teachers know about the diagnosis as it will allow them to find ways to tailor the classroom setting. Early diagnosis and intervention can really help to manage their symptoms so they can function like any other kid.
Speaking of early diagnosis, at what point should parents bring their child to seek professional help should they suspect the child has ADHD?
Su-Lynn: It's time to seek help when the symptoms appear to be severe and consistently observed across settings.
Severity is based on direct negative impact on the child's home, social/emotional and/or academic functioning.
Consistency refers to the behaviours being displayed across several settings such as at home and in school.
However, bear in mind that symptoms may be absent in certain situations. For instance, when under close one-to-one supervision, in a novel setting, engaged in interesting activities or having access to external stimulation such as screen time.
What are the treatments or therapies available?
Su-Lynn: Treatment of ADHD varies. Psychological, educational and pharmacological interventions may all be used either independently or in conjunction with each other; the decision is usually driven by the symptoms presented and the goals and needs of the child.
In addition to medication, psychotherapeutic and behavioural interventions are useful in treating children and adolescents with ADHD. These include psychoeducation, use of support groups, skills training, cognitive behavioural therapy (CBT), coaching and counselling.
The aim is to help people with ADHD to develop strategies and learn practical techniques to reduce the impact of the symptoms on their functioning, for example by teaching problem-solving skills, techniques to reduce distractibility and stress management skills.
Anba: It can be a lifelong problem, bringing different challenges at different times. Hence, it is important that parents, their child, and their doctor meet regularly so that they can best meet those challenges. It is important for parents to keep track of their child's progress if medications are prescribed. This would help the doctor to better understand any side effects that come along with medications and to manage the condition better.
Behavioural therapy/support along with parent training is commonly used for children, as it establishes structure, predictability, routines, consistency and increases positive attention. This therapy plan reinforces good behaviour with a reward system and discourages negative behaviour.
Many children also cope better with physical exercises combined with medication and behavioural strategies. As physical activities boost selective brain chemicals in the brain, focus and attention can be positively affected. In other words, a child might find that putting their energy into physical exercise greatly reduces the busyness of the mind.
This has been really insightful, thank you! Lastly, we just want to ask if there's any advice the both of you have for parents with children who are diagnosed, or suspect of having ADHD?
Anba: Managing a child with ADHD can be exhausting for parents and differences in parenting styles can sometimes cause frictions within a family setting. Seeking professional help early can go a long way – for parents, teachers and most importantly for the child. Parents would also benefit from understanding ways to manage their stress and adopt a self-care approach for their well-being.
Instead of adopting a one-size-fits-all approach, attending to a child's strengths, and learning style or ​a combination of learning styles can be more productive. Basically, determining what works best for a child can be very helpful in the long run.
Parents of ADHD children should be involved with their child's school and work closely with their teachers to develop a plan that would best cater to their child. It is important to find out how the child is doing and understand how ADHD affects them.
Su-Lynn: All children, with ADHD or not, need love and support for them to cultivate a strong sense of self-worth and to build confidence and resilience. In searching for ways to help your child with learning and behavioural difficulties, work with your child in developing the social and emotional tools they need to work through their challenges and to develop strategies to compensate for their difficulties, which will in the long run, help your child to grow stronger and more resilient.
No one is defined by their disability or their needs. And no one is perfect either. Embrace the flaws and celebrate the strengths of your child. As with all other individuals, a child with learning and behavioural difficulties will also come with their own personality, interests, strengths and weaknesses. Focus on your child's gifts and talents, and help your child to nurture their areas of strengths such as in activities that they excel in.
Above all, always remember to take care of yourself! It is easy to put your child before you and get caught up in providing for your child's needs while forgetting about your own needs. In order to have the compassion and space for your child, you need to first cultivate self-compassion and to give space for yourself to tend to your own needs. You will not be able to give the best support to your child if you yourself are stressed out, exhausted and emotionally burnt out. Be mindful of your own limits and you are encouraged to ask for help when you need it, be it from your spouse, friend or family. Talking to people who are in similar situations and joining parents support groups are also good options to consider.
Thanks again Anba & Su-Lynn!
If you have more questions about ADHD, or if you require professional support, you can always contact the team at Promises Healthcare.
This post is in partnership with Promises Healthcare