Your not-so-little-one (yep, we're still in denial about this) is about to leave the nest for uni and we've got the lowdown on how to help you…
So, your 'baby' is ready for university life overseas? We know it isn't easy, especially when it feels like it was only yesterday that you were trying to get them to sleep through the night and waving them off to kindergarten. But now they've grown up, it's time to begin the fun part – prepping for that university journey! Not sure where to start? HoneyKids Asia and HSBC have come up with this useful guide on how to prepare your child for the journey ahead…
School your child about saving 101
University can be a big scary step into the unknown, but HSBC, who are experts at guiding parents through this process, has a few tricks up its sleeve when it comes to giving them the right guidance, including tips on teaching them how to manage their expenses. Since your teen is about to be financially responsible, guiding them towards good spending habits is essential. There will be no Bank of Mum and Dad to bail them out once they're overseas and fending for themselves, and while you can still be their financial advisor, they really need to get their money matters planned well ahead of time. Nobody understands this more than the people at HSBC: they've been helping families plan for university education for years, and here's what they have to say about helping your child navigate life overseas:
Arrange for a supplementary card for emergencies
Apart from cash for living expenses, you'll need to provide your child with money that they can use for emergencies (and no, kids, concert tickets are not considered an emergency). The best way to do this? Apply for a supplementary card. It's safer than carrying extra cash and it'll give you peace of mind knowing that your child has access to funds if necessary. And don't worry – you'll be able to see all the expenses on your credit card statement (so you'll know instantly if there has been an 'emergency new trainers' purchase).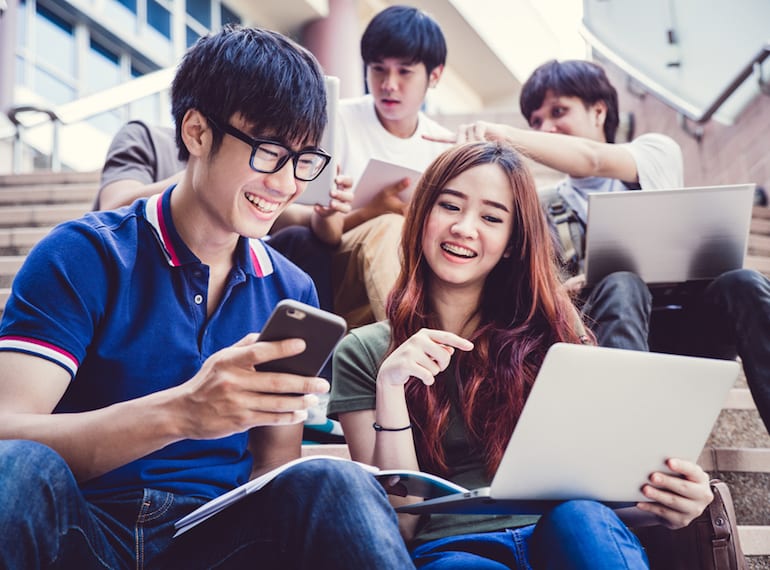 Get insurance coverage
Medical fees can be expensive if your child is living in a foreign country, so do get good international insurance coverage which will kick in if needed (hopefully not, but it's always best to be safe than sorry). Paying foreigner medical rates in your child's country of residence could otherwise rack up serious costs.
Open a joint account with your child
A joint account works the same way as a standard account, except that it allows two people to withdraw money (and use online banking features) from that account. It will allow you to keep an eye on your child's account balance, savings and spending habits – without having to Whatsapp or FaceTime them 24/7. At HSBC, you can view the balances of all your HSBC accounts together on one screen with one single log-in, and send money to your child instantly for free with the Global Transfer service. It's also good to know that your child can withdraw cash without fees at all HSBC ATMs worldwide with a HSBC Premier or Advance Debit Card.
If all this feels a bit overwhelming, you're not alone. The distance between you and your child is a good test of their independence, and will set them up for life when it comes to life skills and standing on their own two feet. Uni is a time where they'll bloom into smart young people and really discover who they really are. And your role as a parent? It will still be absolutely vital to support them on this journey, albeit at a distance, and let them know that you'll always be there for them. Let them spread their wings: they'll always need you and one day they might even thank you for being so awesome!
This post is sponsored by HSBC