Looking for a school where your child learns outdoors in Singapore and connects with nature? CIS could be the international school for you
Kids and nature go hand-in-hand here in Singapore – and most places. It's hard to find a child that doesn't love jumping in puddles or fails to get a kick out of catching snails and seeking out rainbows! Be it the backyard or beyond, the great outdoors provides plenty of fun as well as being a natural teacher in the ultimate classroom. The Canadian International School gets it. The team of progressive teachers at CIS value the importance of outdoor education in Singapore, and incorporates nature as a teaching tool in an already rigorous and dynamic curriculum.
CIS has also thoughtfully designed their facilities to maximise opportunities for young students  in Singapore to connect with nature, especially in the Kindergarten. But just how does all this fresh air and wide open space improve your child's education? Well, it's essential! Read on to find out why (and no, this is not a plug for Bear Grylls!).
Why Outdoor Learning in Singapore is Essential:
1. Some Things Just Can't Happen Inside
Most academic lessons can happen within the confines of four walls. But essential parts of early childhood, like interactive exploration of the world, running, balancing and climbing, require a classroom in the great outdoors. And it's not just physical skills that are heightened. Open-air green spaces reveal unique sights, sounds, tastes and textures. With space to breathe, kids instinctively initiate their own adventures of discovery. A quiet moment observing a grass beetle may spark an interest in science. And when friends make mud pies side by side, their seemingly innocent chat is in fact building social negotiation skills.
2. It Creates Global Citizens
Only by interacting with the natural world can children appreciate – and in turn CARE about – the environment. To raise the next generation of global citizens we need to let them experience first-hand how the world works – to get it under their skin. Our little explorers need to fall a little bit in love with our fantastic community parks, gardens and beaches.
3. It's Key to Development
It's widely accepted (and backed up by scientific evidence from the National Institute for Play U.S.A.) that outdoor play leads to transformative learning in our children. There's just something about the outdoors that inspires kids to get active: running, jumping and playing. Vigorous activity sparks brain development, sharpens gross motor skills and is linked to better academic performance. And kids acquire greater confidence, emotional well-being and leadership skills while filling their lungs with fresh air. Better mood and better grades – it's a no brainer!
Amazing Outdoor Learning Spaces at CIS
Andrea Strachan, the Vice Principal of the Elementary School at the Canadian International School (Lakeside), is passionate about outdoor education for her Kindergarten students. The CIS outdoor learning spaces are second to none, with plenty of shade so kids don't get too sweaty in the Singapore humidity (and sizeable covered air conditioned spaces to cater for rainy days). Students play outdoors for at least an hour a day, often more. When curating the outdoor spaces at CIS, the key concepts of Object Play, Curiosity and Exploration Play, Social Play, Rough and Tumble Play, Imaginative Play and Body Play, were kept in mind.
The gigantic outdoor sandbox is a firm favourite for younger learners, who enjoy digging, building and measuring. The wading pool offers a chance to cool down, while exploring early math concepts such as volume and capacity. Qualified swim instructors teach students swimming and water safety skills in the stunning campus pool, and climbing structures scattered around the school help kids at different developmental stages to improve hand-eye coordination, balance, strength and strategy. There are two large outdoor fields for team sports, and an outdoor classroom for PE activities, such as gymnastics, ball skills, hula hoops, dance and yoga.
From Grade 1, CIS students are exposed to the Open Minds (outdoor experiential learning opportunities) programme off-site. The Singapore Zoo, the Chinese Garden and Jurong Lake are but a few of the popular destinations where excursions take place.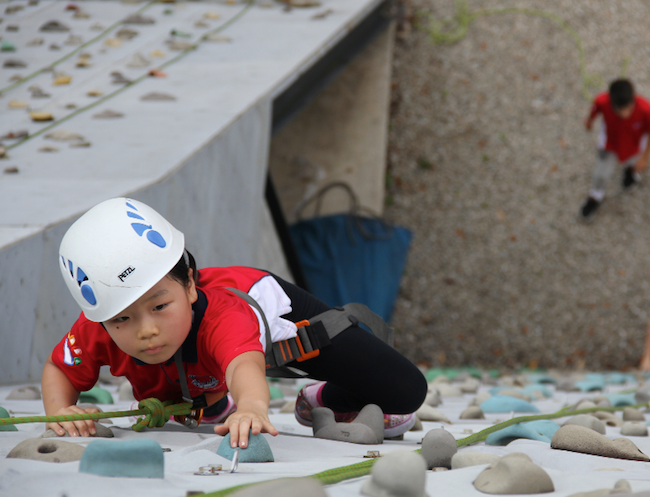 20 Great Outdoor Activities For Kids
What happens once the school bell rings? Help your kids reconnect with nature, starting with your own back yard (or condo). All you need is a little green-spiration!
Have a family picnic outside
Dig in the dirt. Plant something and watch it grow
Do a mini-triathalon – swim a lap, run a lap and ride / scoot around the block
Unleash their inner Picasso with sidewalk chalk
Hose down said sidewalk art
Read underneath a shady tree
Take the dog for a walk
Build a fort (with old sheets, branches or chairs)
Make a bird feeder (pinecone, peanut butter and seeds)
Have a water balloon fight
Do a treasure hunt (with a cool map)
Climb a tree
Melt crayons in the sun
Do a scavenger hunt for bugs, flowers and rocks
Make a journal
Check out the world with a magnifying glass
Get blood pumping with jump rope or hopscotch
Collect shells at the beach and decorate a photoframe
Throw leaves, twigs and rocks into a local stream
Play catch or soccer
Lay like broccoli and make out shapes in the clouds, or watch a sunset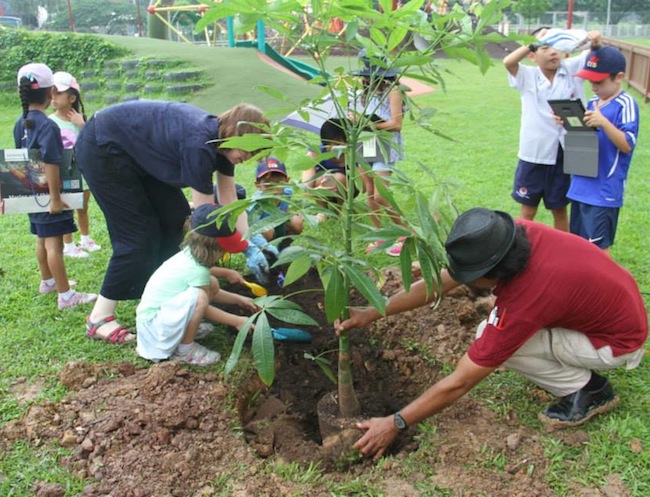 Free Outdoor Learning Spaces in Singapore
Feel the need to venture a little further afield? We're spoilt for choice when it comes to outdoor spaces in this green utopia we call home. At the top of our list of FREE community parks is the Botanic Gardens, Ulu Pandan Park Connector, MacRitchie Reservoir, Sungei Buloh Reservoir and Bukit Timah Nature Reserve. These rich environments are not only the breeding ground for an amazing array of flora and fauna, but are also the perfect launch-pad for the scientists and environmentalists of tomorrow…
This post is sponsored by Canadian International School