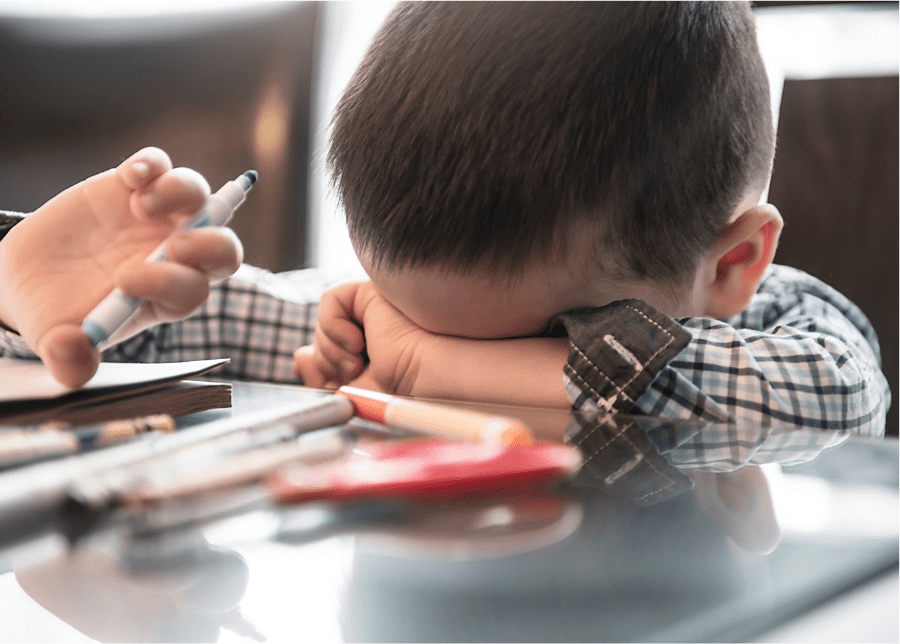 Learning your child has been hurt by their nanny is one of the most heartbreaking experiences a parent could go through. Here's one mum's painful tale..
One afternoon, in a moment of frustration, I grabbed my three-year-old's wrist. "You're hurting me, Mummy," my son complained. Mum guilt hit me like a wave and I hugged him close enough to hear his heartbeat. It suddenly dawned on me — what if something similar had happened to him before?
"Has yaya (Tagalog for nanny) ever hurt you before?" I asked him gently. It was a question I didn't want to know the answer to, just in case my worst fears were true. The minute he nodded, my heart broke into a million pieces. I felt like I'd let him down in so many ways.
"Where did she hurt you?" I demanded. I was already plotting my revenge in my head, how I'd take her to the police where they'd lay down sweet justice and saw the news report that would go along with it flashing on an imaginary screen.
His chubby fingers edged towards his wrist, a pointer finger digging deep into his flesh. I saw how it was possible that I could oversee his nanny's misdeeds, peering over my laptop screen as I brushed off his tantrums, while I focused on work.
What could I have done better?
"It happened to me when I was a kid," said a friend, as if the thought of her being hurt could replace my heartbreak.
"My nanny put me in a rice sack and I didn't know it was wrong 'til I was older. I even cried when she left," she continued, as though the guilt would dissipate.
Was abuse really this common?
The subject eventually changed, after so many of my friends chimed in about the times their nannies hurt them. What else could I do, but be more vigilant?
The nanny in question was long gone before I could confront her, a mere phone number on my phone. She was off to the province, settling a family matter that required her to quit her job. I felt powerless, my former plans all down the drain. Seeking solace, my husband comforted me, assuring me that I couldn't have known what was happening. That worse could have happened. But was he assuring me that I was a good mum, despite my lack of foresight? Or that it was normal?
The guilt may never end, but in hindsight, I could have been more discerning during the hiring process. Sadly, there are countless videos of nannies abusing toddlers online — and these are the ones who've been caught — what about the ones who haven't? While my son's experience pales in comparison to others, it doesn't make it any less disconcerting.
One of the most heartbreaking experiences any parent could go through is learning their child has been harmed. It's a thought that nobody wants to think about, but based on experience, it could happen to anyone, especially to us working parents who aren't around all the time. Here's how to make it work:
1. Be more discerning during the hiring process
When interviewing a nanny, ask scenario-based questions so you can properly visualize your nanny's disciplining style. We recommend setting up a scenario where the nanny has to deal with a difficult child. If the answer is well thought out and aligns with your parenting style, you've got a winner. Also, be sure to talk about your disciplining style during the interview and reiterate that your child, at any point, should not be disciplined by anyone other than their parents. The more vocal and upfront you are, the less guesswork is involved when it comes to disciplining your child.
2. Model good behaviour
Kids look up to their parents and watch everything they do — especially when voices are raised and tensions are high. Show how you're able to keep your cool even in the toughest situations. This way, they'll be less likely to act out and give your nanny one less problem to think about.
3. Teach them to speak up
If we want our kids to tell us when something is wrong, we need to listen to them when they say "no", especially when it comes to protecting their personal boundaries. If they insist you stop tickling them or hugging them, follow suit. We need to show them that we accept their choice so that their instinct is to speak up, rather than be passive.
4. Divvy up the responsibilities
If you've hired a nanny, try not to get her involved in anything else besides child care. The more focused she is on your child, the less she has to worry about or deal with. Their full attention should be on the well-being and care of your child and nothing else. If you've got a child who's a handful, do your part and do some chores.
If you suspect that your nanny is harming your child, do not hesitate to inform the authorities at 999 and get the law to take its course. To get advice, you can consult the 24-hour NAVH hotline at 1800-777-0000.