It's not always like the adorable YouTube videos... introducing your fur baby to your real baby can be harder than you expect.
I'm the proud mum of my baby girl, Lily Indie Meals, and an even prouder, "fur mum" to my two adopted dogs. Blitz, my 10 year-old Labrador, is an ex-K9 unit dog, and a champion narcotics sniffer, who has the most angelic temperament and loving eyes. Then there is Steve, my two year-old Singapore special. He likes to chew walls. I do not have a favourite, however, it was clear from the start that pedigree made a big difference in temperament. But regardless, training is always important for any breed of dog.
Social media has inundated us with adorable videos of dogs and their newborn siblings. Clearly, dogs like this do exist. However, to assume this of all dogs, is to assume all "Lassie" dogs will run and get help if you fell in a well. More likely than not, they'll just run away. It is then useful to also keep in mind, that there are also dogs like the German Shepherd mix that attempted to attack a little girl. Forcing her brother, Bridger Walker, who was six at the time, to save her. He sustained terrible face injuries. Steve too, is a German Shepherd mix.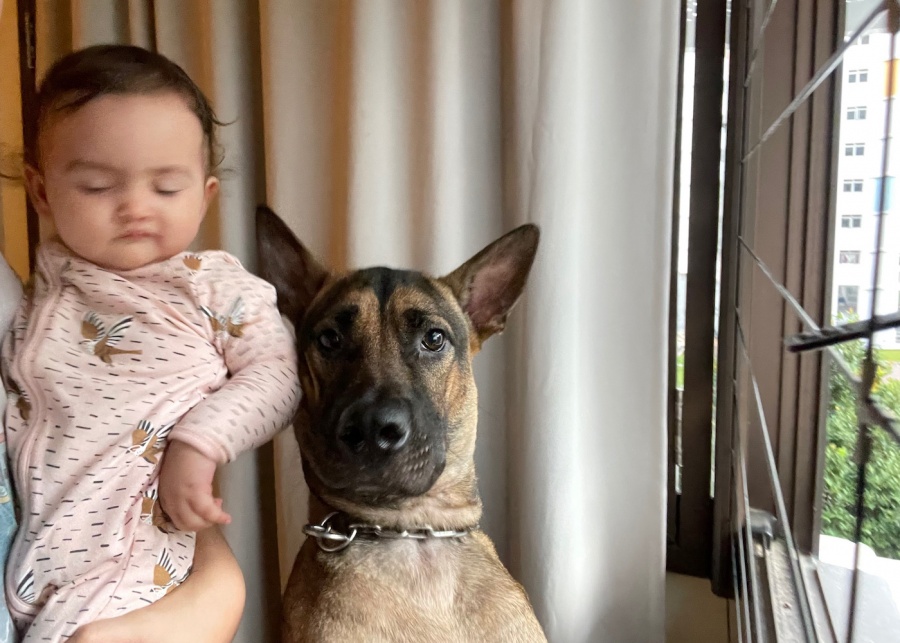 Signs to look out for with your fur baby
Before I got pregnant, we'd sleep with the door open so the dogs could roam in and out; some nights they'd even sleep in bed with us. That stopped, when Steve, who was sleeping at the foot of the bed, snapped at Blitz because she walked past him. This indicated he had become territorial over the foot of the bed.
I was four months pregnant at the time. We started to gradually disallow either dogs on the couch and bed. Blitz got it at once and was happy to still be allowed to sleep at our feet while we watched TV in the living room or sleep next to our bed if we were in the bedroom. Steve whined, climbed up on the bed when we weren't looking, and chewed a hole in the corner of my brand new couch as protest. I assure you again, I do not have a favourite.
Things came to a head one day when I was taking Steve for a walk. As a puppy, he would excitedly pull towards a tree to smell or mark it – a behaviour I didn't correct. Now I had an almost 20kg beast dragging me from place to place. One day, an irresponsible owner was walking his dogs off leash when they began to bark at Steve. He became reactive and started pulling toward them. I lost my footing and fell forward onto my pregnant belly. Later that day, I felt Lily kick for the first time. Thankfully all was good with her.
Finding the right kind of trainer for your dog
Much like parenting, fur parents prematurely decide what kind of fur mum or fur dad they're going to be. Some choose to only train with positive re-enforcements. Some choose to rely heavily on food as motivation and reward. Others choose the more stern approach. Also, very similar to parenting, you get judged regardless of the choice you make. Using a collar is cruel to walk a dog; using a harness compresses their chest too much; using a choke collar is inhumane; and don't get me started on the e-collars.
I'm not a dog expert, and I've been a mother for barely a year. As much as I feel it's important to have a rough idea of how you'd like to parent/train (before getting a pet) it's largely dependent on the child, or in this case, the temperament of the dog.
Blitz, who isn't my favourite, is laser focused and highly motivated and likes treats as rewards. Steve however, is distracted, and enjoys praise over treats. While Blitz needs a vocal command for correction, Steve needs a physical correction. Knowing this about your dog will better equip you to find the most suitable type of trainer.
There is Su from K9 Kampong, who has years of experience and has trained with some of the best trainers worldwide, and focuses mostly on positive reinforcement. Sunny Ong is a well-known trainer who drives hard at obedience. Then there is the trainer that I used, Glen, from K9 matters. An Ex SCDF K9 trainer, he has worked wonders on Steve with his no nonsense, mix of praise and physical correction.
How we introduced our baby to our dogs
I left for the hospital to give birth on a Thursday afternoon, but came home baby-less on Saturday morning. Lily had a bad case of jaundice, so she was kept in the hospital.
But does your dog even know you're pregnant? Dogs have such great sense of smell – in fact, there are comfort dogs that can smell a diabetic attack before it even happens. Some dogs have also been trained to smell cancer. It is entirely possible they can smell the chemical change in your body and know you're pregnant. This does not mean they'll care.
When I got home from the hospital, Blitz, could not care less. In her older years, she's basically become a cat – she just wants her food, walks, and pets on her time. Steve however, was overjoyed and excited and wouldn't leave my side. The next day when we went to collect Lily and brought her home. there was a huge change in behaviour.
Neither dog was interested in her… Steve was petrified! Whenever Lily cried, he'd start barking. When Lily had terrible colic, Blitz would walk into the room and give me a look that in my mind said, "Seriously, woman? Keep that thing quiet, I'm trying to nap". Needless to say I was devastated. Where was my adorable YouTube moment? Where were these loving attentive dogs the internet had promised me? They were there, it was just taking time.
Babies just aren't for everyone
As the months went on, and Lily grew, the dogs started to come round to her. Initially, whenever we placed the baby near Blitz, she'd get up and hastily walk away. At four months, we were allowed to prop Lily up next to Blitz for a picture. That till now, is the extent of Blitz's tolerance of Lily. Steve is miles more attentive. Should Lily be fussing, he comes in to check on her. If we don't attend to Lily fast enough, he barks at us. He even sits in front of us while we feed Lily, almost as though to stand guard while she eats. All that being said, it is still a constant learning experience.
We do not leave Steve alone with Lily. We use dog fences to separate them. We make sure to always hold his collar when we bring Lily close enough for him to smell, and when she was younger, we'd only allow him to smell her hands and feet. We also do big praises and rewards with him to encourage his curiosity.
Will we ever have Blitz be nurturing and loving like the Labradors we see in videos? Will Steve ever be calm enough for us to trust him alone with Lily? I don't know. But what I do know, is all this extra work is still very much worth it to my husband and I, because there is no better hug and no look more loving than when it comes from your dog.
Have you successfully introduced your new baby to your dog? Send us a DM and tell us about it!