EtonHouse Thomson has the friendly family vibe dad Mark Florance has always looked for in a school. Read on to find out what else impresses him about this school and why he chose it for his children.
If you've seen EtonHouse Thomson's campus, you'd know just how inspiring it is. Set in a beautiful colonial-style building on a hill, everyone who walks through its doors feel instantly welcomed. For many years, EtonHouse has been the school of choice for families in Singapore, thanks to its outstanding curriculum and nurturing environment. So, it's no wonder that this impressive school is always top of mind when it comes to quality education.
We spoke to parent Mark Florance about why he chose EtonHouse Thomson for his children and how he believes its nurturing approach to learning has helped them flourish…
Tell us about the your kids who attend the school?
We have two children attending the school, Emilie and Oliver. Emilie is 7 and in Year 3 and Oliver is 6 and in Year 1. They have both been at EtonHouse since they were 2 years old.
What were the most important factors for you when selecting a school?
For us parents, it's very important that the children enjoy the learning experience. We want them to grow up eager to learn and keen to attend school. In addition, our preference is for a school that is not too big, so the children don't get lost in the crowd or feel overwhelmed – and as parents, this gives us better access to the teachers and management. We also wanted a school with greenery and grounds for the kids to run around. Lastly, we like a school that has a good Mandarin programme, as well as solid PE and arts programmes. We like our children to have the opportunity to be children.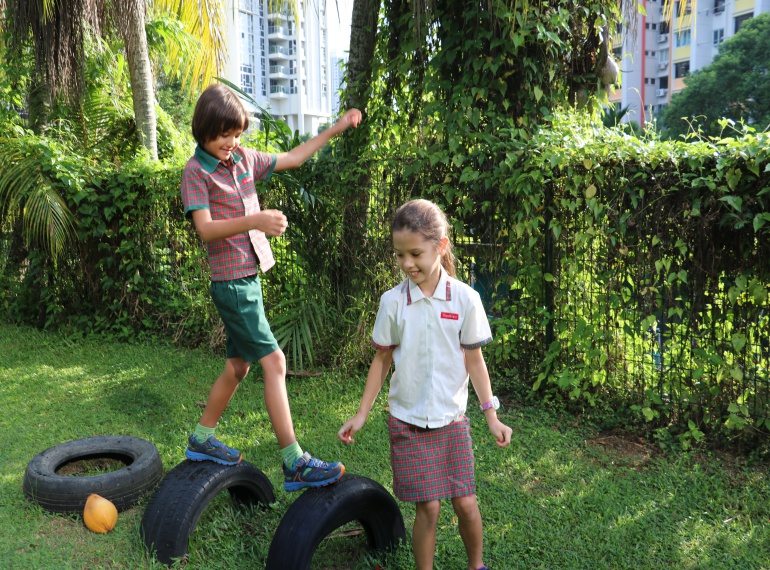 What do your kids like most about attending this school?
I think they like the intimacy of the school and the feeling as though it is one big family. They also like the teaching staff. 
What do you value most about EtonHouse Thomson?
We believe that EQ will become increasingly important for children growing up in this changing world of technology. Rote learning does not provide this – we believe the EtonHouse Thomson approach with the focus on 'learning how to learn' is working towards this goal. We also like the intimacy and the size of the school. The nurturing approach to learning is well suited to our children's personality. A small thing, but we also love that the school caters the children's food. It is great that the children enjoy healthy meals every school day and also see their classmates eating healthy food.
Do you use the school bus service?
We have not used it. We drop and collect the kids ourselves and enjoy that time with them and the ability to have regular interaction with teachers and the principal.
How much homework is expected of the students?
They are given some homework, but not too much as to burden the kids (or the parents!)
What advice would you give other parents trying to choose a school?
Don't just follow the crowd. Decide on the school that best suits your child's personality. Don't be too focused on academics at the primary school age, especially for reading. All kids will learn to read eventually. There's no need to push them – it won't mean they are smarter or achieve more in the future.
Interested in learning more about EtonHouse's outstanding curriculum and strong family culture? Come on over to their open house on 28 April and 5 May! And if you do decide to enrol at EtonHouse, the schools are offering a 50% discount off the registration fee for all online RSVPs!
Open house schedule
Broadrick – 28 April (Info and RSVP link)
Sentosa – 5 May (Info and RSVP link)
This post is sponsored by EtonHouse International School.