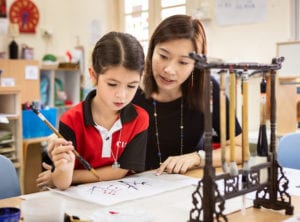 Can young kids really benefit from learning a new language at an early age? Yes, say the experts at CIS
We've all seen those amazing videos of young children speaking and learning different languages and wish we could do the same. While it might be a bit too late for us to jump on the bilingual train, it doesn't mean we can't give our kids that bilingual edge. And when it comes to learning a new language, the awesome folks at CIS say: the earlier, the better! Just in case you forgot about their ace Chinese-English bilingual programme, here's a peek at how these kindergarten kiddos through grade 6 are thriving:
Some parents think that exposing a child to a new language at a young age might cause learning problems or could hinder their ability to master any language properly. Huali Xiong, CIS's principal for Chinese language and culture disagrees. Here's why:
There are way too many benefits!
Ms. Xiong says that bilingualism gives kids huge a social, linguistic and cognitive advantage over their peers. This includes creative thinking, finding errors in language meaning and grammar, and reading at a higher level. Bilingual kids are also more likely to be better at math because of their problem solving and numeracy skills. But the benefits don't just stop there – bilingualism makes them more adaptable and tolerant towards people and other cultures too!
There's no first language interference (which makes language learning so tough for us big kids!)
When young kids learn a new language, they don't have the grammar and vocabulary that we do, so they don't have a word or structure to fall back on. This encourages them to learn the actual meaning of the word in its own context rather than translating the word from their first language to the second in their head. They're thinking in another language – how cool is that?
They're OK with messing up
When it comes to making embarrassing mistakes, children find it easier than adults to move on and try again. This means they're more willing and eager to try out new words and phrases.
They have better pronunciation
Bet you didn't know this, but kids are better at mimicking and and identifying subtle differences in sounds than adults. This makes it easier for them to speak with a native accent and get all the nuances us adults miss out on. Pretty amazing, huh?
They're all about learning and having fun
Ask a kid if they want to play a game or sing a song and you'll get a very happy volunteer. The awesome teachers at CIS make learning fun with interactive activities that gets kids super excited, they don't even realise they're learning!
At CIS, languages are the future. Its Chinese-English bilingual programme is still one of the most popular bilingual programmes amongst international schools, with 37 classes from junior kindergarten to grade 6 and over 670 students in attendance. It's also fully aligned with the prestigious IB PYP model. Kids get equal exposure to both languages from two qualified teachers (one native English speaker and the other a native Chinese speaker), with classes conducted in Chinese one day, and in English during the next.
Ready to enrol your little one into a language programme? Book a personal tour to check out CIS' pioneering Chinese-English bilingual programme.
This post is sponsored by CIS.