Blue House International has a series of optional Discover Programme that allows children to express themselves in any way they want. We take a closer look at this unique programme…
On top of being the best Reggio Emilia-inspired school in Singapore, Blue House International is also known for its unique and inspiring approach to early years education. The school's values, which are shaped by the Reggio educational philosophy, help create a curriculum and learning environment that honours children's voices.
The school appreciates children as individuals who are capable, curious, and full of potential, so the curriculum encourages children to express their ideas and learn without boundaries. A great example of this is its Discover Programme, which is designed to bring out the creativity and imagination of its little learners. Here's the lowdown on what you can expect…
Discover Art, Music and Mandarin with Blue House's Specialist Educators
Blue House's Discover Programme is a series of optional weekly classes that are conducted by the school's in-house Specialist Educators covering Art, Music, and Mandarin. Children are given a lot of open-ended materials and thought-provoking activities to learn and express their thoughts and ideas without inhibitions. During these classes, your child will embark on an exciting learning journey – both indoors and outdoors. They'll explore language, culture, literacy, storytelling, sounds, and more through the creative mediums designed by the school's Specialist Educators.
Here's a glimpse of what happens in each Discover Class:
Discover Art with monoprinting
The children at Blue House were invited to explore the monoprinting technique with the Art Educator. When print rollers were introduced, the children immediately exclaimed, "It's a peeler! I peel, peel, peel!" They were then encouraged to use the print rollers on the provided blank canvas in any way they wanted. Natural materials like leaves were also provided for children to explore the concept of positive and negative spaces in art, who were all delighted by the white shapes (negative space) created by the leaves. Through this simple activity, children could sharpen their motor skills and learn to think creatively.
Discover Mandarin through food
During one of the Discover Mandarin classes, the Mandarin Specialist facilitated a discussion about Chinese festival food like tang yuan and dumplings (jiao zi) with the children. The children observed that these dishes were eaten during the Lunar New Year and compared them. They found that the tang yuan was the sweeter dish between the two (and no surprise, it was their favourite!). The children decided that they wanted to make tang yuan during that session and nicknamed the food as "甜甜 (tian tian)" after its taste, which means sweet in Mandarin.
Discover music through sound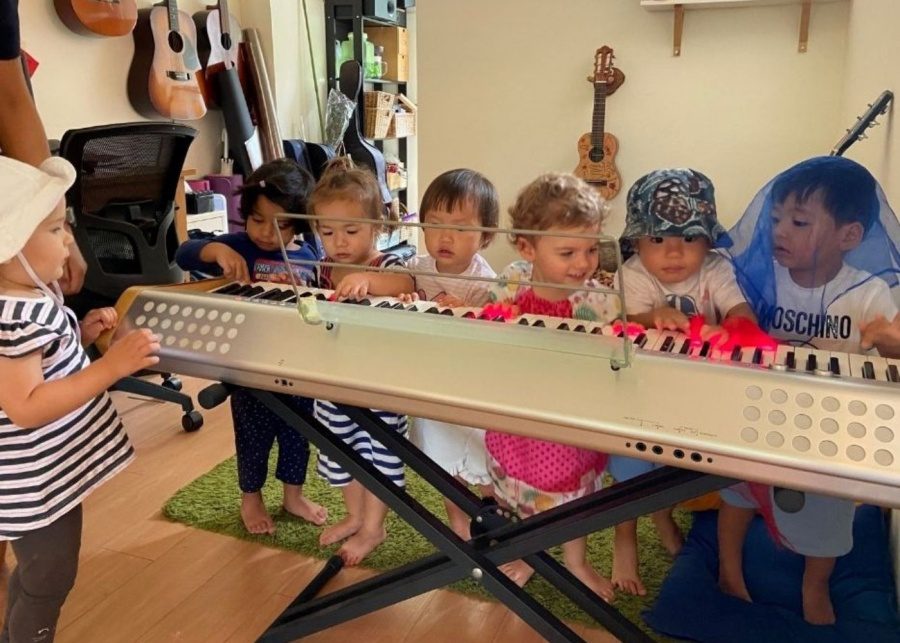 Blue House's Discover Music sessions aim to inspire children to develop their own musical voices – one of the Hundred Languages through which they express their ideas and access knowledge. Children learn to identify sounds through different musical repertoires, instruments, and movements. These activities encourage them to probe deeper and develop their innate musical talents, allowing them to express themselves musically.
Experience the Blue House Difference at its upcoming Open House
Interested to see how the Blue House Approach works? The preschool will be having an Open House at its Turf Club Road campus on 11 June 2022. You'll get to learn more about Blue House's unique curriculum from its Head of School, take a tour of its beautiful and inviting classrooms and facilities, and speak to the Educators for details about what happens in class.
Reserve your spot at Blue House's Open House right now.
This post is in partnership with Blue House International.