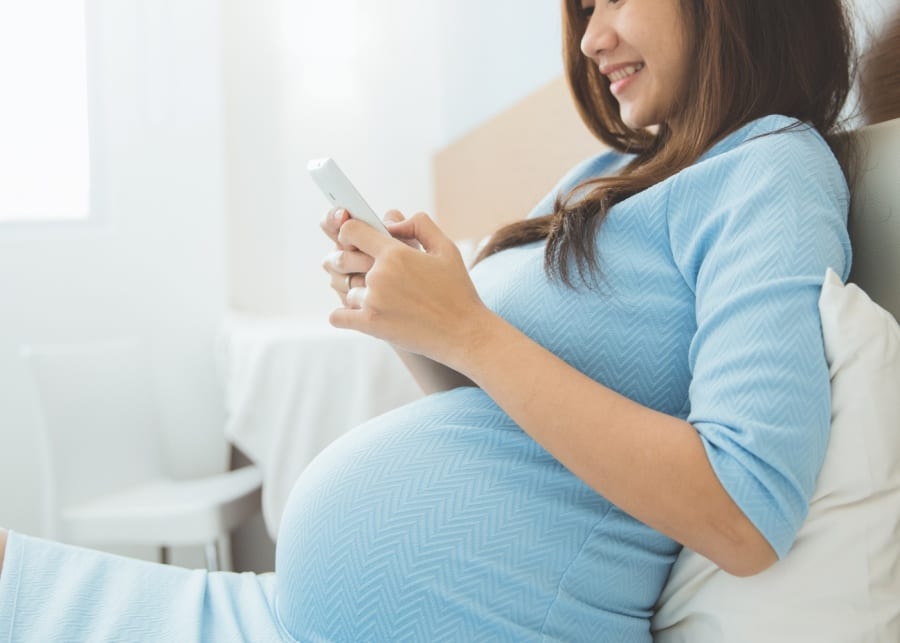 Okay, so technology can't make growing a human easier. But it can makes it way more fun, especially with these awesome pregnancy apps!
So you've survived the wait to confirm you're pregnant and are wondering what to do next… If you've managed to restrain yourself from buying a whole lot of baby stuff you don't need, here's something you definitely need in your life: some awesome pregnancy apps. The age of technology brings many benefits to those of us in the business of baby-growing. Want to know what your baby looks like in week six? There's an app for that. Want to see if a certain kind of food is safe to eat while pregnant? There's an app for that. Want help picking out a baby name? There's an app for that too!
There are so many apps at our fingertips these days, and some can really add value to the whole experience. Whether they make life easier or add to the growing excitement, apps are here for us pregnant folk. Here are some pregnancy apps we consider must-haves (all downloadable here in Singapore, of course):
The best pregnancy and baby apps for new parents
1. Ovia Pregnancy & Baby Tracker
Best feature: Real-life hand-size projection of your little one as they grow each week.
This one is a favourite. Each day it uploads tiny tidbits of useful information in categories such as Baby Development and Body Changes. Although it does provide longer articles that you can read if interested, it makes for a nice quick daily scroll to see where you and your baby are at. In addition to useful size comparisons, notes and calendar features, it shows an image of your baby's hand size every week, which is an exciting feature. This app is also extremely useful with its quick reference guide for foods and medicines, which allows you to search alphabetically to determine safety information.
Price: Free.
Available on the App Store & Google Play.
2. What to Expect – Pregnancy and Baby Tracker
Best feature: Weekly videos and overviews
Yes, this pregnancy and baby app is the digital extension of the classic What to Expect When You're Expecting book. It comes complete with articles and daily tips, keeping you completely informed on how to be pregnant – who knew you had to start sleeping on your left side from the second trimester on? This app excels in providing a detailed overview and video for each week of pregnancy.
Price: Free.
Available on the App Store & Google Play.
3. Babyname
Best feature: Connect with your partner to find names you both like
This one is a lot of fun. It's Tinder for baby names, with names instead of profiles of hot singles. You and your partner can each download the app and start going through names. Swipe left or right to submit your vote for each name and when you and your other half have both loved a name, it shows up on your match list. Simple and so much fun. Not so simple, perhaps, if you want Persephone Araminta Primrose and he wants Jane.
Price: Free to download, plus in-app purchases.
Available on the App Store & Google Play.
4. Who's Your Daddy?
Best feature: Designed specifically for Dads-to-be
Every woman should install this one on their partner's phone. It's less fancy-schmancy and cutesy and more direct with a humorous twist. There are fun daily tips: "Book her another pamper day. She deserves it even more," and "Repeat after me: From behind, you can't even tell you're pregnant!" But it also packs in a lot of useful information about you and your baby.
Price: $2.99-$3.98
Available on the App Store & Google Play.
5. Baby Pics App
Best feature: Unique tailored artwork for your photos
Ever see someone's Instagram and feel instantly jealous of their graphic design ability? Wishing you could post pics of your bump that have cute decals on the side saying your baby's size in fruit comparison? This app has decals for everything. Use them straight up or combine them to make original pieces – it's worth the few dollars and will last through your pregnancy and your baby's early days.
Price: Free to download, plus in-app purchases.
Available on the App Store & Google Play.
6. Glow Baby
Best feature: Timer for tracking feeds and sleep schedule
Once bub is born, you're going to need some help to get through those first crazy weeks at home. New parents will love Glow Baby, which helps you stay on top of those nappy changes and feeds. This baby tracker app also has advice on how to deal with the basics and a log to store all your baby's vital information. You'll also get personalised PDF summaries of all your child's data and even interactive growth charts.
Price: Free to download, plus in-app purchases.
Available on the App Store & Google Play.
7. Wonder Weeks
Best feature: Predicts when your baby is about to go through a fussy period or "leap"
This multi-awarded pregnancy app has received many accolades for a reason – it's an absolute lifesaver for new parents who can't figure out why their little one won't stop crying, can't sleep or won't eat. Once you download the app, you just need to enter bub's birth date and it will create a calendar predicting your little one's fussy periods. It also explains your child's milestones in depth so you can figure out how to best help your baby.
Price: Free to download, plus in-app purchases.
Available on the App Store & Google Play.
8. Hello Belly
Best feature: Meditation tips for every trimester of your pregnancy
Hello Belly believes that staying emotionally and mentally healthy is equally important as staying physically healthy during pregnancy, hence this pregnancy app. Apart from useful practical tips written by top experts, it also features meditation practices, yoga classes, and even 3D and augmented reality (AR) visualisations of how your baby looks in your womb. This app claims to be "the most adorable ultimate guide for future moms and dads", which we completely agree! Of course, the cute illos make it all the more adorable…
Price: Free to download, plus in-app purchases.
Available on the App Store & Google Play.
9. Move Your Body
Best feature: Customisable goals for your fitness and nutrition plans
Just because you're preggo, doesn't mean you can skip on all exercises! It's important to stay active so that both your baby and body can handle the changes that they're experiencing. This app features over 400 workouts that can be done at your own pace, time, and every trimester of your pregnancy. There are even specific exercises that will help make your labouring process a little easier. Phew! Plus, get over a year's worth of nutrition tips for you and baby.
Price: Free seven-day trial, subscriptions of $30 per month or $180 per year.
Available on the App Store & Google Play.
10. 280 Days
Best feature: Journal your pregnancy every day and turn it into a book after you give birth
If it's your first pregnancy, you'll want to document every step of it. Insert this pregnancy tracker app, named after the average amount of gestation (fun fact!). Track your physical conditions and weight gain, bubba's growth and development, and even take notes on doctor's appointments and ultrasounds. After the birth, you can export your journal into an easy-to-read physical book for keepsake.
Price: Free to download, plus in-app purchases.
Available on the App Store & Google Play.
Good luck with your pregnancy, parents!