Sharing the secret on a little known part of the island
If you really want to get away from it all, the island of Koh Samui doesn't immediately spring to mind. Too many Chaweng memories conjure up party nights and broken days by the beach. But we are reclaiming the isle as a tranquil hotspot now that we've stumbled upon a secluded bay, a stone's throw from the airport (handily) but a million miles away.
On the north coast lies a beautiful private hideaway fronted by calm turquoise waters known as Belmond Napasai. Part of the Belmond collection of worldwide luxury properties, it feels like a discrete holiday home that you've always known and never want to leave. Personal service, delicate touches and a low-key vibe indicate how it must feel for George Clooney when he stays at their Venice counterpart. He is a frequent Belmond guest. And if it's good enough for Mr. Clooney, it's perfect for us.
The Arrival
Entering the property on a simple winding road, you pass by a hobby farm full of animals and sustainable produce. We earmark this to visit later with the kids. The moment we enter the open-air lobby, we make like cucumbers and get cool and calm immediately. The understated welcome and outlook onto gorgeous gardens is a sign of the chillaxing to come. We get the keys to our digs and we're whisked off to our pied a terre…
The Villas
Far from it! We are ushered into rather spacious, rustic-feeling yet fully-equipped accomodation with a sublime stone bath and an outdoor bale for reclining. We don't often recline but think we might take it up on this jaunt. Oh, and did we mention our beach house is, well, on the beach? We are mere steps from paddling our feet in the water. Neighbours are at a distance and right in front of us are shaded spots beneath palm trees on the sand where hammocks are ready to break our fall. We can literally watch the kids on the beach from our front steps.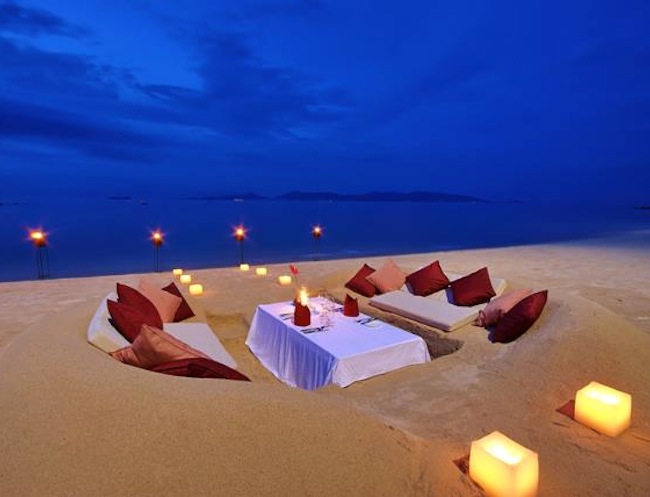 The Beach
If we do decide to get out of our hammocks, we need not go far for anything. Within easy reach are day beds with canopies, grassy areas for the kids to run around on, trees to climb, kayaks and catamarans for hire, and a flat as a tack sea perfect for younger children and adults who don't want a challenge. Zig-zagging back and forth across the bay on cats became a favourite past time.
The Resort
To us, the best feature of the resort was that it was established on a reasonably flat plot of land that gently slopes towards the ocean. So many island resorts in Thailand involve steep tracks, so it was a pleasure to roam the gorgeous grounds without being confined to paths and breathlessness. Though we spent a lot of time down on the beach, our favourite spot became the pool area. Not only is it positioned on a beautiful terrace overlooking the ocean, there is also a quiet kids pool and the nearby Infinity Bar turning out some amazing cocktails. We'd hit the jackpot. All our sensory and safety requirements were fulfilled.
The Food
The unassuming beachside bistro, Moo Kata, dished up some of the best food we've ever eaten on holiday. Amazing salads, crab burritos, authentic Thai and even delicious meals for the hard-to-impress younger diners. The produce is incredibly fresh thanks to produce grown on site. In a very communal move we were happy to hear that staff take a lot of pride in their green thumbs are able to use the produce themselves too. The restaurant transforms at night and we spent each evening dining in the sand under stars and fairy lights while the kids played.  It was such a special atmosphere that it called for a top-up of bubbles regularly.
The Fun
We must confess that we did not venture out of the resort during our stay. We didn't need to. Happily ensconced in our live-in-the-moment vibe, the purpose of our holiday (to relax and reconnect) had been met. We did wander back down the road though to visit the hobby farm and it was nothing short of fab. From pigs to geese to fish to buffalo, we had buckets of fun doling out buckets of feed to the whole menagerie.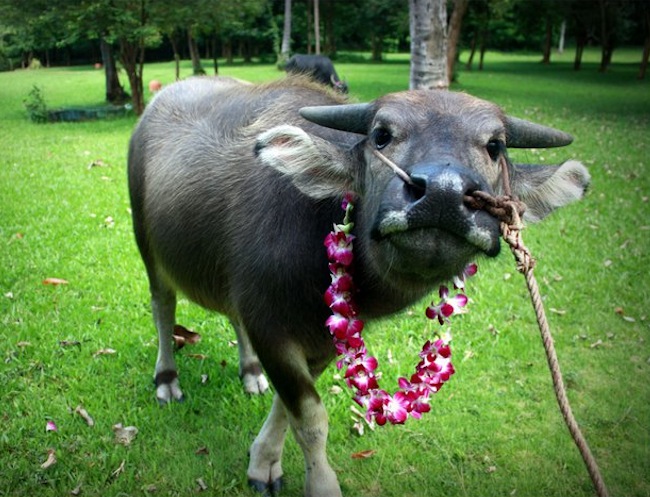 The Verdict
We can honestly say our stay at Belmond Napasai was one of the best family holidays we've had and Koh Samui will become our new go-to for a getaway. They have a number of promotions on offer including The Family Bliss Package which includes: luxury accommodation for two adults and two children under 12, daily buffet breakfast, one fruit carving or pastry lesson for children, one-time nanny service for three consecutive hours, Round-trip airport transfers, daily treats for children including activities and homemade ice cream, one dinner for two adults and two children. Offer extends until 31 December 2014.
Belmond Napasai 65/10 Baan Tai, Maenam, Koh Samui, Surat Thani, 84330, Thailand, p. +66 77 42 92 00