If you think fighting MMA is tough, wait 'til you experience childbirth. Here's why motherhood has given MMA World Champion Angela Lee Pucci her determination, perspective and a newfound superpower.
MMA World Champion Angela Lee is many things: a Pankration world champion, wrestling state champion, an MMA world champion and a Brazilian Jiu-Jitsu black belt… but these last two months, she's taken on her biggest challenge yet — becoming a mum to Ava Marie. It's been one incredible journey — from a difficult labour to having to deal with waking up several times a night — but Angela Lee Pucci is embracing motherhood with the same grace she effuses in the MMA cage. Here, she shares her birth story, why she's so in love with motherhood and her plans for the future.
No amount of MMA training will prepare you for the pain of  childbirth
Despite a relatively easy, straight-forward pregnancy, Angela had one tough childbirth experience. "Childbirth is the most pain I've ever felt in my life," she reveals. Even after tough fights and painful training sessions, for Angela, childbirth was a true test of her threshold for pain.
"I had a birth plan," Angela shares. "I wanted an unmedicated birth". But as luck would have it, Angela would never be able to literally push through with her birth plan. "I didn't even notice my water breaking. It didn't gush out like I thought it would, so I went through the rest of my day like nothing happened. I told Bruno (my husband) and he said to get it checked. And when we did, it turned out that it was my waters breaking. It was so weird, because I didn't feel any contractions."
"They suggested inducing me because they said there was a risk of infection if my water bag was broken, so I went along with it. They tried a lot of things over the next few hours and the worst was the pitocin. It gave me the worst contractions. I was shaking and throwing up, and I dealt with that for two hours."
Eventually, the doctors broke the news that Angela wasn't fully dilated, and they were worried that the baby's heart rate was dropping. They suggested a caesarean section, but Angela was adamant about pushing the baby out on her own. Instead, they gave her an epidural to manage the pain. It went smoothly from there. The baby's heart rate grew steady and Angela started having contractions naturally. "At 10.30am, I told the doctors that I was feeling pressure and they said that yes, they saw the baby!" And after 20 minutes of pushing, she finally had her baby.
Having a baby in the new normal
Angela, who's really close to her family, felt bad that she wasn't able to have her mum by her side throughout the whole birthing experience. She also had to go to almost all of her doctor's appointments on her own due to Covid-19 restrictions. "They were so strict about not having anyone else come with you," she explains. "I really wanted us to go through everything together. It made me feel really sad that we couldn't."
She also admits that she enjoyed the social distancing. "The early pregnancy symptoms hit me hard," says Angela. "I was throwing up during my whole pregnancy. But despite all of that, I liked staying at home, being with my family and focusing on growing my baby."
Angela Lee on becoming a mum…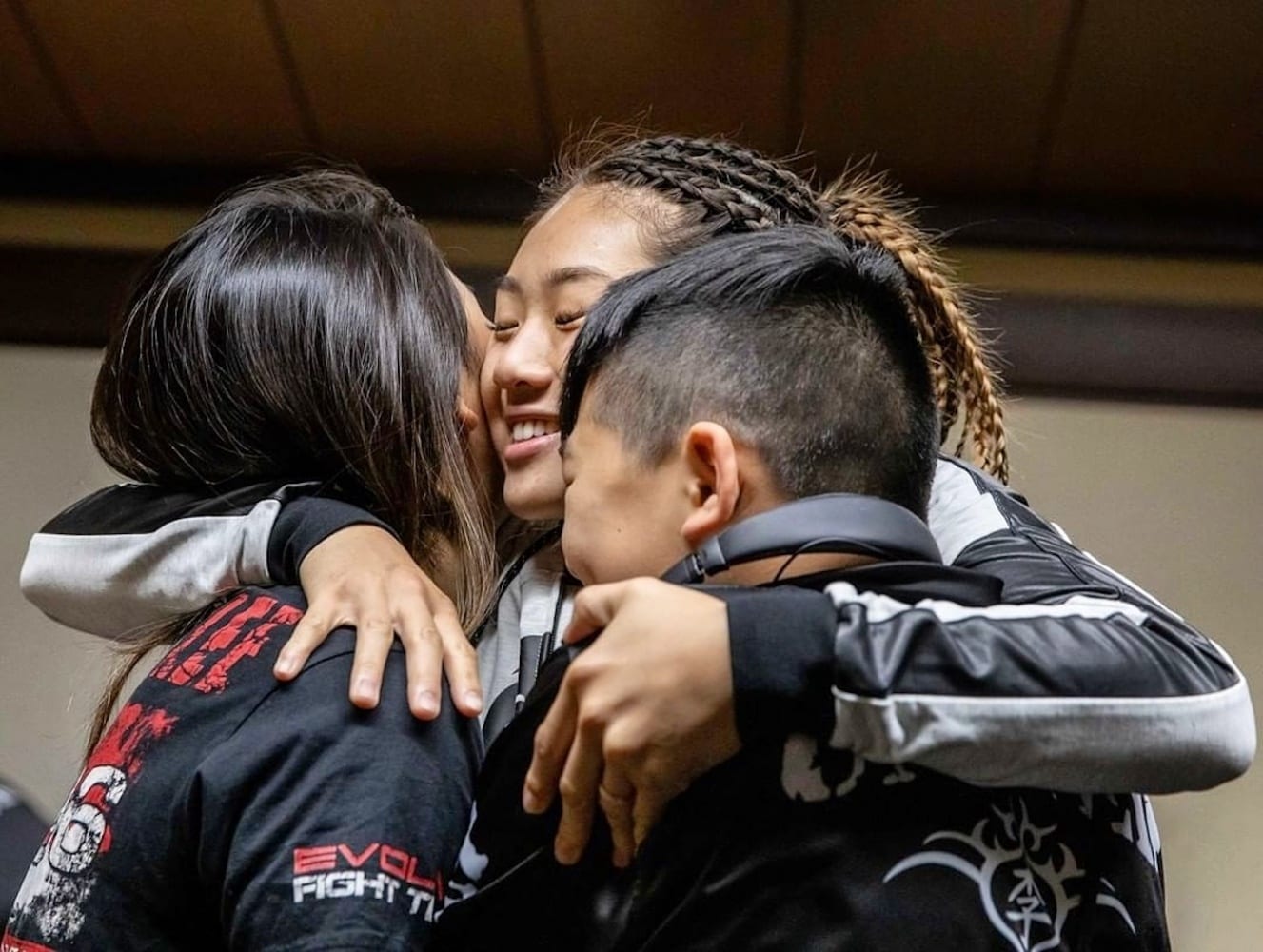 Anyone who knows or follows Angela on social media knows how close she is to her family, especially with her siblings. As the eldest, she's always been their fiercest protector and supporter — even if all of them can hold their own in the MMA cage. Which is why it doesn't come as a surprise that motherhood has come naturally to the professional fighter: "Being Ava's mum is the best thing ever," she says.
And even just a few months in, she's already seen how challenging motherhood can be. "Some days I feel like I can do everything: take care of her, clean the house and go out. But some days I feel a bit defeated because it gets overwhelming. But I've learned that you just have to go with the flow and I must give myself a lot of grace." With this realisation, she cites the newfound respect she has for her own mother, and other mums.
"It's incredible what mums are able to do. My mum always made everything look so easy — taking care of us, the house work, cooking — and now that I'm in her shoes, I'm really thankful for all that she's done over the years."
Easing back into training
As a professional fighter, Angela knows that being in peak fighting shape is necessary, but she's also being smart about the whole process. She's been easing her way into working out regularly, mindful of all the changes that's happened with her body after giving birth. In an Instagram post, the new mum shares her experience of getting back into training. "During warm ups, my whole body felt strange. I was moving slower, my joints were hurting, and I kept on thinking, 'why does the mat feel so hard?'" she shares.
She acknowledges that she's far from fight shape. "When I look in the mirror and see my squishy belly, I try to give my body grace. And if I'm being honest, it's pretty hard to do because it's so easy to focus and criticise all the things I don't like right now. But I gotta remember that this was the body that grew, nourished and protected my baby for nine months, and that's the most amazing thing ever!" Finding a routine that works has been tough, but she considers herself lucky to be surrounded by family members and a supportive husband to help her take care of Ava.
Getting back in the cage
While fighting in the cage is far from Angela's mind right now (she's simply enjoying and cherishing new motherhood!), she's excited for what the future holds. Her new superpower — being a mum — will undoubtedly add power to those punches. "I feel like I have so much more strength. I can dig that much deeper because of what I've been through. Going through the pain of childbirth, I feel like there's nothing I won't do for my daughter".
And with other professional mum athletes, like Olympic runner Allyson Felix who beat Usain Bolt's record just ten months after delivering her baby, and tennis superstar Venus Williams who's killing it in the spotlight, Angela is inspired to beat the stereotype and do what she does best: win.
Inspired by Angela Lee's journey to motherhood? Tell us yours by sending us a DM on Instagram!