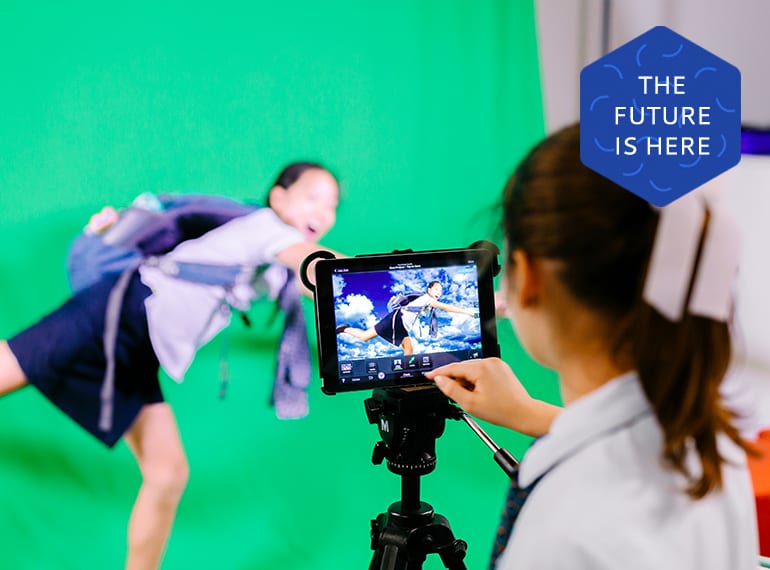 If you'd like your kids to leave school feeling equipped for the realities of the modern working world, take a look at the new Future School initiative at GEMS World Academy.
Remember those gruelling classes at school where all you did was wonder why you were being subjected to this academic torture? You knew you'd never make use of pi, or refer to your 2,000-word critique of Metropolis again. Of course it turned out there was method to the intellectual madness, but we still appreciate it when a school brings some true real-world application into their curriculum. There are three very exciting new things happening at GEMS World Academy, that not only help to set kids up for the working world, they do so in a forward-thinking way. We'll share more details in the weeks ahead, but for now, here's a sneak peek at the school of the future.
'GWA: The Future School' sounds like you could be settling in to watch a sci-fi movie, but this new initiative is far more practical than life in The Matrix. This is a place where kids get to learn how life really is in the big bad world of work, with lessons in collaboration, design, entrepreneurship, and more. Let us take you through the three – very cool, we must say – pillars of Future School:
1. Blended Learning all around the world
One of the biggest changes in the workforce is how we interact with colleagues and clients globally. GWA has recognised that to be successful in the workplace, new ways of learning have to be provided for their kids. That's why their blended learning program places GWA students into virtual global classrooms with students from around the world, co-taught by a global online teacher, as well as their subject teacher at school. Students get a working taste of what it's like to collaborate with colleagues from other GEMS campuses all over the world, in person and online, to achieve a common goal. We all know what a challenge that can be, even with years of experience under our belts! The Blended Learning courses are a significant enhancement to traditional learning, not a replacement – two teachers lead the course (meaning double the insights), and students take part in a mix of physical classroom lessons and online classes. Basically, students learn how to operate remotely in a productive way, which is something we suspect all companies would benefit from in their hiring process! Blended Learning has kicked off with the G11 classes in 2016-17, with more courses opening up in 2017-18.
2. STEM goes one step further
Many schools use a STEM (Science, Technology, Engineering and Maths) approach in their curriculum, but the difference at GEMS is everything is taken much further. The school has recently formed a partnership with Carnegie Mellon University and The CREATE Lab, meaning it's now one of only five schools globally to become a 'CMU Create Lab Satellite School'. As Carnegie Mellon is considered a world-leader in STEM innovations, this means that students at GWA will have access to cutting-edge research, as well as current and emerging technologies. With a strong focus on robotics, coding and AI, STEM at GWA really does provide students with wonderful opportunities in and out of the classroom. What's fantastic about the GWA approach is that every student from PreK is involved! Combined with the 'real world' basis of STEM, all of these amazing initiatives work hard to prepare kids for life beyond school.
3. Entrepreneurship: creating a culture of entrepreneurship through a S$1million seed fund and co-working space!
GWA is really taking real-world preparation seriously, and has been focusing on research and pilot programs to build the third pillar of the Future School initiative; a robust entrepreneurship program. The aim is to get students excited about 'thinking big', coming up with solutions to challenging problems, and to learn by doing. With this in mind they've launched an Innovation and Entrepreneurship Centre, an internship program for grades 6-11, and a summer boot camp program. But the part with the real 'wow' factor is a S$1 million seed fund. That's right, GWA is generously ploughing a million dollars as seed investment into Ed Tech businesses, providing them with co-working spaces, access to the global GEMS network, and supporting the development of a start-up culture at the school. In return, those businesses will provide mentorship to students in the entrepreneurship program. Win win!
We can't guarantee that all complaints to the tune of "whyyyyy do I have to do this at school?" will disappear. But it's reassuring to know there's at least one international school doing its utmost to create young graduates who are ready to take on the world with both enthusiasm and experience. To the future!
This post is sponsored by GEMS World Academy.