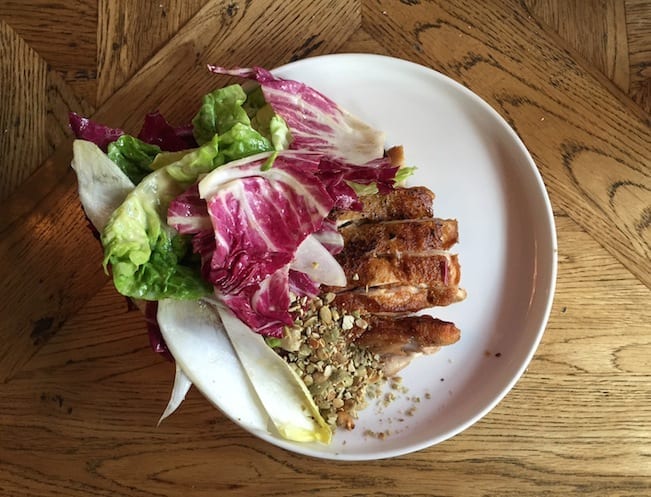 Your new go-to summer salad: roast chicken with endive, chicory, baby gem and pumpkin seeds.
Fast and fresh dishes for the family are a godsend; so imagine our excitement when local head chef Nick Scorpion offered to teach us his twist on a roast chicken salad that's perfect for weekend lunch...
We love a good summery salad – and we don't mean on the side. We're talking lovely leaves and star ingredients that make a bona fide meal. When you're after something light but satisfying, clean and healthy that the whole family can dig into, this roast chicken salad by Nick Scorpion, head chef of mod-Brit restaurant Oxwell & Co, hits the spot. It's so simple but hugely appealing thanks to all the texture that unfolds: tender roasted chicken, crisp baby leaves and a bit of crunch, courtesy of roast pumpkin seeds. And don't get us started on the pure comfort factor of good roast chicken.
This salad uses sweet baby gem lettuce alongside endives and red chicory, which are known for their slight bitterness, but Nick advises using the mild and tender inner leaves for best effect. The result is an elegant salad that would still appeal to kids' palates. Serve it up for Sunday lunch, and get spectacular salads back on the family menu – trust us, this will be on high rotation!
Roast chicken salad (serves 4)
1 whole chicken (1.2-1.4kg)
Olive oil
1 endive
1 baby gem lettuce
1 red chicory
30g roasted pumpkin seeds
Honey mustard dressing
80ml honey
100g ((6tbsp) Dijon mustard
225ml white wine vinegar
400ml Olive Oil
1. Preheat the oven to 160°C. Pat dry the whole chicken and massage it with olive oil. Season generously with sea salt flakes and black pepper. Roast in the oven for 1 ½ hours then allow chicken to rest.
2. To make the dressing, place all the ingredients in a high speed blender and blend on high for 15 seconds. Transfer the dressing to a jar – this will keep in the refrigerator for up to 3 months.
3. Once the chicken is rested, carve the breasts and legs. Debone the legs. Then, carve the chicken into inch-thick pieces. Slide the chicken onto your plates.
4. Slice the cores from the bottom of the endive, lettuce and chicory and let the leaves fall into a large mixing bowl. Add your desired amount of dressing to the leaves and toss gently – you want a nice coating on the leaves, but don't go overboard and drown them. Arrange the salad asymmetrically on the roast chicken for a nice touch. Sprinkle over the roast pumpkin seeds and serve.
www.oxwellandco.com.