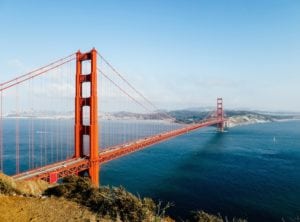 Photo by Patrick Tomasso on Unsplash
Ditch the swimsuits and sunscreen this summer and head to San Francisco for a city break that the whole family will love (once you've gotten past the jet lag)...
Deciding on where to take the family for the summer break can be a daunting task, especially if you've ticked off beach-hopping and glamping from your travel bucket list. Here's an idea: why not beat the heat and head to breezy (and sometimes misty) San Francisco, California? Although it's a bit of a trek from Singapore (about 15 hours!), we say San Francisco with kids is definitely worth it. Especially if you use our handy flying with kids survival guide and go armed with all the gadgets and games that make flying that bit easier.
HOW TO GET THERE

United Airlines and Singapore Airlines both travel direct to San Francisco every day. Expect to be in the air for around 15 hours, 20 minutes.
WHEN TO GO

Any time! But if you want to avoid the tourist rush months of September to November when the weather is at its warmest and clearest best, then March to May is perfect. Weather is mild and hotel prices are lower. June, July and August are usually the foggiest months.
WHERE TO STAY

Take a look at hotels or Air BNB options around fam-friendly areas, including Fisherman's Wharf, Union Square, Nob Hill, Russian Hill and North Beach.
HOW TO GET AROUND

If you're staying in the city, we recommend skipping the rental car and taking the sights in by foot and MUNI. Do wear comfy shoes because SF's hilly streets aren't exactly flat sandal-friendly. Thinking of bringing a stroller? Opt for a carrier instead. This way, it'll be easier to hop on a cable car (strollers aren't allowed)!
WHAT TO DO
From the pastel-coloured Victorian houses to the cable cars and the haunting sounds of the fog horn to the awesome views and thriving restaurant scene, there's plenty of reasons why people can't get enough of this amazing city. And the best part? It's a great place to take kids! In fact, just on the Embarcadero alone, which you'll find along the city's eastern shoreline, there are plenty of fun spots to bring the kiddos (it's good to keep them busy if they have a touch of jet lag). There's so much to see and do in the Bay area of San Fran. that we can't keep one of our favourite holidays a secret for a moment longer. Here's the places we loved on our own adventure with the kiddos in tow… Tried. Tested. Child-approved.
Hop on a cable car

If you're in San Francisco it's practically compulsory to ride a cable car, and kids under four years ride for free. Scaling those uber-steep streets around San Francisco can be tiring, so hopping on a cable car is the best way to give small legs a break. Kids will not only love the views, but the thrill of being on a cable car is not something they get to do in Singapore! Our suggestion? Take the Powell-Hyde line at Market street to Aquatic Park where you can walk to Ghirardelli Square for the ultimate treat: an Ocean Beach Sea Salt Caramel Sundae at the Ghirardelli Ice Cream & Chocolate Shop. 
Have lunch at the Ferry Building

Built in 1898, the Ferry Building has been renovated into the ultimate foodie hub. With restaurants including the uber-famous Slanted Door, gourmet shops and the best coffee in the world (in our opinion, anyway) at Blue Bottle Coffee, there are way too many reasons to hit up the Ferry Building. And if you're like us and you can't get enough of cheese, check out Cowgirl Creamery and order a grilled cheese sandwich created with their own award-winning cheeses. The mac and cheese is a guaranteed winner for kids. So cheesy and sooooo delicious.
Watch your hair stand on end at the Exploratorium

Be ready to spend the whole day at the Exploratorium, a San Francisco institution dedicated to making science fun. Located right down the street from the Ferry Building, it's a great place to keep the little ones busy and curious. The Exploratorium is massive, with heaps of hands on exhibits fun for kids of all ages (if truth be told, the husbands will probably enjoy it more than the kids themselves). One of our favourites was Out Quiet Yourself, where visitors are tested on how quietly they can walk on a gravel path, with a sound meter showing their noise score. The outdoor exhibits are equally worth a peek, especially the outdoor Fog Bridge by Fujiko Nakaya.
Pay the sea lions at Pier 39 a visit

Aside from the carnival food and Golden Gate Bridge souvenir replicas, there's a good reason why you should pop over to Pier 39… sea lions! For the past 28 years, these adorable (but noisy) sea lions have made Pier 39 their home and have become a favourite tourist attraction.
Other cool stuff in the area well worth a visit include the San Francisco Carousel, located on the bayside end of Pier 39 and the Musée Mécanique, a vintage penny arcade with coin-operated machines (think the creepy fortune teller in the movie Big). Finally, don't forget to pick up an "I escaped from Alcatraz" T-shirt from one of the many gift shops all around.
Bring older kids to Alcatraz
Hop on a tour from Pier 33 and head out to the world-famous prison, Alcatraz, to let the kids know exactly what can happen if they don't toe the line… Excellent history and moral lessons to be gained from this very touristy but worthwhile attraction. Wear the T-shirt you bought at Pier 39.
Have a picnic in Tiburon

Whether you choose to hop on a ferry from Pier 41 or from the Ferry Building on the Embarcadero, or even bike across the Golden Gate Bridge (if you dare), you should make the most of your visit to San Francisco with a trip to Tiburon. Pack a picnic basket full of goodies from the Ferry Building and set up your mat along Shoreline Park. Here, you'll have an amazing view of the Golden Gate Bridge and Angel Island – the perfect spot to play "I spy an another awesome yacht" with the kids.
THE WEATHER (AGAIN!)

As the saying goes, "The coldest winter I ever spent was a summer in San Francisco." Although San Francisco is in California, summers in San Francisco are completely different from the summers in Los Angeles. If you're planning to stay out the whole day, be sure to look at the weather forecasts. The bouts of biting fog and cold during the summer can be quite a shocker to those who aren't used to the weather, so dressing in layers is always your best option because the weather can change from sunny to cold and vice-versa in just a matter of hours. Be prepared!
Now, book your tickets and go and have the most fabulous family adventure! We're more than a little jealous…
Top image: Patrick Tomasso via Unsplash
Like this story? Here's more we think you'll enjoy:
Five reasons we still love Langkawi
Why you need to put Fiji on your vacay list
Where to eat, shop, stay and play in Bangkok with kids
Sun, sand, city, safari and surf: Sri Lanka has it all!
Don't forget to subscribe to our weekly newsletter and follow us for fun moments on HoneyKids Instagram!