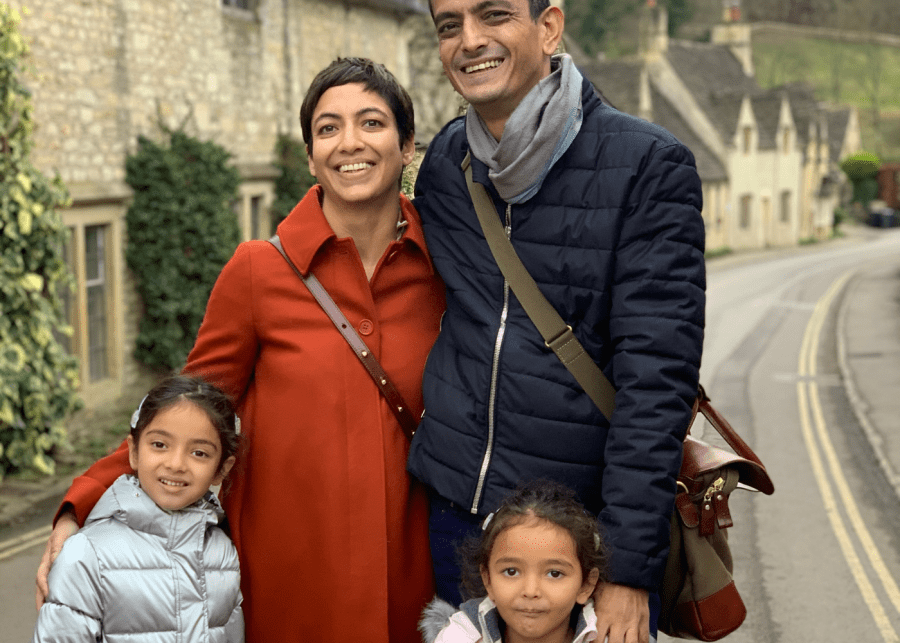 Heartwarming annual events, a huge playground and an environment where kids can flourish into confident little humans – there's so much to love about White Lodge!
When looking for a preschool in Singapore, parents often focus on the school's efforts in making their little one comfortable in a new environment; along with a positive child-teacher relationship, a nurturing environment and a balanced curriculum where their child is engaged through sensory play and learning. It's a lot to ask for, but that's exactly what Divya Sharma, mum of two beautiful daughters, found at White Lodge. Read on as she shares her experiences and everything she (and her daughters) love about the preschool.
Hi Divya! Tell us about your two daughters.
My youngest daughter is five years-old and is currently in kindergarten at White Lodge. My seven year-old also went to White Lodge but now goes to an international school.
What were you looking for when selecting a preschool for them?
The quality of teachers and teaching methods, the school's environment and the engagement of the school's leaders with the children – these were the most important factors.
What was the ultimate deciding factor that led you to choosing White Lodge?
The teachers and the school principal! They were gentle, fun and engaging and it was quite obvious they loved children. Right from the start, White Lodge became a top choice when the school principal quite clearly outlined what a parent could expect and what the outcomes in terms of our child's progress would look like. When choosing a school, identifying what's important to you regarding your child's growth and how your expectations can be met, make for a more successful pathway.
How has White Lodge lived up to your expectations?
Both the teachers and principals at both locations – Loewen Garden and Phoenix Park – surpassed my expectations. Kathy Bolouri leads a great team at White Lodge Phoenix Park. It's a testament to her and her team on how the school continues to provide a safe environment where the kids thrive and learn pre- and post-pandemic.
What does your daughter like most about going to school?
The teachers, her friends and the gym!
What sort of curriculum does this school offer?
The curriculum strikes a great balance between having fun and learning. My older daughter gained a strong foundation and was well prepared for First Grade. The children get to also flex their public speaking skills via the class presentations and annual concert. It's another great way to build confidence and discover the joy of performance.
What advice would you give other parents trying to choose a school?
When it comes to choosing a school, there are obvious factors to consider like the quality of teachers, the school environment (the cleanliness, the playground size), the curriculum and whether the child is engaged enough through sensory play and learning. But another important factor to consider is how much the leaders care for and engage with the children. I've come to expect the Principal to know as much about the children as the teachers do at White Lodge.
What do you value most about White Lodge?
The fact that the teachers are invested in all aspects of our children's growth and that they continue to be even after the kids have moved on to another class, is invaluable. Also, the annual concerts have been tearjerkers. White Lodge is a great school because the school is committed to providing an environment for the children where they can flourish and grow into more confident little human beings.
Are you satisfied with the level of communication you receive from White Lodge and how they engage parents?
Yes. Over the years the school has taken feedback from parents and they've become even more engaged and communicative. The school has started to integrate technology for more engagement via apps.
How have White Lodge's facilities benefitted your daughter?
The fact that the school is not in a mall is already a huge plus. The school has chosen locations where the playgrounds are in the open and children can run around in fresh air and interact with nature. The classrooms are bright and airy too.
What does the school do in terms of building a community for parents?
Pre-Covid, parents would attend school celebrations, school trips (to the library, Botanical Gardens, etc.) which were excellent community-building opportunities.
What aspects would you like to see improved at the school?
For the older children (Pre-K and Kindergarten) tracking your child's progress and the ability to view their work on a daily or weekly basis would be beneficial.
How did White Lodge make your children feel welcome?
The best part about my children's initiation into school was the flexibility that White Lodge provided. During the initial two weeks, parents are allowed to hang out with their little ones in class until they are settled. Leaving your child with strangers (albeit kind ones) can be traumatic for the child (and parent). The fact that White Lodge was so accommodating and tactful about managing the transition made everything so much easier!
Thanks so much, Divya!
This post is in partnership with White Lodge (currently Invictus International Preschool).