Choosing a school with right combination of curriculum, campus and care, might make you wish your little one hadn't grown up so quickly (where did that babbling baby go?). EtonHouse, with 12 schools across Singapore has always been one of our favourites. Its strong bilingual program, friendly teachers, and individual attention to students make it a great choice for kids. We spoke to Maria Ricucci, mum to Miguel, Martina and Gabriel, about why their family loves being a part of the EtonHouse community.
Tell us about your children attending the school…
We have three children attending EtonHouse International School, Broadrick Road since 2015. Our eldest son Miguel, is in Year 7, our daughter Martina is in Year 2, and our youngest son Gabriel is in Kindergarten 1.
What were the most important factors for you in selecting a school in Singapore?
One of the key factors for us was a strong bilingual program in English and Chinese. While we are Italian, our kids were born and raised in Shanghai. We wanted them to have a continued association with Mandarin, and develop an understanding of Chinese culture. We were also looking for a school with a strong community atmosphere.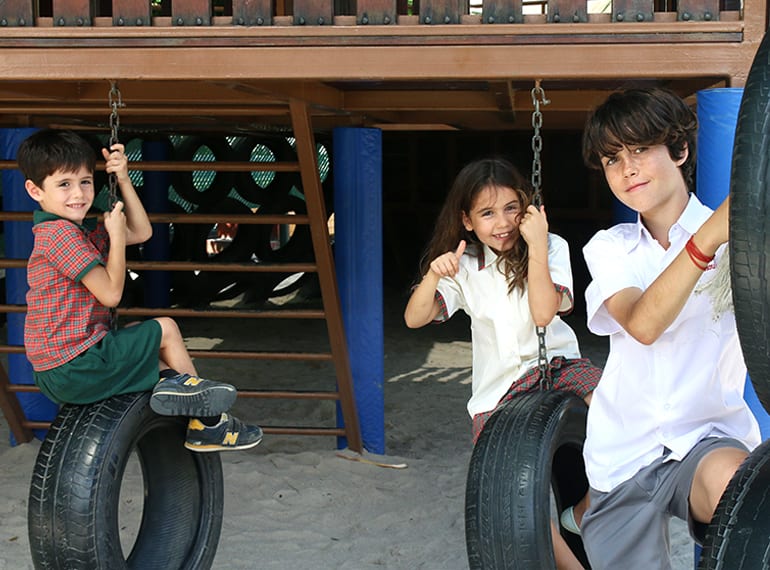 How has the school lived up to your expectations?
We have had a great experience so far. My kids, especially my elder son Miguel, were quite nervous about moving to a new country and joining a new school. Luckily, the friendly atmosphere at EtonHouse helped them settle in much faster than we expected. The teachers and staff know the name of every single student, making you feel at home right away.
What do your children like most about attending EtonHouse?
Miguel had a fabulous time in Year 6 when he joined the five-day school trip to Borneo. It has been one of his best experiences ever. He also enjoys spending time with his new friends at school. My daughter Martina loves making up imaginary clubs with her new Indian friends during recess. Gabriel enjoys spending time with his friends on the playground, and loves going on field trips around Singapore.   
What curriculum does the school offer?
It follows the International Baccalaureate Primary Years Program, in preschool and Primary Years. In Secondary Years, it follows the Cambridge approved International General Certificate of Secondary Education (IGCSE) Program.
How much homework is expected of the children?
My daughter in Year 2 reads Chinese and English books for about 20 minutes every night. Once a week, the school provides a homework pack with assignments for spelling, writing sentences, and practising Chinese lessons. Miguel in Year 7 has an hour of homework every night. This is usually spread across different subjects like maths, science, ICT, English, Chinese, Spanish, geography and history.     
Do your children participate in any extra-curricular activities at the school?
My daughter has been taking part in the after school ECA program and she loves learning belly dance, yoga, and henna. She also joins the school choir once a week during recess.
Are you satisfied with the level of communication you receive from the school?
Very satisfied. We receive newsletters every Friday from the class teachers via email, as well as updates on the school's Bloomz app. They include pictures and feedback on how Martina and Gabriel are doing at school. My eldest son Miguel has access to the school's support website, where kids can check details about homework and assignments. Teachers at EtonHouse are very attentive, and promptly communicate any issues or improvements.    
What do you value most about the school?
I love the attention, support and effort teachers put into understanding each child individually. They appreciate the child's strengths, and help them improve their weaknesses. For example, to challenge my eldest son who is very good at Mandarin, the school has offered him a one-on-one Mandarin teaching class.   
What advice would you give other parents trying to choose a school?
Listen to your intuition and heart. For us EtonHouse International School was the perfect choice. My kids have grown immensely, both emotionally and mentally since we joined two years ago.
If you'd like to see firsthand why EtonHouse's international schools are a favourite with parents, visit the upcoming open house at its Broadrick Road or Thomson Lane campus, on Saturday, 22 April. RSVP early to get 50% off the registration fees.
This post is sponsored by EtonHouse