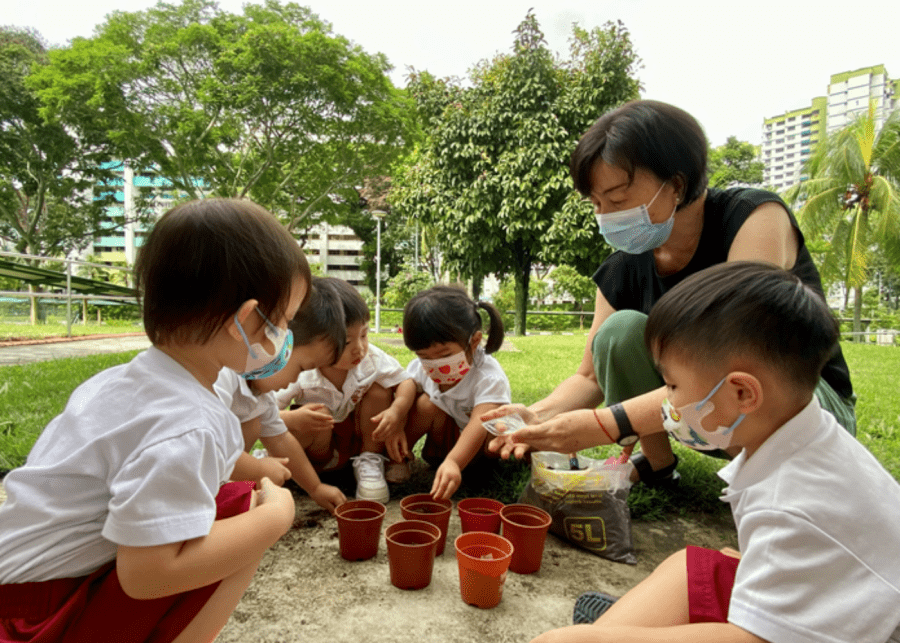 Little Seeds Preschool was born out of a desire to honour each child's original design and to help each one discover his or her identity and purpose in life. Through our progressive values-based curriculum that draws from international approaches like Key to Learning, Reggio Emilia and more, our educators provide a positive, safe and secure environment where children are respected and free to express themselves. With a focus on bi-lingual learning daily in the classroom and an in-house programme on values and social-emotional development, we see the preschool years as preparation for life and desire to nurture children with confidence in self-expression, creative & critical thinking skills, and a love for learning. We believe that our children are like little seeds. As we nurture them and sow into their lives, we hope that they will grow, become contributors of society and transform the lives of others.
Essential Information
Starting Age
18 months to 6 years old for childcare centres, 0 to 18 months for infant care centres
Language of Instruction
English and Chinese
Foreign Languages Taught
English
Current School Population
Differs across schools
Maximum Class Size
Differs for each age
School Hours
Mondays to Fridays, 7am to 7pm
Nationality Restriction
None
EduTrust Certified
Exempt
Facilities
- Community playground
- Gardening area
- Water play
- Paddle play
- Multi-purpose room (selected centres)
- Sand play (selected centres)
What Sets This School Apart
Little Seeds Preschool is a faith-based preschool where values are a focus and taught through the S-P-I-C-E-S curriculum, covering these developmental areas:
Spiritual - Character and Values
Physical - Motor Skills
Intellectual - Language & Literacy, Numeracy, Discovery of the World
Creative - Aesthetics & Creative Discovery
Emotional - Intrapersonal Development
Social - Interpersonal Development
Our bi-lingual curriculum, where classes are taught in English and Chinese, combines different international approaches such as Key To Learning (Russia), MATAL (Israel), The Project Approach (USA), Reggio Emilia (Italy) and more.
Our Vision
A preschool where each child is developed through holistic and Christian values-based education.
Our Mission
To build a nurturing environment so each child can embark on a journey of growth and discovery of self, others and the world.
Our Values
Faith
We have faith that each child's original design will emerge through our Christian values-based education approach.
Integrity
We instill a sense of mutual honesty and respect for all
Unity
Like a body, everyone works together to make learning happen.
Each one adds to the diversity and is loved, appreciated, and recognised.
Community
We build trusting relationships and a sense of belonging within a community of learners that value openness of communication between staff, parents and children.
Excellence
We seek to be a progressive and thriving preschool that is well-positioned in the sector and our measure of excellence respects each individual's original design, understanding that they flourish in their own time.
Financial Information
Annual Tuition Fee
MONTHLY FEES

Little Seeds Preschool (Church Of the Good Shepherd)
Full Day: $1512
Half Day: $1209.60

Little Seeds Preschool (Calvary Baptist)
Full Day: $1404
Half Day: $1123.20

Little Seeds Preschool (Capstone)
Full Day: $777.60 (Singaporean), $1134 (Non-Singaporean)
Half Day: $583.20 (Singaporean), $853.20 (Non-Singaporean)

Little Seeds Preschool (TSA - Ang Mo Kio)
Full Day: $777.60 (Singaporean), $1134 (Non-Singaporean)
Half Day: $583.20 (Singaporean), $853.20 (Non-Singaporean)

Little Seeds Preschool (TSA - Bukit Batok East)
Full Day: $777.60 (Singaporean), $1134 (Non-Singaporean)
Half Day: $583.20 (Singaporean), $853.20 (Non-Singaporean)

Little Seeds Preschool (TSA - Bukit Panjang)
Full Day: $777.60 (Singaporean), $1134 (Non-Singaporean)
Half Day: $583.20 (Singaporean), $853.20 (Non-Singaporean)

Little Seeds Preschool (TSA - Tampines)
Full Day: $777.60 (Singaporean), $1134 (Non-Singaporean)
Half Day: $583.20 (Singaporean), $853.20 (Non-Singaporean)

Little Seeds Preschool (Ascension)
Full Day: $777.60 (Singaporean), $1134 (Non-Singaporean)
Half Day: $583.20 (Singaporean), $853.20 (Non-Singaporean)

Little Seeds Preschool (Kiddy Ark)
Full Day: $777.60 (Singaporean), $1134 (Non-Singaporean)
Half Day: $583.20 (Singaporean), $853.20 (Non-Singaporean)

Little Seeds Preschool (Praiseland)
Full Day: $777.60 (Singaporean), $1134 (Non-Singaporean)
Half Day: $583.20 (Singaporean), $853.20 (Non-Singaporean)

Little Seeds Preschool (Sonshine)
Full Day: $777.60 (Singaporean), $1134 (Non-Singaporean)
Half Day: $583.20 (Singaporean), $853.20 (Non-Singaporean)

Little Seeds Preschool (St. Andrew's)
Full Day: $777.60 (Singaporean), $1134 (Non-Singaporean)
Half Day: $583.20 (Singaporean), $853.20 (Non-Singaporean)

Little Seeds Preschool (St. John's - St. Margaret's)
Infant care
Full Day: $2268

Child care
Full Day: $1404
Half Day: $1123.20
Application Fee Refundable
No
Programs Available