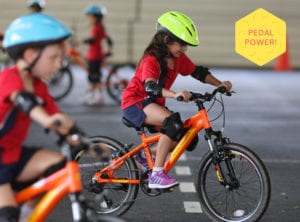 Learning to ride a bicycle has long been a milestone in the life of children around the world (almost every kid in Singapore has  gone for a bike ride at beautiful East Coast Park) and now one great international school in Singapore, Tanglin Trust School, has launched a program to help give children that opportunity. We all know that riding a bike has serious fun factor, but it's also great for developing crucial gross motor skills, helping your kids learn balance and coordination, and strengthening their little biceps and shoulders. This not only helps them become a champ in the playground, but it also builds their fine motor skills. So whether it's using a crayon to color, or a pencil to do homework, some cycling a day can keep homework woes at bay… after all, a moving child is a learning child!
We're already fans of the friendly, welcoming environment for little ones and parents at Tanglin Trust School's Nursery, but we just have to shout about the Tanglin Trust Foundation Pedal Power Program. This unique, six-week enrichment program helps kids to build lifelong skills, and thanks to the Tanglin Trust School Foundation it's free for students. High five to that!
Cycling classes are held twice a week in a safe setup within the Infant School. So no worrying about your adventurous progeny practising close to the condo pool, or by a busy street. It all starts with some basic but fun lessons on safety: kids learn how to put on knee pads and helmets, pick up some know-how on braking and dealing with punctured tyres, plus how to manage the bike at traffic light crossings or in tricky corners. If your kid plans to nail their skills after school, don't forget to check out our guide to getting the right helmets and cycling safety gear. Once all the classroom prep is done, it's time to get on the track and get those pedals pumping!
Since the students can either be complete newbies or pros in the making, the school's certified instructor Darren Welldon makes sure to keep each child's experience level in mind. "We get the non-riders going and extend the skills of those who can already ride a bike," he explains. While the main goal is to teach children how to cycle, the program is also about picking up valuable life skills that can help shape your little one's personality. Riding a bike develops confidence, independence, and fosters a sense of achievement. (Remember the exhilaration of cruising on your bike and realising you were doing it all on your own?) The Pedal Power Program teaches kids to make judgements, take risks, and most importantly to pick themselves up after a fall – because that's what growing up is all about, isn't it?
If you have a toddler (hopefully coping well with the terrible twos) or a now tranquil three year old looking for a promotion to nursery, visit one of the upcoming open house events at Tanglin Trust School or book a tour of the gorgeous campus at 95 Portsdown Road. The school is currently taking applications for its Nursery program starting in August 2017. You can reach the team at 67703583/67703480 or by emailing [email protected] for more details.
This post is sponsored by Tanglin Trust School.