Not quite sure what Reggio Emilia is all about? Join our FREE webinar on 3 November as we spill the deets, debunk myths and answer your burning questions.
You've probably heard the buzzword in your parent circle. The Reggio Emilia approach is a popular teaching philosophy that inspires your child's early years. But if you've not quite grasped what the approach is all about, we've got you covered. Join our Honeykids Webinar: Debunking Reggio Emilia Myths to learn the ABCs of Reggio Emilia and how it influences your child's education.
What you'll learn
During this talk, Anna Ciezczyk, early childhood educator and Infant Care Coordinator at AIS, will be joining us to discuss the origin of Reggio Emilia. You'll also learn the parent-friendly definition of the approach (finally!), how to support Reggio at home, the big no-nos that impact the Reggio experience, and how it'll benefit your bub during their early years and beyond.
Sneak peek! Debunk myths and have your questions answered by an expert
Once you've got an idea of what Reggio Emilia entails, we'll uncover the truth behind the following common myths:
Myth 1: Reggio is a curriculum
Myth 2: It's best not to learn about reading and writing in early years
Myth 3: If the child didn't ask for it, we can't learn about it
Myth 4: All we do is play
Myth 5: Agreeable children are better learners
Myth 6: Children should find answers to their own questions independently
We'll also open the floor to parents where you'll learn useful insights. Some common questions include, "Is there too much focus on soft skills?", "Does Reggio have any tips for behaviour management?", "How is Reggio different from Montessori and which one is better?", "Why is Reggio good for my child's learning and development?", "Are there other schools in Singapore that use this approach as well?" and "What is the most compelling feature of this approach?". Yes, we've got your back!
HoneyKids Webinar: Debunking Reggio Emilia Myths
When: 03 November 2021 (Wednesday), 12PM – 1PM
Where: Zoom
Cost: FREE
Panelist: Anna Ciezczyk, early childhood educator and Infant Care Coordinator, AIS
Moderator: Chris Edwards, CEO and Founder, Honeycombers and HoneyKids Asia
Sign up for your free talk and leave a question for the experts!
---
MEET THE PANELIST!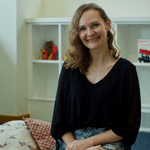 Anna Ciezczyk is an early childhood educator and the Infant Care Coordinator at AIS where she has been working for the past seven years. Anna originally comes from Poland, but she has been teaching internationally (England, Indonesia, Thailand, Singapore) for the past 15 years. Her passion and the subject of her doctoral dissertation is progressive education, notably democratic educational philosophies such as the famed Reggio Emilia Approach. Anna enjoys sharing the respectful approach to children's learning and development with families.
See you at our HoneyKids Webinar!