Photography: Polina Tankilevitch
Looking for kid- and baby-friendly bath products? Here's why we love Johnson's Baby's new and improved formulas.
Mums everywhere, you know you're with us when we say "We love bath time!" Sure, getting the kids into the bath is often a struggle, but once they're in there – you're gold. Bath time means bubbles, which means super-fun play time! But when you're shopping for bath products, it's important to choose a paediatrician-recommended brand (among baby lotions and infant cleansers) that goes the extra mile to ensure its formulas are safe, mild and gentle. Which is exactly why we love Johnson's Baby.
Bath products that'll give mums peace of mind
As mums ourselves, we know there are so many benefits to prioritising high-quality ingredients over products that just smell good. For more than 125 years, Johnson's Baby has been trusted by mums worldwide for its clinically proven mild products. This heritage of trust is built on a deep understanding of what it takes to keep bub's delicate skin feeling healthy. In fact, 96% of the ingredients in Johnson's Baby washes, lotions, shampoos and conditioners are of natural origin. Most importantly, the products have no parabens, sulphates or fragrance allergens – two thumbs up from all us HoneyKids mums!
A gentle touch for your growing child
The nights are long and the years are short; sadly, our babies won't stay tiny forever but it also means new kinds of fun for us all. We're talking crawling to walking, playground adventures, school, team sports – every year, it's a whole other ball game. That's why we're grateful Johnson's Baby is there every step of the way – from those sleepless newborn nights all the way 'til the tween years!
These formulas are double tested by pediatricians and dermatologists, ensuring their quality. After all, babies and toddlers have more delicate skin that's more vulnerable to moisture loss, plus their hair is thinner and more prone to breakage. So of course you'd only want to use products that are the best of the best! Check out our picks from the new Johnson's Baby line: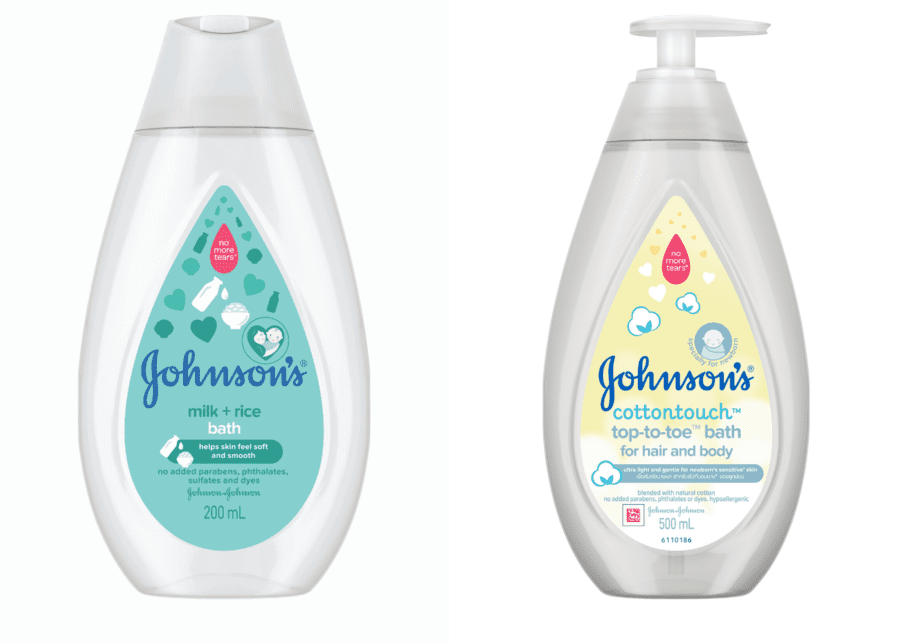 Cottontouch Top-To-Toe bath: Perfect for babies from day one, this ultralight formula is gentle enough for your newborn's delicate and sensitive skin. Made with real cotton, it has a gentle, ultra-light formula that quickly turns into a velvety lather – it's easy to rinse and leaves no residue, removing dirt without leaving skin feeling dry.
Milk and Rice bath: Especially suited for bubs aged six months and older, this contains natural milk and rice extracts to help baby's skin feel soft and smooth. This pH-balanced, hypoallergenic and paediatrician-tested formula is designed to moisturise and nourish babies' skin as they grow.
Active Kids Shiny Drops shampoo: When baby starts to walk and play (especially after an afternoon of playing in the sun), you'll need products that'll meet their changing needs. This shampoo contains argan oil and silk proteins, which'll help with the tangles AND keep hair soft and shiny. Using Johnson's No More Tears formula with no added parabens, you can expect mild yet effective cleansing.
To know more about Johnson's Baby products, check out www.johnsonsbaby.com.sg.
This post is in partnership with Johnson's Baby.