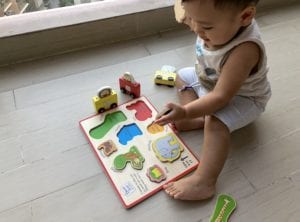 Find out why we've got heart eyes over Dear Zoo wooden toys from Little Bean in our latest Find of the Week
Little kids can be a fickle bunch. Some days they'll be entertained by the simplest things like a cardboard box and other days they'll insist that the box should be destroyed. Is there enough patience, time or money to keep tots entertained all of the time? Possibly not, but our solution? Quality toys, books and games that'll keep 'em busy! That's why when we heard that the folks over at Little Bean decided to bring an amazing range of Rod Campbell's Dear Zoo wooden toys to Singapore, we were psyched. Hurrah for one of our all time fave books in wooden toy form! So much YES!
The lowdown on Dear Zoo toys
If there's one thing mums love more than educational toys, it's wooden educational toys, and the range of Dear Zoo wooden toys ticks all the boxes. Puzzles, a card game, and wheeled vehicles, all using the same characters from the beloved book: check, check and check. If you haven't picked up a copy of the picture book for your tot yet, hop to it, stat! There's a good reason why it's sold more than five million copies all over the world – kids love lifting the flaps and getting the giggles as they discover that the zoo's sent them the most unsuitable pets ever!
Why your kids will want these additions to the toy box
Your little ones will love seeing their favourite characters come to life – whether they're fans of the grumpy camel, the fierce lion or the perfect dog, nothing beats seeing them IRL! Your tot will love the puzzle blocks: four wooden blocks they can rotate around to build six different pictures. If it's too advanced for tiny fingers just yet, there's also a puzzle tray with chunkier pieces that are easier for small hands to grip and play with.
Too jumpy…too naughty….too tall… Toddlers will have hours of adventure with these Dear Zoo wooden toys: they're just the ticket for a bucketload of fun! Check them out on Little Bean Singapore!
Like this story? Here's more we think you'll enjoy:
Find of the Week: Rainbow Carousel stationery
Find of the Week: The Instant Pot
Find of the Week: Sainsbury's on Redmart
Find of the Week: Mama + Mini collection by Le Petit Society
Don't forget to subscribe to our weekly newsletter  and follow us for fun moments on HoneyKids Instagram!