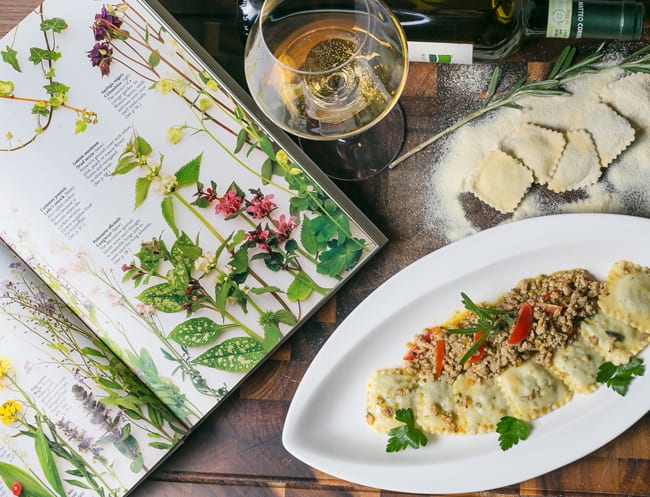 Delicious, organic Italian food, proper kids' goodies to play with, and no city crowds. Have all our family dining dreams just come true?
Ah, 'family friendly restaurant'. A term that's enticingly dangled in front of us promising long, luxurious lunches enjoyed in blissful peace while the kids happily and quietly occupy themselves. The reality? All too often, the only thing family friendly about the place is the fact that there's a table. And maybe a napkin that can double as some flimsy colouring-in paper. Well, do we have some mighty fine news for you: introducing La Barca Ristorante, where kids are kings, and parents are too.
A bouncy castle, a trampoline, a playroom filled with toys and educational cartoons on the TV, AND a water slide. We. Are. Not. Kidding. This place is heaven for parents who want to enjoy a quality meal in peace, and for kids who don't want to be stuck at the lunch table for what seems like hours. And, La Barca really has thought of everything: dry towels are provided, so all you have to bring is a change of clothing for the little people. It's worth noting that the water slide is only in operation on weekends, but hey, how often do we get to enjoy a leisurely family lunch on a Tuesday anyway? (All the other kids' goodies are freely available every day.)
Speaking of lunch (or dinner, if date night's more your thing), this is a lip-smacking affair all 'round. The menu is a mouth-watering example of traditional Tuscan fare with a modern twist, made from fresh and organic ingredients, most of which the kids will also love. We're talking grilled squid with garlic cream, carbonara made the correct way (no cream, only parmesan cheese and egg please), and a delish tiramisu that skips the alcohol (hurrah for the kids and the mums-to-be!). If you have a hungry carnivore or two in the family they'll enjoy the mouth-watering Fiorentina steak, a premium grain-fed Black Angus from Australia, or the stunning oven-baked whole sea bass for some lighter fare. "Won't somebody think of the vegos!", we hear you cry. Well, they have. With an entire page devoted to tasty vegetarian dishes, no one goes hungry or unsatisfied at La Barca, and they strive hard to ensure all the kids' food is non-GMO and as farm fresh as it can possibly be. Executive Chef Michele Sorrentino told us: "I insist on using the best ingredients because I want the children who eat here to grow up knowing what good food is. Then they can educate their children on how to eat better." Bravo, Chef Michele.
The other wonderful thing about La Barca is its tucked-away location in Katong. A lovely spot within the spacious grounds of Goodman Arts Centre means you don't have to battle the crowds and parking dilemmas of the city. Just cruise on over to Katong, sit back in the elegant Milanese décor, and enjoy your first sip of prosecco. This also makes it the ideal spot for kids' parties and all sorts of gatherings, with a whopping 4,600 square feet of space to play with!
If you're up for some unassumingly good food with some brilliantly thoughtful kids' fun, we think a visit to La Barca with la famiglia might be just what you need.
90 Goodman Road, #01-21 Block C, Goodman Arts Centre, Singapore 439053. p. 6346 5813.
Open Tue-Fri 12pm-2.30pm and 6.30pm-9.30pm, Sat-Sun 11am-2.30pm and 6.30pm-9.30pm.
This post is sponsored by La Barca.