As one of Singapore's top international schools, UWCSEA has always impressed us with its holistic approach to education, and its commitment to providing children and young adults with a solid education that goes well beyond the classroom. Chris Edwards, Head of College, spoke to HoneyKids about the power of education and the importance of nurturing a desire in children to make a positive impact in their world…
Hi Chris, please tell us little about yourself – what would your students be surprised to know?
I studied English Language and Literature at Oxford University, where I became a Postmaster (nothing to do with envelopes) at one of Oxford's oldest colleges, Merton, before travelling the world for two years! I paid my way by playing piano, washing dishes and picking no end of fruit.
What's your philosophy towards education?
I believe in the power of education to transform lives; and I believe in the good of young people. Philosophically, I've come home here at UWCSEA.

Tell us about more about UWCSEA's values…
We believe that a true measure of a school is not what its students are doing when they are 18: it is what have they have done when they are 80. Our goal is to equip individual students with the skills and qualities they will need to embrace challenge and take responsibility for shaping a better world. Our students need the education we provide, but more than that, we believe the world needs our students.
How is UWCSEA different to other schools in Singapore?
We have no national flag above our door. We are passionate, engaging and effervescent community of over 90 nationalities.
We encourage our students to think of their place in the world. We are holistic rather than linear, experiential rather than didactic, and we take risks. Offering a rigorous academic education is a crucial aspect of what we do: but it is only a part of a more meaningful whole. We want to nurture informed, ethical human beings with a bias for action.
Our campuses are crackling and fizzing with life: if you're looking for a one-dimensional exam factory, a by-the-numbers international school or a quiet escape from the world, then UWCSEA is not the place for you.
What kind of curriculum is offered, and what are the teaching methods at UWCSEA?
Our curriculum is a challenging, inquiry-based program designed by our educational leaders, based on extensive research and best practice from around the world. The five elements of our learning program – academics, activities, outdoor education, personal and social education and service – are fused so that students are equipped with the skills, ambition and compassion to impact ethically and significantly in a global context.
From K1 to Grade 8 our program prepares students for the two-year (I)GCSE courses offered in Grades 9 and 10. Students who start in Grade 10 complete our one-year Foundation IB course before going on to the IB Diploma in Grades 11 and 12.
All of our teachers are responsible for student wellbeing, participate on expeditions, lead activities and are committed to our service program in Singapore and abroad.
What types of initiatives do students take part in to be a positive force in the community?
We empower our students to take action about issues that they care deeply about, and to make informed, value-based decisions. An example is the way in which students are involved in our service program. As they progress up the school our students select their level of involvement and which 'causes' they champion. While our staff provides them with guidance and leadership it is our students who come up with the ideas, and then plan and execute the activities – be it awareness or fundraising, or a combination of both.
Can you tell us about the strong results achieved through this progressive education approach?
The highest-ranking universities in the world receive our students. But a new, exciting home other than Harvard or Oxford is an equal or even greater achievement. We celebrate our students' achievements equally.
Can you tell us more about the deliberate diversity in the UWCSEA admissions process?
Unlike many other schools, which keep a rolling waiting list, we only open applications to join the College one year in advance. This means that anyone has an opportunity to apply.
Each application is reviewed individually and places are allocated based on a holistic approach. This takes into account the individual student's background, experience and potential 'fit' with the school – and with the cohort of the grade they are applying to join.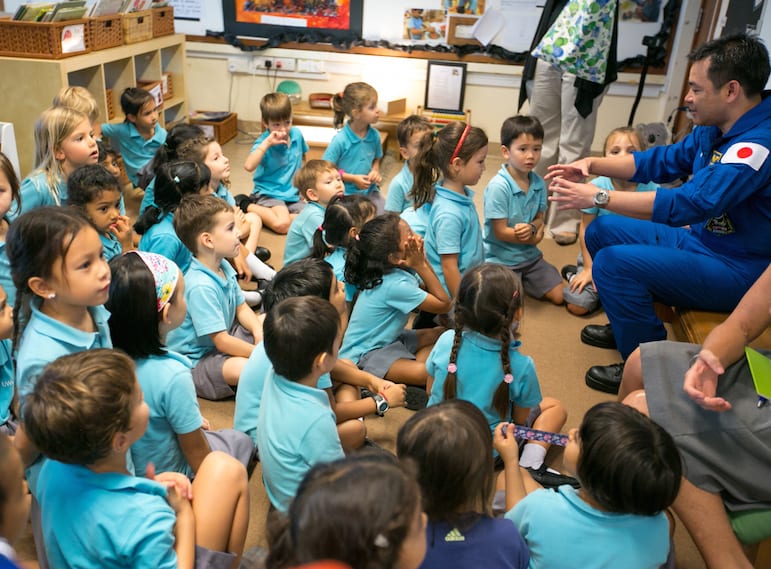 Tell us about the UWCSEA community: who are the people who love sending their kids to school there?
We often attract parents who are themselves seeking a holistic, service orientated experience to complement their busy working lives. Even though our parents come from numerous nations, ethnic backgrounds and walks of life, it would be most unusual to find in any of them a one-dimensional view of education (eg. a grades-only approach to education).
What do parents tell you they love about UWCSEA?
What our parents will often cite as critical is the ethical disposition of their child: essentially, what kind of person they have become.
What do you love most about being Head of College at this school?
Every day I feel an overwhelming surge of energy and possibility. There is an almost unfathomable ocean of talent, optimism, passion and commitment in this College. Our intentional diversity clearly plays a part in this. The quality of relationships and the subsequent strength of the community are tangible from the moment you enter. This is a hard-working College, but it is also gentle, compassionate and an arena for extraordinary acts of kindness and imaginative empathy. I'm not saying every day is perfect, but I am saying that our people define us, and those people are inspiring.
This post is sponsored by UWCSEA.