Last year, we spoke to fellow mum and friend, Cheryl de Mello, on how she balanced being a mum, alongside looking after herself, following her stage 4 breast cancer diagnosis.
When my friend and mum-of-two, Cheryl de Mello, took to social media disclosing her breast cancer diagnosis, I was both devastated and rattled. At 33, how was this happening? You're meant to go for a mammogram annually once you hit 40, then bi-annually once 50, right? It made me realise my knowledge of breast cancer was outdated. I was also shocked as Cheryl breastfed both her kids – didn't that reduce the odds dramatically?
I immediately thought of her two girls. Being a mum is tough at the best of times; how do you parent and deal with a stage 4 cancer diagnosis? I know all too well how challenging it can be to grow up with a poorly mum. I remember feeling such mixed emotions when my mum was in hospital, from missing her terribly to resentment that she couldn't spend as much time with me when she did come home to recover. Had Cheryl experienced the same rollercoaster with her girls? I sat down with Cheryl to find out…
---
Cheryl sadly lost her battle with cancer earlier this year. As Cheryl was committed throughout her life to raising awareness and sharing her story to help others, we've republished this interview to do just this, as well as honour Cheryl as one hugely inspiring mum. 
---
DEALING WITH STAGE 4 BREAST CANCER AND KIDS
How has being sick changed your relationship with your kids?
Not much at all! Granted, my younger daughter, Athena, doesn't understand the severity. Kiara, my elder, says nothing much has changed since my breast cancer diagnosis, and I hope so. I still hold myself to more or less the same standards as a mother before getting sick and don't make excuses for being sick. I still go to work, cook the meals, and make money. As such, I expect the same from them! Don't play the victim and say, "Oh my mummy is sick, I can't do my exams".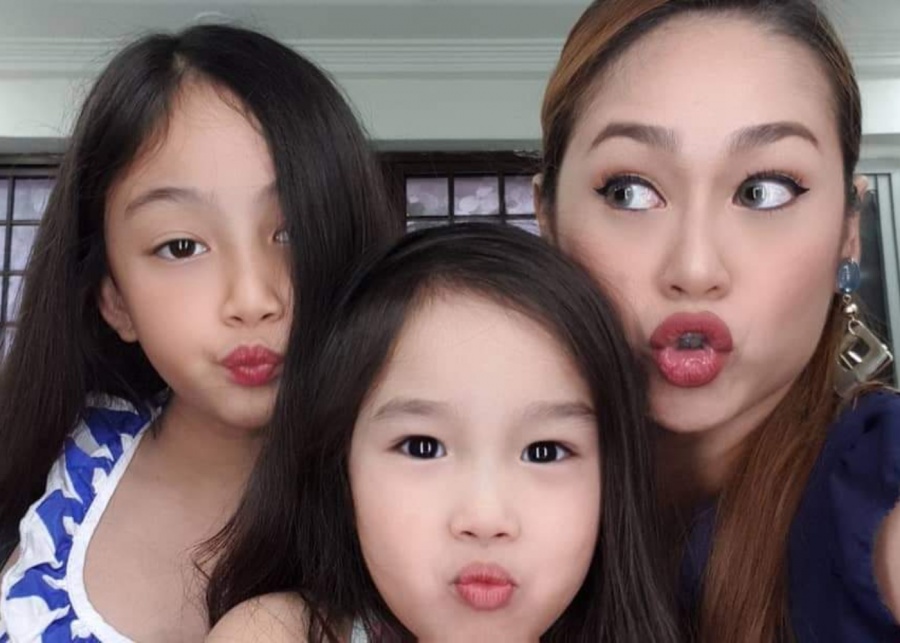 How do you deal with feeling unwell and spending time with the girls?
It's mostly only after chemo that I'm wiped out. On normal days I can cook meals, have dance parties with the girls and go for walks. After chemo sessions, however, I'm a dead fish, awake on my bed but with no energy. When the girls want time with me, I'll tell them to lie down and tell me about their days, but when things are bad, I let my helper know, and she takes them for me. Kiara understands, but Athena doesn't. We have situations where she knocks on my door asking why I can't play and is it because I don't love her. It's difficult to hear, but I know after even just a short nap, I'll be the mum she wants!
How has "me time" changed? Does it even exist?
It's always important to have "me time". You can't just live your life in "mum mode". I don't want to take time for granted, but rest is essential for yourself and my girls. I usually push myself to do it all. My doctor tells me to rest, and to realise the only one pushing me, is me! Mum guilt is worse than before because I could always say, "I'll make it up to them tomorrow".
Do the girls ever try to play on your illness?
Kiara does more! There was a night I was out with friends, a rare occasion because of the pandemic, and chemotherapy compromises your immunity. She calls me saying she misses me and wants me to come home to snuggle. I told her I would be home soon but didn't give her an exact time. I told her she could go lie down with her sister, and once the younger one fell asleep, I'd be home to snuggle with her. She was not happy at all with that answer. This almost ONLY happens when I'm out, without her. I didn't cut my night short – at the end of the day, I can't just only be a mum. I need a break and have my own identity as well.
What are some of the things you feel guilty about?
It's probably something that has been highlighted more since becoming sick, but by nature, I'm a very strong, stoic person. I don't wear my emotions on my sleeve. On the other hand, Kiara is a lot like her father; she feels deeply and completely and has no problem feeling those emotions. For example, she had a fight with her best friend and she came home crying. When she told me, my solution was "well, go make friends with other girls", when it was actually compassion she was after. I've been a mother for a decade; however, it is clear that I still have so much more to learn. I find myself getting frustrated because they're so much like me, yet not photocopies. I can be tougher with one, and with the other, I need to be more sensitive.
What's your advice to mums who are facing similar challenges with illness?
Don't be so self-critical because you feel like you're running out of time. This is a battle you can fight, and the goal is fighting. It's to stick around longer for these little humans. I constantly have to remind myself to take a step back, listen to my body and rest. Accept and understand that there are people who are fully capable of caring for your children. This applies to all mothers, sick or not; your children will not die just because you're not around. There are other people, namely, their fathers. Remember, a half-assed job is better than no ass! Jokes aside, dads are, of course, fully capable, but you know, we mothers want things done exactly our way!
Breastfeeding and breast cancer
At the start of this article, I mentioned that I was shocked that Cheryl, like me, had breastfed yet still got breast cancer. It shouldn't have been a shock. I had my own scare with breast cancer when feeding Lily. I presented with some of the same symptoms; orange peel-like skin, strange discharge, lumps. Luckily it wasn't, but it was a wake-up call. Since then, I've learned that several factors contribute to developing breast cancer: hormones, progesterone and oestrogen, and a protein called HER2.
There are a few theories on why breastfeeding can potentially lower the risk. One being that breastfeeding results in fewer menstrual cycles reducing the exposure to oestrogen and possibly the risk – although more studies are needed. Regardless, my scare and my chat with Cheryl highlighted that breast cancer can happen at any age, and self-examinations are so important.
A final note for all mums…
One thing Cheryl mentioned in the interview was how much her children would remember about this time. Was she there enough, was she not? As someone who had a sick mum myself, the answer is, your child only remembers the time you spend with them. They hold on and cherish that. They don't remember all the times you had to be in the room resting or being lonely or neglected. Kids remember how you emerged from the room, ready to give them the love you had. And every mum should remember that.
Lead image: Jiajia Tan