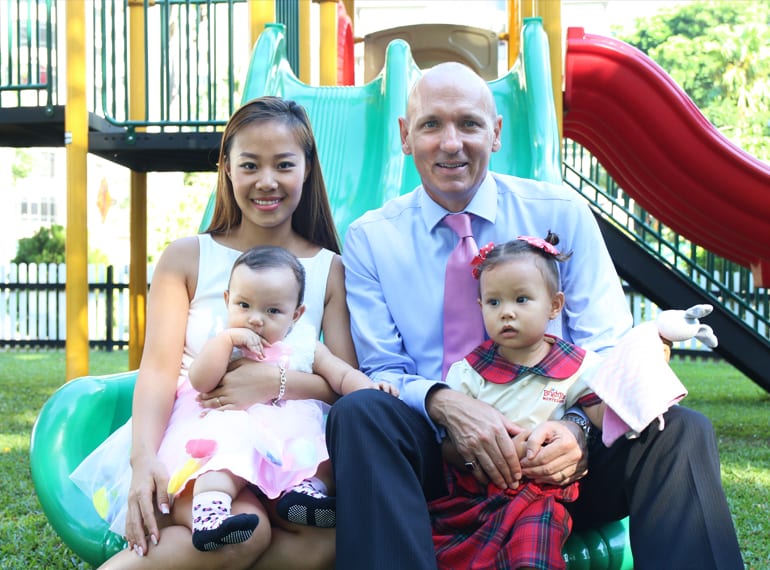 What's most important to you when choosing a preschool for your child? For dad Mathew Boylan, it was all about the school staff's genuine love for children and passion for early childhood education. Here's why he's so impressed by Brighton Montessori…
With so many preschools to choose from in Singapore, how do you know when you've found the perfect place for your child to begin a wonderful school life? For Mathew Boylan, dad of Paris, two, it was all about finding a preschool with a balanced, creative approach to learning, and teachers who genuinely care about their students. Here's why Brighton Montessori Fort Road ticked all the boxes…

Can you tell us a little about your child attending Brighton Montessori?
My wife Quynh and I have two little princesses, Paris and Portia. Paris is just over two years old and is in her first year at Brighton Montessori in the Pre-Nursery Program. Portia is just over eight months old and I'm sure she will join Paris at Brighton Montessori once she turns eighteen months old.

What were the most important factors for you in selecting a preschool?
For me it was whether the teaching and school staff displayed a genuine love for children, and a passion for early childhood education and development. I have also been living and working overseas in various countries for over 20 years, so I wanted Paris to be immersed in a diverse and multicultural setting. Finally, I wanted the learning curriculum to be balanced, creative, and reflect this passion and international environment.
How has the school lived up to your expectations?
Recently, over dinner, Paris was speaking to me but I could not understand what she was saying. It was then that my wife informed me that she was speaking to me in Mandarin! It is heart-warming to observe your children learn new skills. In the short time that Paris has been attending Brighton Montessori, I have been very impressed with the genuine warmth and care that the teaching and school staff have displayed with her, and this has been reflected in her ongoing development and the positive interactions with her fellow children and adults alike.

What does Paris like most about attending this school?
Of course Paris loves her teachers, and as this is her first time attending a school, they have done a wonderful job in managing this transition and smoothly assimilating her into a daily classroom environment. Paris is also a very adventurous child, so she loves the many exciting excursions that Brighton Montessori organises, whether it be to the Hays Dairies goat farm or Playuem – the Children's Centre for Creativity.
How does the teaching approach appeal to you?
The learning curriculum is focused on 'discovery' through the implementation of very hands-on activities where children develop their creativity and learn while having fun. For Paris' Pre-Nursery Program, the holistic approach to her education ensures that on a daily basis, she is developing her motor skills, language skills, and mathematical concepts, especially through her participation in sensorial activities.
What advice would you give other parents trying to choose a school?
Spend a significant amount of time at the school first. Engage directly with the teaching and school staff; observe the interactions of the teachers with the children and the children with one another; and also obtain an insight into the overall energy and atmosphere of the school. When I visited Brighton Montessori for the first time, not only did I want to obtain the standard information, but I also wanted to engage and interact with the teaching staff to better understand their backgrounds, why they became teachers, and was there a higher purpose for them to teach at Brighton Montessori.
Are you satisfied with the level of communication, and how the school engages parents?
I have been very impressed. Personally, I don't think I was prepared for the quantity or the variety of communication platforms utilised. Whether it be the daily check-in email, the WhatsApp messages, telephone calls, or the hard-copy collateral, the quality and quantity of the communications facilitates a feeling of being involved and invested in your child's development and educational experience. I would also like to add that both the Principal and teaching staff have always made themselves available after school hours to address any enquiries.
What do you value most about the school?
There are two aspects to Brighton Montessori that I value most. Firstly, it is the sense of community. Whether it be the interactions with teaching and school staff or with other parents, I genuinely feel that this is a community that has only the children's happiness, safety, development, and ultimately their best interests at heart. Secondly, I greatly appreciate and admire the expertise of the teaching staff. Their advice has been invaluable in ensuring that Paris' first experience at school is a positive one.
This post is sponsored by Brighton Montessori.