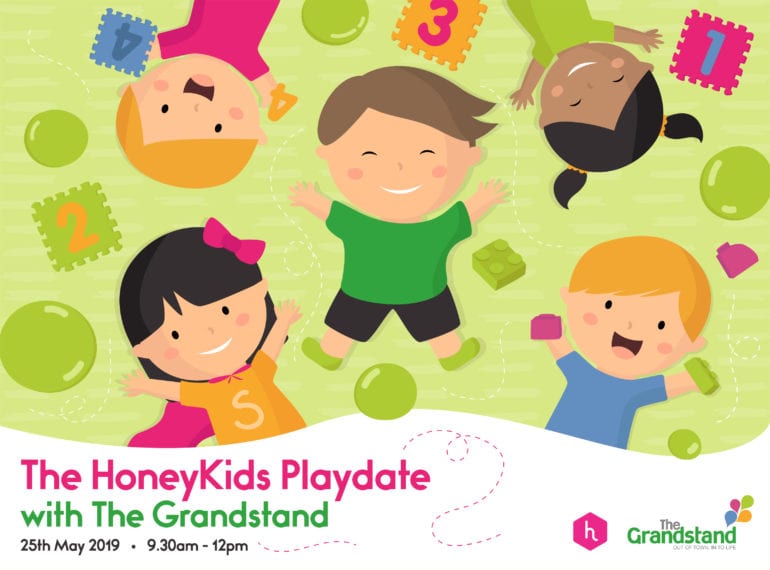 We're heaping on the fun and learning at our upcoming HoneyKids PlayDate with The Grandstand and five fabulous partners helping us out.
We're sure by now you've already been to one of our awesome Family FunDays, Playgroups or other fun-packed events, and now we've got another brand new adventure for y'all… The HoneyKids PlayDate with The Grandstand on Saturday, 25th May, 9.30am to 12pm! RSVP for your free spot to get in on storytelling, recycling craft sessions, morning tea and light refreshments, a scavenger hunt, and plenty more age-appropriate activities for your kiddos age four to 36 months! How are we laying on soooo much fun? Well we've got four amazing preschools and partners helping us out! And they will all be there to make sure that we all have a blast bonding with our little ones, learning new skills and – most importantly – having a whole heap of fun. Read on for all the deets for this not-to-be-missed event!
Registration is now closed. Thank you for your interest!
Who will be there?
Not only will you get to refuel with morning tea, finger food, dessert and Thai iced tea, we've also got a huge range of activities happening organised by five of the best preschools, learning centres and play centres from across the land. Come hang out with HoneyKids as well as Kinder Kids Pre-School, Kiddiwinkie SchoolHouse, Bricks4Kids and Yang Language School at The Grandstand
What does the programme look like?
9:30am: Event opens + registration + morning tea

10:00am: Welcome intro by HoneyKids and The Grandstand
10:05am: Storytelling – 'We're Going on a Bear Hunt' with Kiddiwinkie

Schoolhouse

10:20am: Preschool play activities

11:20am: Free-play zones open

11:30am: Refreshments and chats with preschools

12:00pm: Time to say goodbye (don't forget your goody bag!)
Tell us more about those activities
Sensory, pre-numeracy exploration with Kinder Kids: Little ones will love rummaging for scrunchy, crunchy sensory materials in a quest to improve their pre-numeracy maths prowess.
Gross motor feeding time with Kinder Kids: Kids will get to play hungry hippos and dancing dinosaur's mouth and hone those fine motor skills.
Water beads scavenger hunt with Kiddiwinkie Schoolhouse: Expect squishy water bead fun-time with this cool activity where tots' matching skills will be put to the test.
Roly poly apples with Kiddiwinkie Schoolhouse: This activity is all about strengthening little one's fine motor skills with a great colouring activity and rolling crepe paper into apple-shaped balls for to create a masterpiece.
What preschools and partners are joining the PlayDate?
Kinder Kids Pre-School: This lovely preschool totally understands the need for a high standard of education when it comes to its little learners, and will go above and beyond in our care for the children, providing them with stimulating, engaging and safe learning environment.
Kiddiwinkie Schoolhouse: With its inquiry-based approach to early childhood education, Kiddiewinkie Schoolhouse encourages its small students to embrace a learning experience that balances plenty of play with a sense of school-readiness.
Yang Language School: Head over to Yang Language School to check out its fantastic language learning programmes designed especially with preschoolers in mind, and aligned with the most up-to-date MOE syllabus information.
Bricks4Kids: This hugely popular children's edutainment programme, hailing from the US, is now in Singapore: woo hoo to that! Master builders aged three to 12 years can get busy with Lego bricks and while creating wheeve their imaginations want with everyone's fave educational toy.
And why The Grandstand?
With tenants ranging from adult recreation to children's enrichment, kids' preschools to plenty of great family eateries, there's something for the whole fam at The Grandstand. No one wants to drag kids all over town to go from a yoga class to a drumming lesson to a quick-but-healthy bite to eat, and with its one-stop shop ethos, The Grandstand is the perfect hang out for sure. And let's not forget its 3000 free-all-day-long parking spaces, and free shuttle bus service to and from Botanic Gardens and Sixth Avenue MRT stations. Easy to get to, and easy to stay and play. The Grandstand, how we love thee.
Don't forget those goody bags!
Not only will you walk away with a whole load of happy memories, but also a fabulous FREE goody bag worth over $50. There will also be plenty of giveaways happening throughout the day so RSVP, you've got to be in it to win it!
All those deets again
Where: The Grandstand, #01-16 (near the Concierge), 200 Turf Club Rd, Singapore 287994
When: Saturday, 25th May 2019
Time: 9:30am – 12:00pm
Cost: Free (cos we're good like that!)
RSVP is essential as spots are limited!
Registration is now closed. Thank you for your interest!