Alvin with his family. Image: Courtesy of Alvin Neo
Ever heard of whisky cask investing? Neither had we until we chatted to Alvin Neo. He gave us the lowdown on the ins and outs of whisky cask investing, and why he thinks it's worth the risk!
We all want to provide for our kid's future, and many of us try our best to make savings plans and develop investment strategies to build our wealth to support the future generation. One investment strategy we hadn't heard of was whisky cask investing. We like the sentimentality of saving a special bottle to share with our kids on their special birthday or wedding day, but how financially viable is it as an investment? We sat down with Alvin Neo, a client of the Whisky Cask Club to learn more about all things whisky investing!
Whisky Cask Investing: What's it all about?
Hi there – thank you for taking the time to chat with us today! Can you share with us how you were inspired to join the Whisky Cask Club?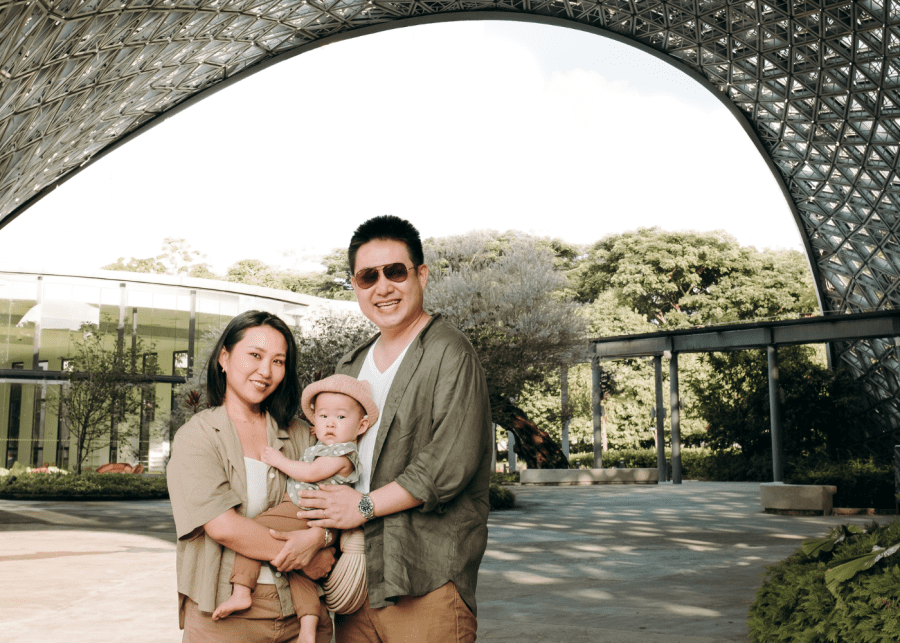 "I have been interested in whisky and have been attending tastings and whisky-related events from time to time. There were two specific events that got me to think about whisky as a long-term investment. I chanced upon this article in 2020, which I found to be a really interesting read. Following my daughter's birth in 2021, I started seriously considering if I could replicate a similar strategy to apply whisky investment into a flexible endowment plan for my daughter."
What does whisky investing involve? Can you share any of your personal success stories?
"By law, all Scotch whisky must be matured for at least three years, and single malts with age statements start with eight years and up, so it can be a long-term investment. The value comes from the legal regulations around how whiskies are labelled and the limited supply of whisky per cask. Bottles of whiskies that win awards could see their prices go up quickly as collectors go into the market to stock them up for their collections; it's supply and demand-driven.
The price spikes happen because the sudden increase in demand for a 12-year-old Single Malt would dramatically disrupt the supply and demand curve. With demand shooting up and supply needing at least 12 years before it can match demand when this happens, it is just music to an investor's ears!"
Why do you think whisky is a good investment?
"With the Whisky Cask Club, you invest in a cask which comes with storage and insurance costs covered for five years. So, my investment thesis is to go along with a twenty-year investment horizon. I would suggest starting with a cask around the GBP 5-6k range and letting the whisky age in the bonded warehouse, and ideally, in five years, be able to realise enough profit to re-enter the market to get two casks of whiskies for another five-year period.
Whisky Cask Club also provides a bottling service, so prior to reselling a cask, I can get a bottle (or two) from the cask I invested in bottled and sent to me prior to selling the cask. If this goes on for 20 years, I would have bottled eight bottles and have a nice collection of eight casks of Single Malt Scotch to choose from for any special occasion. It makes investing personal, which is a nice touch!"
What are the risks of whisky investing? How long can you have an investment for – does the whisky 'expire?'
"Due to the high ABV (alcohol by volume), the whiskies pretty much preserve themselves. Sitting in the barrel to mature, gradually becoming smoother while drawing its golden colour from the cask. So an expiration date does not apply to whisky – in fact, they would appreciate in price!
Stories of a forgotten cask being sold for record highs support this theory. The worst case scenario for me would be that I end up with multiple casks of single malt whisky, which I will take a lifetime to enjoy and share with friends and family – so not a bad outcome at all!"
Thanks to Alvin for sharing his insights. Find out more about whisky casks and what's involved by contacting Whisky Cask Club via email. 
Please note Honeykids Asia is not associated with The Whisky Cask Club, and this is not a paid advertorial. Please seek financial advice from a certified professional before making any investment decisions.