We have some handy tips to help the kids – and you – the next time you need to travel sans family
An escape overseas without the kiddos – whether for business or a sneaky quick vacay – certainly guarantees a lie in and the odd fuss-free dinner. But there's not a mum or dad we've met who isn't also struck with a case of 'parenting guilt' when they are away from their kids. Jetting away for work can often be quite extensive if it's part and parcel of your job. While at some point you know the kids will 'get used to it', separation anxiety is something that makes the entire process harder on the little ones (and you!). The good news is that there are plenty of ways lessen the burden for kiddos AND parents. Here are our top tried-and-tested tips on how to help kids cope when a parent is travelling…
Pick the right time when sharing the news
You know the drill, those crumpled little faces when you tell the kids you or your partner are going to be away for a bit. The time to share that news really depends on your child's age and coping mechanisms. Smaller tots have very little concept of time, so it's probably best to let them know fairly close to your departure date. Older kids, tweens and teens will already be slightly more independent, and having a regular school timetable probably means they have a much better grasp of time. As such, let them know around four days to a week before you jet off – they will soon cop on once the suitcases are rolled out anyways. Don't forget to be upbeat when sharing your travel plans.
Let the kids help with the packing
Sure, you may well end up with a set of Lego or an LOL Surprise Doll amongst your clothes, but getting the kids onboard with packing makes it fun, and more real for them. Giving them a task and making them feel useful may distract them from being so upset. Let them help choose your outfits – you don't have to tell them you didn't actually wear the orange shirt with red pants to your important business meeting.
Leave the fam a little something behind
Leave a small token present behind for the kids to be excited about (and hopefully deflect them from tears). Activity packs, funny picture books and small food treats are always a winner, along with details of where you're going to be and for how long.

Make goodbyes as breezy as possible
Definitely save your tears for the departure lounge – we've been that blubbering mess at Changi Airport! Try not to prolong the goodbyes, but equally don't sneak away either. Give your small people a big hug and kiss, quick reassurances that you will be back, that they will have a great time and leave with as little drama as possible. Take tissues for later.
Create a countdown calendar
Use a parent's overseas trip as an excuse to break out the craft box and create a countdown calendar for the happy return. Kids love visual aids, and they will have a much better grasp of when mummy or daddy will be back.
Use a wall map or globe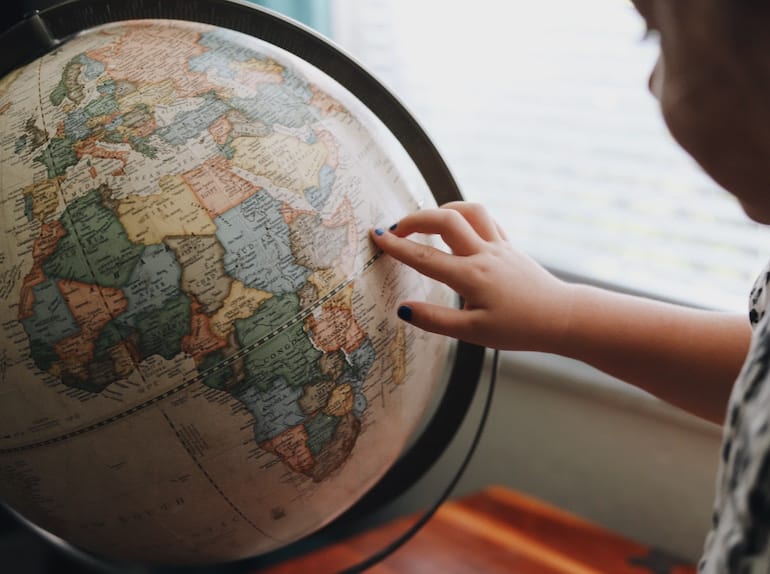 Combine a geography lesson with a 'parent tracker' by marking on a map or globe exactly where the absent parent will be. Add to the fun by exploring cool facts about the country or place, and maybe even whipping up some of the food the travelling mummy or daddy might be eating.
Stick to your usual routines
Keep things back home as close to normal as possible. If you are both away and the kids will be left with a family member or trusted helper, leave detailed instructions on feeding times (including likes and dislikes), school or preschool timings, bedtime schedules and regular after school clubs or playgroup routines. Consistency is key!
Check in
Daily chats are good for parents and kiddos, and they give everyone the chance to catch up on what's been happening at both ends. FaceTime, Whatsapp video calling or Skype make face-to-face catch ups easy. If there is a considerable time difference, factor that in so the calls are made at a regular time every day. If there are changes that need to be made to the call routine, warn the kids in advance so they aren't left disappointed.
Make a big fuss when you get back
The returning parent may well be exhausted, travel worn and a little jet lagged, but before you've even pulled your shoes off, expect (and welcome) a bombardment of hugs, kisses, questions and stories from the kiddos. Spend at least half an hour, no matter how much you need a lie down, dishing out souvenirs, sharing stories from your trip and plenty of cuddles. Make the return as positive as possible, so next time there's a solo trip happening, the kids won't be phased a jot.
Lead image: Lonely Planet via Unsplash
Like this story? Here's more we think you'll enjoy:
Our favourite airlines for travelling with kids
Best travel apps for overseas trips
2018 school and public holidays, and where to use them
Childcare in Singapore: Nannies, babysitters or helpers?
Don't forget to subscribe to our weekly newsletter and follow us for sneak peeks and fun moments on HoneyKids Instagram!