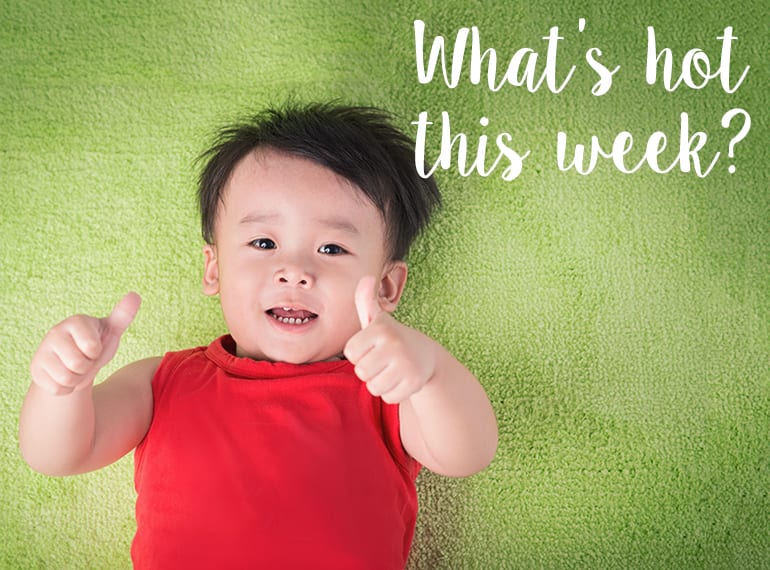 It's hot hot hot here in Singapore, so we've got lots of fun ways for you to escape the heat with the kiddos in tow.
Top of the week to you, HoneyKids readers! It's the start of another (terribly hot) week in Singapore and we're excited to escape the heat with most of our activities this week. The rains finally arrived over the weekend to turn the island into a steam bath, but we're staying cool with a cinema visit, some sugoi Japanese activities, Cantonese opera and lots of dancing (at home, as well as out and about). We're chuffed that this week all of our activities are either low-cost or free…hurrah!
1. Take the kids to see a movie…in a judgement-free zone!
Been wanting to take the little ones to see a movie, but too worried about the kids' behaviour and the judgey people in the cinema? Worry not! It's time for Mums & Babies at Golden Village. Select locations will be screening Sherlock Gnomes on Monday 8 October and each cinema will be decked out with a change table, wet wipes and baby lotion. Tickets are $6 and you'll receive a free gift with each pair of tickets purchased.
2. All aboard for a bit of Japanese culture
We're big fans of all things Japan – from the food, to design and culture. If you're keen to immerse yourself in Japanese culture, head to the Tanjong Pagar Centre from 11 to 14 October for 'Autumn in the Train'. Sounds a bit random, but Railway Day is actually a thing in Japan, so the good folk at Japan Rail Cafe have brought a slice of Japan to downtown Singapore. You'll find delish Japanese food, family yoga, a Pikachu meet-and-greet session, anime and movie screenings plus big screen video games.
3. Celebrate colourful Cantonese theatre
Bold make-up, dazzling costumes and beautiful vocals…we're in! Kids over six years will love 'Backstage', a Cantonese opera workshop by Spring Glory. In a mix of English and Cantonese, you'll see what happens behind the scenes at a Cantonese opera, through a modern lens. The show is on at 7.30pm on 9 October at University Cultural Centre Theatre. Tickets are free, but registration is essential.
4. Get moving at Got to Move 2018
Singapore's nationwide dance movement, Got to Move is back for its fourth edition to celebrate the diversity of dance in Singapore. With a huge range of dance programmes all across Singapore, there is something for everyone to discover dance and movement. This year the event is running from 12 – 28 October. We are seriously excited about the silent disco happening on Friday 12 October at 8pm – an awesome outing for your teen if ever there was one. Also on Friday evening is Singapore Dance Theatre's ballet showcase, a free event as part of Got to Move 2018.
5. Kids go free to the Singapore Zoo, Jurong Bird Park and River Safari!
Yes, you read that right! For the entire month of October, when you purchase an adult ticket, a child can enter the Singapore Zoo, Jurong Bird Park or River Safari for free (this applies to Singaporeans, PRs and FIN holders only). This promotion is in celebration of Children's Day and the month of October is dedicated to raising awareness about the 'deadliest monster' – plastic waste. The kids can join in activities, watch shows, enter competitions and enjoy discounts on selected products as part of this promotion. Go on then, get packing for a day at the zoo!
Like this story? Here's more we think you'll enjoy:
The shocking statistics of plastic waste and what we can do to help in Singapore
Best kids' bookstores in Singapore
How to stay zen through the terrible twos
Mum groups: the support system every new mum needs
Don't forget to subscribe to our weekly newsletter and follow us for sneak peeks and fun moments on HoneyKids Instagram!