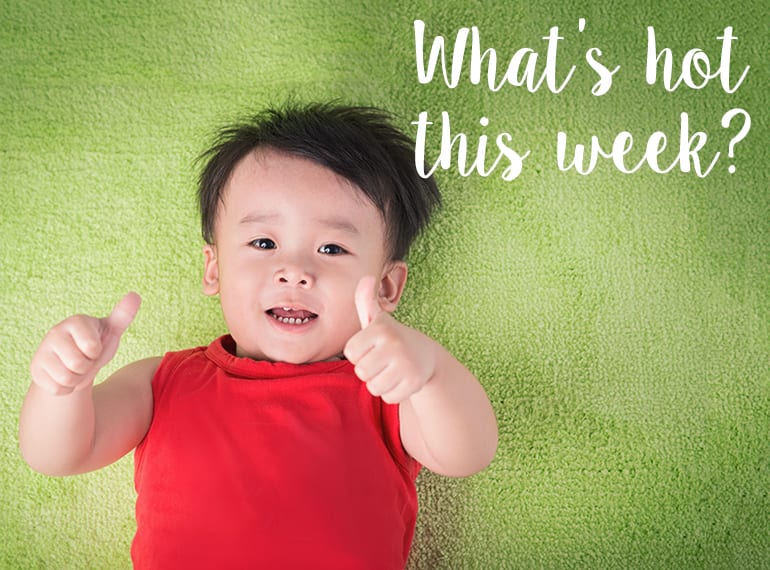 We're hurtling into the festive season at break-neck speed, but this week we're consciously slowing down and spending quality time with the kids. Here are our plans...
Welcome to a new week! We're heading towards Christmas at lightning speed, but this week we're trying to enjoy quality time with the kids by slowing down and appreciating the little things. We're thinking outings to the zoo, checking out a couple of indoor exhibits and even a special up-late outing to see the Orchard Road lights before things get too hectic. Here are our top five picks…
1. A Wizarding World Holiday at Changi
Attention Harry Potter fans! Changi Wizarding World, based on the tales of Harry Potter, opened on Friday at Changi Airport, Terminal 3 Departure Hall. You'll find life-sized setups inspired by Hogsmeade Village, Diagon Alley, The Whomping Willow and Newt's Menagerie. Until mid-February next year, Wizarding World will entertain travellers and muggles (it's in the public area) with free activities like the Wand Challenge, Robe Fitting and the Quaffle Toss. We tried it out already and it got a resounding thumbs up from our own wannabe wizards and witches.
2. HeadRock VR opens at Resorts World
Singapore's first virtual reality theme park is now open at Resorts World Sentosa! If you're all about finding the latest adventure, head over to Sentosa to experience 11 new, state-of-the-art digital attractions. Already huge in Las Vegas, Korea and China, HeadRock VR introduces adrenaline-fuelled rides like 'Flying Dive', where riders will experience the thrill of plunging toward a pool of magma from over 1000m high. If you purchase and use tickets before 16 December, you'll receive a 15% discount.
3. Check out the Christmas lights on Orchard Road
It really is the most wonderful time of the year and what better way to get into the Christmas spirit than with a festive ride down Orchard Road. Singapore DUCKtours is running 45-minute Orchard Christmas Light-Up Tours right up until 28 December. Jump onto an open-top double decker bus with the kiddos and take in almost 3 kilometres of lights in Disney's largest Christmas street light-up in Southeast Asia. Better than craning your neck out of a taxi on your way back from a swimming lesson, we say!
4. The Saint Marc Children's Choir is here singing Disney and Christmas classics
An unforgettable musical experience awaits, as the Saint Marc Children's Choir (PCSM: Les Petits Chanteurs de Saint Marc) delivers a medley of Disney tunes and Christmas carols at the Victoria Concert Hall. All the way from Lyon, France, the choristers will sing Oscar-winning Disney songs, mainly in French to delight adults and children alike. They're here for two nights only – 20 and 21 November – so you'll need to be quick.
5. Dragons and beasts at the Singapore Zoo!
Let the kids' imaginations run wild as Dragons and Beasts descend on Singapore Zoo. For kiddies who are into mythology, they'll go nuts seeing towering dragons, unicorns, griffins and other beasts inspired by animals and cultures around the world. And for the adults, it's even thrown in some Game of Thrones fun, with a 3D replica of the Night King's Ice Dragon and White Walkers. Sadly we didn't spot Jon Snow… Loads of other mythical activities are on offer at Singapore Zoo until 31 December. Local residents are eligible for 45% off second admission with every paying adult when tickets are purchased online.
Like this story? Here's more we think you'll enjoy:
Where to find Santa Claus in Singapore this Christmas
The best Christmas apps for little ones
The Christmas movies we can watch on a loop
Where to go for your Christmas vacation in 2018
Don't forget to subscribe to our weekly newsletter and follow us for sneak peeks and fun moments on HoneyKids Instagram!