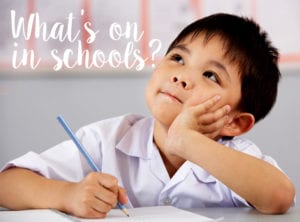 We've rounded up the open houses happening this January so you can get a head start on the school hunt!
By now the kids will have gone back to school, and there's finally peace in the home. But for those whose kids aren't quite ready for school or are planning on changing schools, we've rounded up the open house events happening in schools around Singapore this month. Don't miss our awesome Family Fun Day Chinese New Year Celebration or outdoors playgroup for fab free fun and a chance to find out more about these schools. And look out for info coming soon on our next HoneyKids Asia International School Fair!
HoneyKids Family Fun Day presents CNY Celebration with Hillside World Academy
If you're signed up to our newsletter, you know that we can't wait for the party that promises plenty of Chinese cultural activities at Hillside World Academy. Learn what life is like as a HWA student, all while trying out the CNY activities that go hand-in-hand with the school culture including a calligraphy workshop, CNY goodies, dragon dances and paper cutting crafts. And that's just for starters! Be sure to arrive in time for the unmissable authentic Chinese performance at 2:20pm which includes a lion and dragon dance. Did we mention it's all for free? Read on for more deets, or if you're ready to party, sign up now as spots are limited!
When: Saturday 19 January 2019, 2pm-5pm
Where: HWA campus, 11 Hillside Drive, Singapore 548926 (Serangoon area)
honeykidsasia.com/honeykids-family-fun-day-presents-cny-celebration-with-hillside-world-academy-hwa/
HoneyKids presents Little Outdoor Explorers Playgroup with CIS
Who's ready for more FREE fun? Join us in exploring the outdoors with Canadian International School (CIS) on 23rd January 2019. All kids aged one to five years (and their grown ups) are invited  to come and get messy with us with an outdoor mural, obstacle challenges, eco pond exploration, gardening magic and a mud kitchen. There's going to be plenty of learning opps, discovery and, of course, good ol' fashioned fun! Read on for all the deets and bag your space quick folks as it's going to be popular, so RSVP stat. Remember to bring a change of clothes, it WILL get messy.
When: 23 January, 9:30am-12pm
Where: CIS Lakeside Campus – Outdoor Discovery Centre
honeykidsasia.com/honeykids-presents-little-outdoor-explorers-playgroup-with-cis
G
IIS Smart Campus Tour and Open House
GIIS is holding open houses and campus tours throughout January for you to get a look into what makes it a SMART campus. Plus, enrol before 31 March and you'll get $1500 off the registration fee for Grades 1 to 12.
When: 12, 16, 19, 23, 26, 30 January
Where: GIIS Smart Campus, 27 Punggol Field Walk, Singapore 828649
singapore.giis.events/meetup
Read GIIS' full profile on HoneyKids School Selector
CIS Tanjong Katong Open House
Spend a morning at CIS and explore the school, see classes in action and meet the senior academic leadership team. You'll find out all the need to knows about the admissions process and academic programmes.
When: 16 January, 9am – 11:30am
Where: Tanjong Katong Campus
www.cis.edu.sg
Read CIS' full profile on HoneyKids School Selector
GEMS World Academy (Singapore) Open House
Experience the caring and warm atmosphere of GEMS World Academy (Singapore) for yourself at an open house! Learn about how students experience holistic learning in every classroom, talk to the Head of School, learn about GEMS (Singapore)'s core values, curriculum, extra-curricular activities, and state-of-the-art facilities. Places are limited so make sure to register to secure a place.
When: 15 January, 10-11.30am and 26 January, 10.30am-12pm
Where: GEMS World Academy (Singapore)
www.gwa.edu.sg
Read GEMS (Singapore)'s full profile on HoneyKids School Selector
AIS Infant Care Open House
If you're looking for a care centre for bubba, there's no better place more suited than AIS' Infant Care. Come meet its friendly educators and tour around pods specifically designed for babies and toddlers aged two to 18 months.
When: 24 January, 9-11am
Where: Australian International School, 1 Lorong Chuan Singapore 556 818 (Gate 3)
www.ais.com.sg
AIS Experience
For kiddos ready for school, take a personalised group tour with the AIS leaders around the campus and get insight into how AIS' values define its unique approach to learning.
When: 30 January, 9am – 11am
Where: 1 Lorong Chuan, Singapore 556818, Gate 3
www.ais.com.sg

Read AIS' full profile on HoneyKids School Selector
Lycée Français de Singapour Open House
Lycée Français de Singapour has welcomed close to 2,800 students from Kindergarten to High School from over sixty nationalities. Head to its open house to find out more about its bilingual curriculum plus the opportunities for students to learn foreign languages including English and Mandarin. The pedagogical team will be introducing the school's programmes over a cup of coffee and give you a tour of the campus and facilities.
When: 25 January, 1:30 pm
Where: Lycée Français de Singapour, 3000 Ang Mo Kio Avenue 3
www.lfs.edu.sg
Read Lycée Français de Singapour's full profile on HoneyKids School Selector
GESS Pre-School Open House
This is your chance to spend time with the GESS Pre-School community and learn about its curricular offerings, after school activities (over 90 options!), enjoy private consultations with the admissions team and tour the brand new pre-school campus facilities. The kiddos will be kept busy with a fun and interactive experiential play and learning session.
When: 29 January, 9.30 am
Where: 2 Dairy Farm Lane, Singapore 677621
info.gess.sg
Read GESS' full profile on HoneyKids School Selector
Open Morning at Dover Court International School
Parents of children from Year 1 to Year 12 planning to apply for admission in August 2019 are invited to its open morning. Get to meet the principal, head of schools and year group leaders to understand more about its programmes and take a tour of the school to see the classes in action.
When: 30 January, 8.45am – 11.30am
Where: Cooper Hall, Dover Court International School
www.nordangliaeducation.com
Read Dover Court International School's full profile on HoneyKids School Selector
EtonHouse Pre-School Open House at 717 Mountbatten Road
EtonHouse is opening its doors (and gardens!) on Saturday, 19 January. Visit 717 Mountbatten Road on the East Coast, a beautiful garden pre-school for children 18 months to four years of age. The gardens are both outdoor living laboratories and nature classrooms, blending with its cosy indoor spaces housed in colonial bungalows. Find out more about its highly successful child-responsive bilingual programme, innovative facilities including a treehouse and early years science lab, and award-winning horticulture and sensory gardens. RSVP and get a full waiver of the registration fee!
When: 19 January, 9am – 12.30pm
Where: 717 Mountbatten Road, Singapore 437737
info.etonhouse.com.sg/openhouse-m717-19jan2019
Read EtonHouse's full profile on HoneyKids School Selector
Blue House Open House
Discover more about Blue House's Reggio Emilia inspired programme for children 18 months to six years old at its open house. Families are welcome to explore the school any time between 9am and 4pm. Sign up to one of the four presentations happening throughout the day to get key insights into the Blue House experience. Complimentary tea and coffee will be available along with a cosy space for bubba to play. Families with children aged six to 36 months are welcome to explore the Infant & Toddler Atelier and interactive play space. Bring socks!
When: 26 January, 9am-4pm
Where: 2 Turf Club Road, Bukit Timah, Singapore 287988
www.bit.ly/2Rj1IA3
Read Blue House's full profile on HoneyKids School Selector
Learning Vision Islandwide Open Day 2019
Learning Vision is holding an islandwide open day across 14 centres on 20 January. This is your chance to find out more about its curriculum and LV child hallmarks. Find out how Learning Vision inculcates positive life-skills on top of academic skills to help your child excel.
When: 20 January, 10am – 2pm
Where: Learning Vision centres islandwide
bba.sg/IslandWide-Openday
Read Learning Vision's full profile on HoneyKids School Selector
OWIS Saturday School Tours
Always wanted to find out more about this multicultural international school? Sign up to one of its Saturday school tours to explore its state-of-the-art student facilities, dedicated learning spaces and e-learning technology. Explore the new Nature Kindergarten for students aged between three to six years and the rest of its Nanyang Campus.
When: 12, 19 and 26 January, 10am
Where: One World International School 21 Jurong West Street 81, Singapore
www.owis.events/hangouts
Read OWIS' full profile on HoneyKids School Selector
Maplebear Havelock Open House
Maplebear Havelock is hosting an open house that's sure to be fun for all the kiddos. From storytelling sessions to music and movement and even games and craft, it's set to be a fun morning all around.
When: 19 January, 9.30-11.30am
Where: 407 Havelock Road, #04-01, [email protected], 169634 (beside Furama RiverFront Hotel)
www.maplebear.sg
Like this story? Here's more we think you'll enjoy:
Guide to international school curriculums in Singapore
International school holiday dates for 2019
What it really costs to send your kids to international schools
First day of school? Here's how to help your child settle in
Don't forget to subscribe to our weekly newsletter and follow us for fun moments on HoneyKids Instagram!