Get ready for a revitalising vacay at Thanyapura Phuket...
Parenting is a 24/7 job but that doesn't mean you can't stretch the mum-time moments as far as possible. We hopped on a flight to Phuket, Thailand for some serious R&R recently thanks to Thanyapura Phuket, and we definitely got the pre-Xmas break we needed. Located just a 20-minute drive away from Phuket Airport, Thanyapura is nestled amongst plenty of lush greenery and a nature reserve. This is a retreat ALL mums need to know about, we say!
Where you'll stay
Thanyapura has two wings, the 77-room Pool Wing and 37-room Garden Wing. We stayed in the Garden Wing, a two-minute walk from the entrance (or a two-minute drive in the golf cart if you're feeling especially chilled) and surrounded by, you've guessed it, lots of gardens! The luscious Garden Wing even has a reading room where you can catch up on all those mum-reads you've been meaning to get around to, as well as exclusive access to certain restaurants. Which brings us to…
All the noms
Other than the all-day DiVine restaurant, there's other healthy options including a vegan buffet at DiLite and plant-based cuisine at Booster Deli & Café with boost juices and protein shakes for a quick pick me up. This is healthy eating at its very best, and despite our reservations about such healthy living for the weekend (we'll be honest: we do love the occasional burger), it really was delish.
What's there to do?
Don't expect to be bored. The hotel is dedicated to making sure you're either active or actively relaxing. So whether you plan on chilling out in your room, sitting by the pool or indulging in a bit of spa-time, there's something for everyone.
Health
First of all, there's an integrative health centre that offers everything from health checkups and nutrition plans, to physiotherapy and detox treatments. If you're not afraid of needles, an IV infusion will get you your much-needed vitamins and minerals in a quick hit. We tried out one of the cocktails and although we weren't quite mentally prepared, we felt quite rejuvenated afterwards for sure.
Sports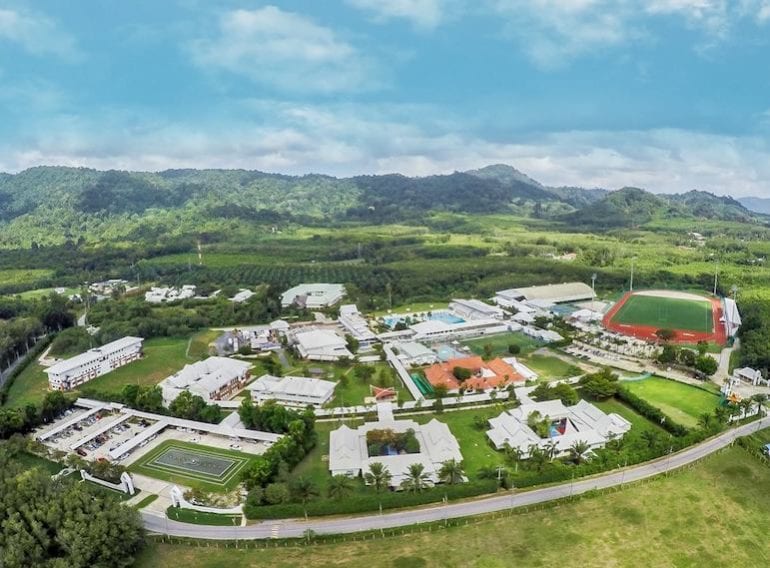 Thanyapura's all kitted out with the best sporting facilities: we're talking three swimming pools (one of which is a 50m Olympic Pool), Asia's only FINA approved swimming pool, two gyms specialising in cardio and free weights, indoor and outdoor tennis courts, an athletics track, fitness studios, a beach volleyball pitch as well as a rugby and soccer pitch. And yes, there's a pool for the kiddies to splash around in too which even has a bunch of pool toys to keep them busy with. Did we mention the pools are cleaned using ozone instead of chlorine? Cool, huh?
Wellness
Once you're done with your workout, it's time to relax with a spot of yoga, meditation in the scenic Mind Centre, or a decadent session at the Health Spa. Or take advantage of the in-house nutritionist to work out a nutrition plan and sensible diet regime tailor-made especially for you.
Exploring
The hotel offers shuttle bus services to Layan Beach, Naithorn Beach and Boat Avenue where the night market (and a Tesco supermarket) is at. You can also rent a car or bus to take you wherever you fancy adventuring to. You can also rent a bike to explore the neighbouring Khao Phra Thaeo Wildlife Sanctuary, or take a peek by going on a school tour of UWC Thailand (remember to book in advance for this though).
So whether you're looking for a wellness retreat or a place to sharpen up your sporting skills, it's safe to say you'll be leaving the hotel refreshed. We'll be back for sure and we *might* even consider bringing the fam next time.
Thank you to Thamyapura Phuket and UWC Thailand for hosting us.
Top image: Thanyapura Phuket via Facebook
Like this story? Here's more we think you'll enjoy:
Where to go hiking with the kids
Best reflexology places in Singapore
New years retreats to escape to
Where to get a mani-pedi with the kids
Don't forget to subscribe to our weekly newsletter and follow us for fun moments on HoneyKids Instagram!