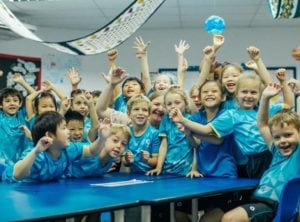 Get an inside tour of Nexus International School (Singapore) from the real experts – the students!
Stepping into Nexus International School (Singapore)'s campus is a lot like getting a warm hug from your favourite teacher. Whether it's because of the respectful approach Nexus embraces or the thoughtfully designed learning spaces, there's something about the campus that makes Nexus so darn homey. But don't just take it from us – we've got the lowdown from the experts themselves, the students of Nexus
International School!
The HoneyKids team recently made their way down to Nexus and spoke to Stina, Josh and Ethan, three student experts about why they love their school. They also gave us a tour of the campus and their favourite places (we were dying to take a splash in the pool!). If you've always wanted to know what life is like at Nexus, check out Nexus International School (Singapore)'s super cool video below!
Nexus International School (Singapore): A welcoming community where everyone feels at home
It's a fact that kids learn better when they're inspired by the community they're part of. At Nexus, everyone works together to support the learners – even the parents. Nexus prides itself as a family school where parents can come at any point in the day. They even have their own space to socialise and offer support. When everyone's involved, it creates a real sense of positivity that can't be beat. In fact, when we spoke to Nexus principal Judy Cooper, she says "The parents I have spoken to feel that their teachers really know their children and that they care for them."
A place where innovative, techy kids rule!
When kids are genuinely interested in what they're learning, they'll be the first ones to get involved in class. That's why the folks at Nexus International School (Singapore) make it a priority to make lessons as fun as possible. Kids can create holograms in the makerspace or learn how to love music through games – it's all about being innovative. We hear the high school kids get to work on Green Technology and invent cool things like mobile-charging shoes and a shower that uses recycled water!
A school that's truly different
Nexus has students from over 50 different countries, an internationally recognised curriculum, staff that can speak 25 different languages – all learning and working together in an inspiring community. We know that school and fun usually don't belong in the same sentence, but at Nexus, it does. From classrooms designed to promote collaboration between students to their use of technology in everyday learning (and awesome teachers who work closely with the kids to bring out their talents), it's something you'll have to see for yourself. Go on, book a tour today!
This post is sponsored by Nexus International School (Singapore)