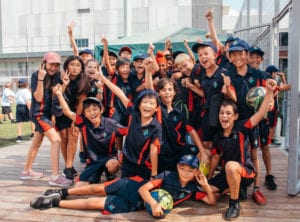 Find out how GEMS World Academy (Singapore)'s dedicated, experienced teachers make a difference in the classroom...
Take a peek into a classroom in GEMS World Academy (Singapore) and you'll spot happy, engaged students excited about learning. What is its secret? GEMS teachers are passionate, courageous educators with a can-do attitude and an eagerness to share their knowledge with their students.
At GEMS World Academy (Singapore), all teachers have a common passion for helping children get ahead in life by providing them with a quality education and real-world skills training. They use their global experiences to share with their students in the classroom, making each lesson an engaging learning experience. But don't just take our word for it, take a peek at our video to see just how amazing the teachers at GEMS (Singapore) are.
Because great teachers inspire great students
The teachers at GEMS World Academy (Singapore) are united in their mission to provide outstanding learning opportunities for students through an environment of mutual respect, transparency and engagement. They make sure that all students get the individualised attention they need so that they can achieve their best.
Highly qualified teachers creating educational excellence
As parents, we always find ourselves breathing a little sigh of relief when we find out how happy our kids are at school. And it's no secret that great teachers play a big part in that. The teachers at GEMS World Academy (Singapore) are not only highly-qualified international IB practitioners, they're also experienced teaching professionals with new ideas and knowledge, focused on making learning as engaging as possible.
To learn more about what GEMS World Academy (Singapore) has to offer your family and get an inside look into its programmes, head over to its next Open House on 27th April and have a chat with its friendly admissions and teaching staff.
This post is sponsored by GEMS World Academy (Singapore)