From witty reads to a haunting gothic romance, poignant memoirs to a nail biting thriller, we've come up with your essential reading list for the summer ahead...
We love an overseas vacay whenever we can, and aside from pool-side cocktails, amazing kids' clubs and quality fam-time, there's another reason we can't wait to get away… to catch up on our reading list! Here's what the HoneyKids mums have been binge-reading between potty training, arguments over scooters and tending to 'stepped on Lego' injuries. These are the reads that will have you wanting to re-Kindle your love for books, books and more books. We say stockpile them all and throw them in your beach tote along with your snazzy new swimwear if you're jetting away in the school holidays.
Eleanor Oliphant Is Completely Fine, by Gail Honeyman
As socially awkward as Eleanor Oliphant is, it's impossible not to love her. This is a woman who says whatever's on her mind and has her life completely mapped out to avoid any kind of social interaction. Things change when she unwillingly befriends Raymond, the office IT guy, and she's forced to confront not only the way she lives, but to admit that perhaps she does need a friend or two after all. This is feel-good factor to the max, but do have tissues at hand too! 
The Butterfly Garden, by Dot Hutchinson
If you're looking for a book that gives you the heebeegeebees, then The Butterfly Garden by Dot Hutchinson is the book you need to load up on your Kindle, stat. From the first page to the last, devastating page, you'll find yourself biting your lips (and nails) as you learn more about the Gardener and his dark, twisted ways. This is definitely one book you'll want to read in one sitting, so offload the small people and prepare to be gripped.

Wild, by Cheryl Strayed
A poignant memoir journalling the author's 1,100-mile solo hike through the Pacific Crest Trail in the US, this book bares all: grief, loss, vulnerability and introspection. Cheryl Strayed's beautiful prose describes her journey and what she feels and thinks in a way that will make you feel like you're walking right alongside her. If you're in need  of a cathartic cry, this is the book for you.

Rebecca, by Daphne du Maurier
"Last night I dreamt I went to Manderley again.." Possibly one of the most famous lines in English literature, which aptly sets the scene for one of the most tempestuous love stories of all time. A young woman is swept off her feet by a wealthy older man who harbours deep emotional baggage after losing his wife, Rebecca. An ancestral home in the English countryside, the uber creepy Mrs. Danvers and plenty of intrigue will have you hooked until the end.
Kitchen Confidential, by Anthony Bourdain
With the sad and recent loss of Chef Anthony Bourdain (may he RIP), eating a bowl of pho in Hanoi or chicken rice at Maxwell Food Centre will never be the same again. If you've not read Kitchen Confidential, now's the time to dig in. To the uninitiated, Bourdain may seem a tad extreme but his tales of what really goes on behind kitchen doors will change how you see the restaurant world, and food for that matter, forevermore.
The Electric Woman: A Memoir in Death-Defying Acts, by Tessa Fontaine
Have you ever wanted to run away and join the circus? Well, Tessa Fontaine actually did just that and became a snake charmer, fire eater and eventually the electric woman. A beautifully written memoir about the pain of dealing with a parent's illness while performing in a travelling sideshow, it goes back and forth between the two and focuses on the struggles she faces and how she overcame it all. Amazing.

Limelight, by Amy Poeppel
If you loved Amy Poeppel's Small Admissions, you'll definitely enjoy Limelight. Allison uproots her family from Dallas suburbia to the concrete jungle of Manhattan, a crazy, chaotic city which isn't exactly family friendly. As expected, things don't go so well for the Brinkley family – throw in a teenage pop star into the mix and the fun begins. Limelight is a smart and funny read that'll make you want to be BFFs with Allison Brinkley for sure.

The Seven Husbands of Evelyn Hugo, by Taylor Jenkins Reid
Perfect for Hollywood celebrity gossip fans, The Seven Husbands of Evelyn Hugo serves up a hefty dose of glitz, glamour and scandal. Aging actress Evelyn Hugo steps out of the shadows to tell her life story through an unknown magazine reporter, Monique Grant. The biography surprises everyone, including Monique herself, who is going through a divorce and a career slump while listening to Evelyn's fascinating story. Turns out her life and Evelyn's are inextricably intertwined…

All the Light We Cannot See, by Anthony Doerr
A deserving winner of the Pulitzer Prize for Fiction, All the Light We Cannot See is one of those reads that will stay with you for a long time. Set in occupied France during World War II, the novel centers on a blind French girl and a German boy. Their paths cross in a tale that has you rooting for a happy outcome, while wholly expecting a sad ending… We won't tell you which way it goes, but this is a beautifully written story that absolutely needs to find its way into your beach tote!
I am Pilgrim, by Terry Hayes
We stumbled across this one as a book club read, and while it's not the sort of genre we would have usually plumped for, it turned out to be a real page-turner. Set in New York City, Saudi Arabia and Syria, the story involves a race against time as a heinous enemy comes up with a flawless plot to commit a devastating crime against humanity. A clever tale that will really make you stop and think.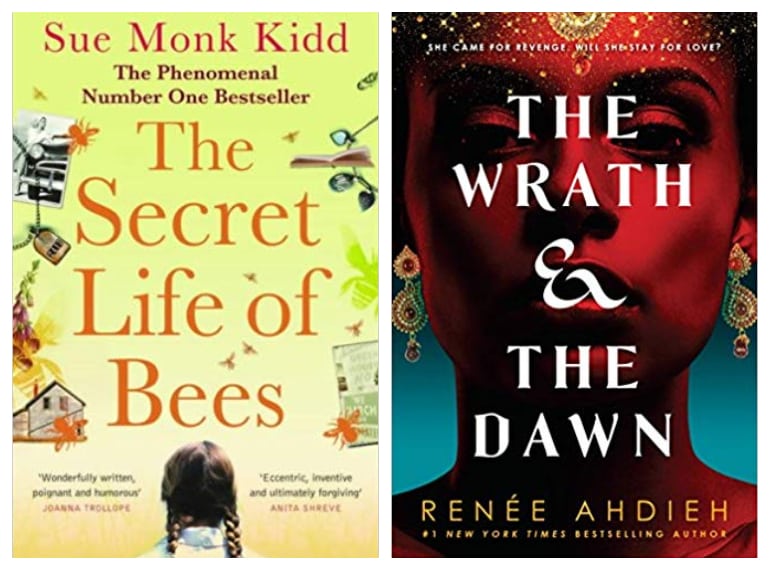 The Secret Life of Bees, by Sue Kidd-Monk
The Secret Life of Bees tells the story of a 14-year-old white girl, Lily, whose life has been shaped around the blurred memory of the afternoon her mother was killed. The tale is set in 1964 and follows her journey from bees in her bedroom to an incident that sees her end up as a fugitive, to a trio of black sisters who Lily convinces to take her in. The story is captivating and more than a little sad in places, but it's written so wonderfully that we'll forgive the need for waterproof mascara.
The Wrath and the Dawn, Renee Ahdieh
For a modern-day Mills and Boon type romance romp, we loved the reimagining of Arabian Nights, Renee Ahdieh's The Wrath and the Dawn. Be swept up in the story of a teenage girl who, as an act of revenge, volunteers to marry Khalid, a 'caliph' who marries a new bride every day and then has them executed at sunrise the following morning (we never said it was believable). Escapist fiction at its easy-reading best! And if you enjoy it as much as we did, you'll be stoked to know it's part of a series.
A Little Life, by Hana Yanagihara
There was a real debate in the office as to whether this one should be included, with some insisting that it was a necessary read, while others proclaimed it to be too tragic to inflict on unsuspecting readers. The jury is still out, so we will let you decide for yourselves whether this utterly desolate tale is your bag! It tells the story of four friends in New York City and involves a LOT of pages, following them from college through to middle-age, with all the perils, tribulations and life-changing moments that hit them, and their friendship, along the way. Not for the fainthearted, and certainly not for anyone looking for a light read, it's one of those books that will stick with you for a very long time. A Little Life it is not.
Annabelle Thong, by Imran Hisham 
Tired of being single, typical Singaporean ex-Catholic school girl Annabelle Thong packs her bags for the city of lights in pursuit of love by way of an International Relations degree at the Sorbonne. But her quest for Mr. Right isn't as straightforward as she'd like it to be. The longer she stays in Paris, the more she questions her life in Singapore and all that she thought was right. Oh, and she also gets involved in a riot. 
The Hate U Give, by Angie Thomas
At HoneyKids, we love a good YA novel and Angie Thomas's The Hate U Give  is one of our faves. It chronicles the story of sixteen year-old Starr Carter who finds herself a witness to her childhood's best friend's murder at the hands of a police officer. He was unarmed. She soon realises that what she does – or does not do – could change the delicate balance between her life in her fancy suburban prep school and the rough neighbourhood she lives in. Will Starr put her life on the line to do what's right? Read this page-turner to find out.
Like this story? Here's more we think you'll enjoy:
The Singapore books you need on your kids' reading list
Our favourite bookstores for kids
The best libraries for little bookworms of all ages
How to get your book published
Don't forget to subscribe to our weekly newsletter for all things family-friendly and follow us for fun moments on HoneyKids Instagram!