Do you have twins or triplets in Singapore and need advice on how to get out and about? Ermita Soenarto, mum of triplet baby girls, plus a two-year old daughter, does it all without a helper and makes good use of public transport! We think there's no-one better to share her tips on enjoying a day out in Singapore with multiples
Having twins or triplets in Singapore can be daunting – but don't be afraid to enjoy family-friendly restaurants in Singapore and outdoor activities with kids just because you have multiples. My husband and I have a two year old daughter, and in September last year, I gave birth to triplet girls. Throughout the pregnancy, we wondered how we were ever going to leave the house. Just bringing the girls home from hospital took five adults. So, naturally, for the first six months we never ventured out. It really seemed impossible. First there was all their stuff times four we had to pack and carry. Second, we were clearly outnumbered if they went off in different directions. Then there was the scary thought of three babies having a meltdown in full view of the public eye. After the triplets turned six months and we were having serious cabin fever, I decided a little ingenuity and courage was all we needed to overcome our anxieties of bringing our girls out. Outdoor sensory stimulation is, after all, beneficial for their brain growth and physical development.
How on earth will we leave the house?
The key to surviving the great Singaporean outdoors with triplets and a toddler is really in the planning and logistics. Travelling by car is obviously the easiest option. But if you are like us and travel frequently by public transport, do not fear! We learnt to be pros at baby wearing our triplets from watching YouTube video tutorials. We found this tutorial on tandem baby wearing most practical.  So my husband would tandem carry two babies, while I carried the third triplet and the diaper bag. Our toddler has gone buggy-free since the day she could walk so we alternated between holding her hands and letting her walk freely when it was safe to.
Tips and tricks
Get an ergonomic and roomy diaper bag with lots of internal pockets like the Skip Hop Duo Double, and pack an additional foldable bag in case you need the extra storage later on.

Be scrupulous with your pack list, since you do not need extra weight.

Always pack favourite baby snacks, pacifiers and teething toys in anticipation of public meltdowns.

Your secret weapon is a beach towel. Any time our girls want to take a nap or need a diaper change, our beach towel comes to the rescue.

Research before heading to your destination. Does it have a lot of space? Is there plenty of shade? Are there baby-friendly amenities? When are the off-peak hours?
WHERE TO GO

Port of Lost Wonder, Sentosa
We love the Port of Lost Wonder at Sentosa for its expansive water play area, a foam play area, and a large sandpit. Our girls often gravitate toward the sandpit because it is beautifully shaded from the hot sun. There is also a variety of seating areas from padded floor mats to shaded benches.
54 Palawan Beach Walk; www.polw.com.sg



Public pools
To cool off on really hot days we enjoy heading out to a public swimming pool. We like Pasir Ris Swimming Complex best because the baby pool is shallow enough for our triplets to sit and play in and has many water play features.
120 Pasir Ris Central

Changi Boardwalk
This is another excellent choice for evening family strolls. The boardwalk is not stroller-friendly, so I recommend baby wearing. The boardwalk offers beautiful sunset views and a relaxing getaway for stressed parents of infant multiples. Babies will enjoy the soothing waves and scenic views of the sea.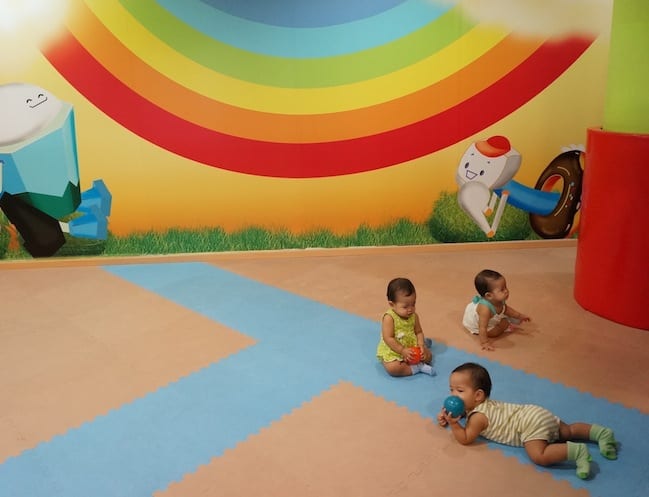 Indoor playgrounds
We also love going to indoor playgrounds because the play environment was entirely air-conditioned and enclosed. We really like The Polliwogs at East Coast Park (check out HoneyKids' full guide to East Coast Park here). There is more than enough space and play facilities geared to older babies like ball pits and interactive activity panels.
1020 ECP, Singapore 449878; www.thepolliwogs.com

We have now brought our girls to so many destinations, even restaurants, which we dreaded the most. We learned not to overthink the process and just focus on the fun that everyone will have. When we confronted difficulties, we found that strangers and passerby were more than enthusiastic to lend a helping hand. Now that we have conquered Singapore with triplet babies and a toddler, we hope to conquer international travel next!