Meet Tricia Morahan, mum to Joe, nine, and twins, Tom and Xavier, two months, and founder of one of one of our favourite places to shop online in Singapore: gorgeous homewares, fashion and accessories store The Punch List. She has an eye for curating divine pieces from fashion labels from around the world. And her range of must-have cushions, candles, furniture and artwork have the power to transform your home into an effortlessly styled space in no time.
As if she's not busy enough already, she's just launched off-shoot The Punch List Outdoors, stocking pool toys and outdoor games perfect for life in the tropics!
Whether you've met her at one of her sell-out pop up shops, at Boutiques at the Pit Building, or at a private shopping party, you'll agree that she's one of the loveliest ladies in Singapore. She'll stop at nothing to find you exactly what you're looking for.
What many people may not know about Tricia, is that she and husband Nathan have always dreamed of having a big family. Struggles with infertility and adoption almost squashed this dream. Almost, but not quite. Last year, entirely out of the blue, Tricia fell pregnant naturally at 46 with twin boys. We sat down with her to talk about her journey to here (and, okay, to squeeze the babies).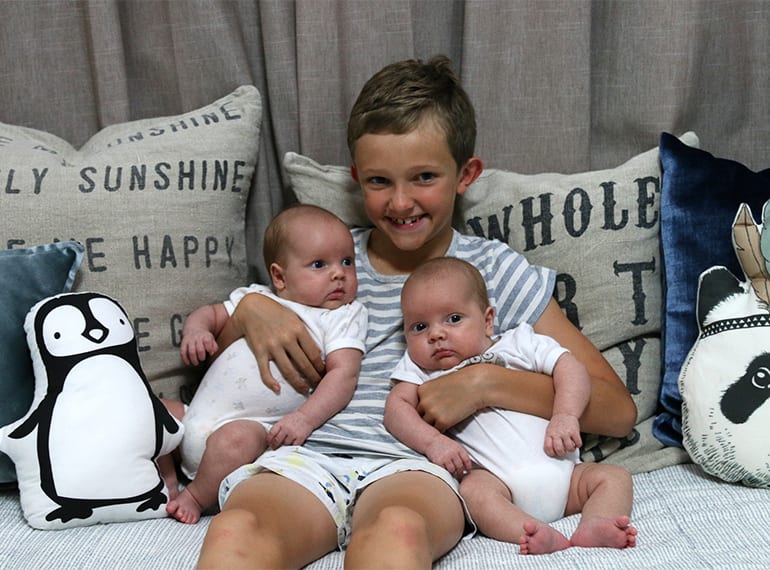 Twins are trending right now. Are you relishing two sets of newborn cuddles?
Absolutely. I feel so lucky. Although I'm already finding it hard to decide who to pick up first…
How long have you been in Singapore and what do you love about living here?
We moved to Singapore from Sydney five years ago for my husband's work. There's a lot to love about this city with its mix of cultures, affordable help and low tax rates. The travel has been amazing – we've been fortunate enough to have many adventures across South East Asia, Europe and Africa.
After being an only child for so long, how has Joe adjusted to being a big brother?
Prior to the twins being born and immediately after he was super-excited. However, the reality set in after a couple of days, which was to be expected I guess. It's been a huge change for him. We try not to make everything about the babies and give him activities so he feels involved (like pushing the stroller and feeding bottles). Thankfully with help at home we can still have one-on-one time with him. He adores his little brothers. 
You've given birth in Sydney and Singapore. How would you compare the two experiences?
Well it's definitely cheaper to have a baby in Australia, so good medical insurance in Singapore is a must-have. Our doctors in both locations were exceptional.
The best part about having babies in Singapore is without doubt the availability of night nurses and live-in help. It's been an absolute lifesaver being able to sleep! I didn't have that luxury in Australia. On the flip side, better free community support in Australia is a huge benefit for first-time mums. 
Tell us about your journey to creating your beautiful family.
I'm one of six, so I've always wanted a big family of my own. But the best-laid plans often go awry don't they? Our first son Joe was born after several pregnancies and then I couldn't fall pregnant again. After many, many rounds of IVF we gave up and learned to accept what we thought was meant to be. I couldn't give up the idea of more children, and just last year we took a trip to Ethiopia with a view to adopting.
We were still undecided on our return, but eventually told our facilitator we'd like twins or siblings. We were quickly allocated twins and in an ironic twist after much thought we decided we were too old for newborns and requested older siblings instead.
No more than two months later I fell pregnant with the twins. This was my seventh pregnancy, and at 46 was a pretty big surprise (albeit a lovely one). After all this time, to fall pregnant naturally was almost unbelievable. Ridiculously looking back I went to the doctor complaining of a stomach bug after a trip to Bali. I was almost 11 weeks pregnant and had no idea. It genuinely didn't occur to me that it was a possibility. It just goes to show that no one ever really knows what's just around the corner. After a high-risk pregnancy we feel incredibly lucky to have not one, but two healthy babies. The twins are the 25th and 26th grandchildren in our family – there are kids everywhere!
Tell us about your business in a nutshell…
I started out with a series of pop-up shops selling fashion and homewares that I loved, but couldn't source in Singapore. Initially I focused on the local market, but the business exploded and we now have a comprehensive online store shipping worldwide with weekly drops of new stock and limited-edition ranges. In celebration of our tropical lifestyle, we branched out recently with The Punch List Outdoors selling fun pool toys, outdoor games and sporting accessories. 
What are your three top tips for creating the perfect wardrobe?
Buy only things you really love. Otherwise they'll become those items that sit at the back of your wardrobe until the next clean out.
Don't feel pressure to be 'fashionable' or to 'keep up'. Buy classic pieces that will last many years, and if there are on-trend items you love, source them from good chain stores like Zara.
Spend whatever you can afford on good-quality shoes and handbags. Make them an investment rather than a cheap buzz.
What are you lusting over for your home right now?
Artwork and a new lounge. 
How have you juggled motherhood and business?
Balancing work and home life is always challenging, but before the twins we were in a good routine. With house help and Joe being at school, I had time to focus on him and the business. The twins have changed the dynamic, so now there's less time and flexibility. I have to be super-efficient. I'm lucky to have great people supporting me, but it's tricky. The twins are only a couple of months old, so I'm still trying to find my equilibrium point.
You seem to still be doing it all – love the Insta feed! How do you find the headspace to keep going?
I just really love what I do, so don't need to concentrate on finding the time to work. I've always been passionate about owning a business and the twins haven't dampened this desire. Starting something from scratch and building it up to be a success is immensely satisfying.
These days most jobs can be done whenever and wherever it suits you. I just fit it in around the madness of home and it seems to work. Having said that, over the last few months I've not exercised, and there's been more than a reasonable amount of screen time in our house. It's not perfect, but I'm okay with it.
How much sleep to do you manage on an average night?
My night nurse is amazing – she has the boys in a routine. It's heaven and I'm seriously worried about what will happen when she leaves. I've avoided the sleep-deprived fog you find yourself in with newborns. It's so true what they say that if you sleep, you can achieve anything.
For the twins and for yourself, is there anything can't live without?
To be honest I'm not a big fan of buying loads of baby paraphernalia. I'm practical and stick to essentials. Babies grow at a phenomenal speed and things quickly become obsolete. Except when it comes to decorating the nursery of course. Now that's my weakness…
As for me – I can't function without a daily coffee (or two) from Jones the Grocer. One of life's simple pleasures. I'd love to add a weekly massage or facial to the mix, but time is not my friend, so coffee will have to do for now.
What challenges do you face as a mum of twins?
I know it's early days still, but taking both babies out at the same time is a struggle. In fact dealing with everything at the same time is hard – like feeding, bathing and when they cry together! I'm told that it WILL get easier. Fingers crossed…
What's your favourite thing to do in Singapore – with and without kids?
We spend a lot of time as a family along the river. It's the perfect place to go biking, scooting, dining and running. When we have a childfree night you'll find us trying out new restaurants and bars around Singapore. My husband is a foodie at heart. Just talking about that makes me realise it's time for a date night.