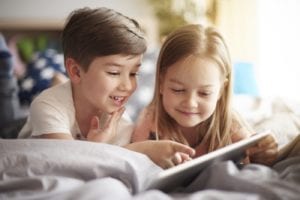 Siblings browsing a digital tablet
Spread the word of cyber safety through this fun contest and get the chance to win cool prizes from Trend Micro
Whether we like it or not, at some point, our kids will be exposed to some kind of technology. Smartphones, tablets, computers, TVs – they'll eventually use one of these devices to go online to look at videos, play games, do homework or even just to talk to relatives and friends. And the more access they have to the internet, the more risks they'll be susceptible to. That's why it's up to us parents to teach our children the importance of internet safety. This way, we'll be able to protect our kids from dangerous or inappropriate content and activities and also let them make the most of their online experience. Here are some handy tips to get you started:
Know your child's online habits
Try to keep track of the sites your child frequents, the games they play and who they're speaking to online.
Set guidelines on safe internet usage
Explain which online activities can be risky and why. Remember to explain why you've set these rules and instructions so that your child understands why it's important to follow them.
Set up filters and anti-virus software
Some versions of anti-virus software have parental control features that help us closely monitor what our children access online. By installing these, we're also protecting our devices against viruses and malware while still giving our kids the chance to enjoy using the internet. This is where the folks at Trend Micro come in. For over 30 years, they've been committed to making the internet a safer place, thanks to their cybersecurity solutions.
Now that you've schooled your kids in internet safety 101, it's their turn to spread the word – and get the chance to win an uber-awesome iPad Pro 11' or 10.5", a DJI drone and shopping vouchers worth up to $1,200! Sounds cool? Here are the deets you need to know:
What's Your Story poster design contest with Trend Micro
Kids need to get their creative juices flowing and design a poster based on the theme: "How can you stay safe on the internet?". Once they're done with their artwork, they'll need to upload the poster to the competition's website. The entries with the most views and hearts will be entered in the finals and the winners will be chosen by judges.
What: What's Your Story poster design contest: How can you stay safe on the internet?
Who: Category A: 7–12 years old
Category B: 13–17 years old
Individuals and schools
When: Contest will run from now until 30 September 2019
Are you in? Enter now and upload your entries at: https://whatsyourstory.trendmicro.com.sg/!
This post is sponsored by Trend Micro