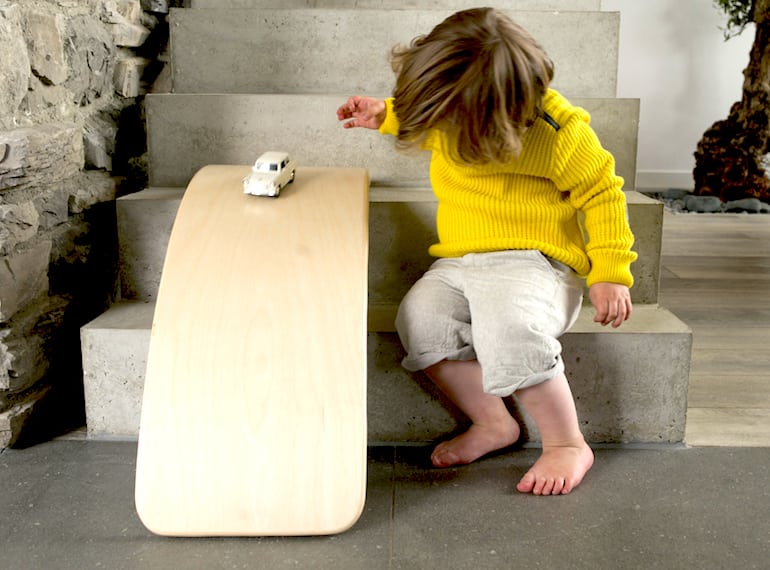 We've found eight quirky toys for preschoolers that will keep them off the screens and busy with a heap of good old fashioned educational fun...
The struggle is real when it comes to getting fidget-pants tots and kids to sit still for more than 15 minutes at a time. But no parent has the time (or the money) to be traipsing back and forth to the toy store in a quest to appease bored toddlers and preschoolers  – the trick is stocking up on a selection of interesting toys and games that can be rotated and used for endless imagination and creativity wins. Less is more when it comes to good quality small person pleasers! Handily, there are plenty of educational toys that encourage motor skill development and engage young minds in sensory play right here in Singapore and, plenty to keep them busy with. So save the screen time for when they are antsy tweens and teens, and check out these eight essential toys that will shake up the playroom…
Wobbel Board
A reboot of the classic Waldorf rocker board, Wobbel Board is great for parents and kids alike to practise balance, coordination and even to use for a spot of yoga. Think of it as an investment piece – it might be a bigger outlay than some of the other toys in the box, but you'll be getting a gadget that grows with your child and can be used as a rocker, a slide, a tunnel, a bridge, a table and even a hammock. The possibilities are endless! Plus it's worth its weight in gold when it comes to the kids watching mum or dad try and balance on it.
Price: From $219; buy from Playhao
Busy Boardies
We're captivated ourselves by the idea of having household objects strapped to a board for us to tinker with – we may have to get one for HoneyKids HQ. These ingenious fidget and exploration boards can be customised to exactly how your toddler will like it, and comes in three different concepts:  travel, wall-mounted or supported with stands. From shoelaces and whistles to light switches and sliding locks (and even a tube to insert ping pong balls into), Busy Boardies incorporates just about everything that mesmerises a tot around your home – but in a safe way! Perfect for mischievous, inquisitive tots (so all of them then).
Price: From $74.99, buy from Busy Boardies
My First Fidget Cube
We've seen the spread of fidget toys from office desks to the pockets of primary school kids (a teacher's chagrin for sure), but toddlers can now join in the fidget fun too. My First Fidget Cube is a tot-friendly version ideal for motor development and sensory play. It clicks, spins and swivels and it fits right into your toddler's hands, plus it's suitable for infants as young as six months.
Price: $7.85, buy from Amazon
Cubetto
This friendly wooden robo has been designed to teach kids how to code, but is completely screen free. By popping coding blocks into a control board, kids can help Cubetto travel the map and go on epic adventures. Kids will end up teaching themselves basic programming with this awesome Montessori-approved toy.
Price: $225; buy from Playhao; www.primotoys.com
Safari Toobs
Sometimes it's the oldies that are still the goodies, and kids have been playing with animal figures for generations. The realistic hand painted figures by Safari Toobs are, we think, especially lovely and sturdy. Pick up pocket-sized minis of regular farm animals, extra large figures of prehistoric creatures and everything in between! This kind of imagination play is great when it comes to teaching little people about real – and mythical  – creatures, and also make an educational opp if you feel it's time for your tot to know all about life cycles. If you prefer to go a little more traditional, try the adorable wooden hand-carved figures from Etsy sellers mielasiela and Japanwave  – fair warning, the shipping prices can get a bit pricy!
Price: $17.90, buy from Lamkins or My Toy Shop; www.safariltd.com
Quiet books
Typically made of a mixture of felt and cloth, a quiet book is an interactive book with an activity on every page for kids to get their hands on – which makes them brilliant for busy little fingers. It teaches an early love for books, and they cover all kinds of topics including telling the time, tying shoelaces, colours and numbers. We love that they are 100% handmade, so if you're feeling crafty, you can try your creative hand at your own project: there are plenty of tutorials and templates online to steer you in the right direction.
Buy from Etsy or create your own
Melissa & Doug Reusable Sticker Pad
Tired of tears caused by stickers that tear? Try cling-style vinyl stickers that kids can use time-and-time again – eco-friendly AND hours of fun! Pads by Melissa & Doug come with 150 stickers and five different background scenes: plenty of scope for sticky imagination! And no more buying sheets and sheets of stickers. Hurrah! These are also a great bring-along when you're travelling with kids. We've tried and tested these lots of times on long flights, and they always prove a winner.
Price: From $7.30, buy from Melissa & Doug or Pupsik Studios
Slime
Slime isn't just a rainy day win, it's also great for sensory play. We grew up with Playdough and Silly Putty so we know just how fun this gooey, squishy stuff is (and we *may* still have a soft spot for it even today). You can get your own tub of slime at any toy store (we especially love Tickle Your Senses for safe and colourful slime options), the odd covert playground dealer, or why not take the DIY approach and make your own gooey, glittery and even edible slime? Just make sure your child is supervised while using, and that they don't decide it's a snack rather than a toy.
Like this story? Here's more we think you'll enjoy:
Robot toys that teach kids coding
Best toy stores in Singapore
Best apps for toddlers and preschoolers
The gadgets kids want
Don't forget to subscribe to our weekly newsletter for the latest updates on all things family-friendly and follow us for sneak peeks and fun moments on HoneyKids Instagram!