Your Weekend Survival Guide
Every now and then every Mum needs a little time-out. A girls weekend away, a retreat, a solo staycation, Mother's Day – they are all essential forms of a mental health check. But going away can be more trouble than it's worth. You want to know that the kids are well taken care of so you're not fretting mid-massage. This requires a lot of forward planning.
Well, to help you get that much-deserved break with a little less hassle, we've come up with an itinerary to help out Dads on Duty. Pass this handy itinerary to the man in your life, kiss your kids goodbye and go hit the duty free…
Friday Night Fun
Get busy downloading an age-appropriate film. If you can't remember how old your kids are then some movies that are a winner for all ages are: Toy Story, Mary Poppins, Shrek, The Wizard of Oz, Monsters Inc, Finding Nemo and the new fave, Frozen. Alternatively, head to the Observatory for a night full of stargazing that will fascinate you and them – we can see constellations from both the Northern and Southern Hemisphere from our position here on the Equator.
Science Centre Singapore Observatory 21 Jurong Town Hall Road, 609433, Each Friday 7:45pm to 10pm, weather contingent.
Toy Story
Friday Night Dinner
Go ahead and speed dial for pizza – you have permission for one night only. Go crazy and put some popcorn in the microwave and hand around some spoons to demolish ice cream directly from the tub.
Peperoni Pizzeria 56 Zion Road, Singapore 247781, p. 6732 3253 (various locations)
Slappy Cakes
Saturday Breakfast
Rise and shine. If you want to turn the first meal of the day into a science experiment then get the kids involved in making pancakes for breakfast and redecorate the kitchen. Or have all of the fun and none of the mess at Slappy Cakes. If you plan to eat out, give the kids a snack to tide them over till you get to your chosen nosherie. Snacks do not include anything from the McDonalds drive-through.
Slappy Cakes 200 Turf Club Road, 01-20/21 The Grandstand, Singapore 287994, p. 6465 1814, Sat-Sun 8am-9:30pm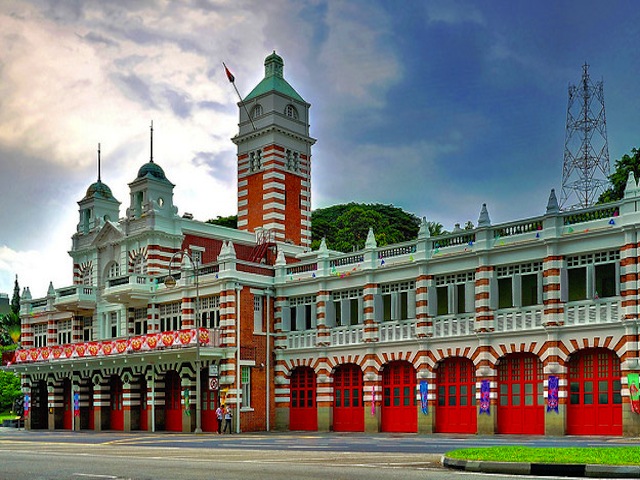 Central Fire Station
Saturday Morning Activity
Earn street cred with the kids and you will have cooperation for the rest of the weekend. Start out strong with a visit to the Central Fire Station and Civil Defence Heritage Gallery. You may not get to see fire, and that's a good thing, but a chance for the kids to ride in a fire truck and handle a high-pressure hose should compensate nicely.
Civil Defence Heritage Gallery, 62 Hill St, Singapore, 179367, p. 6332 2996. Open Tues – Sun 10am – 5pm
Rain contingency:
The Infant and Toddler Atelier at Blue House runs Dad and Me and Family Connections sessions on a Saturday Morning. Call them to book. For something fun with older kids, take them ten-pin bowling. Lots of laughs will be yours with this one.
Blue House 2 Turf Club Road, Singapore, 287988, p. 67340824, Saturday 10am
SuperBowl 6 Raffles Boulevard #03-200 Marina Square, Singapore, 039594, p. 6334 1000, Daily 10am-1am
Blue House Infant & Toddler Atelier
Saturday Lunch
Robertson Quay is not too far from the Central Fire Station and the unassuming Kith Café with its family clientele will give you a brief respite from kid wrangling while they play on the grass. Inject some caffeine, throw down a sarnie and get your commiserating looks with other dads out the way, because then you need to chase the kids around and stuff bites of BLT into their mouths. Malnourishment will get you banned for parenting for life. And no, no high chairs here last time we checked, so you will be running.
Kith Watermark at Robertson Quay, 7 Rodyk St, #01-28, Singapore, Sat-Sun 7am-6pm
Amped 
Saturday Afternoon Activity
Happiness is: a path, a scooter and a beautiful breeze. The promenade and paths of Labrador Park provide some quality scootering options for little and big kids. You know you're supposed to pack the helmets and knee pads but we know you didn't so at least get an emergency number ready in case head meets concrete.
Rain contingency:
Trampolining at Amped will have them bouncing off the walls. But you will need to book in advance. Alternatively, grabs some books and pull up a branch at My Tree House in the basement of the Central Public Library.
Central Public Library 100 Victoria St, #01-01, Singapore, 188064, p. 6332 3255, Mon-Sun 10am-9pm
Amped  369 Tanjong Katong Road, Level 2, Singapore, 437126, p.8669 4894, Sat 10am-10pm, Sun 10am-9pm
Image courtesy of Choo Yut Shing
Saturday Dinner
It might seem a bit posh but Jamie's Italian does great kids meals and the process of selecting them is fun for kids. Vintage View Masters will keep them occupied for a few minutes while you choose a brew. Hooray for beer o'clock. Back to the menu – kids can choose from standard options like burgers, spag bol and chicken kebabs but their presentation is the bomb and meals are healthy to boot. If the kids eat the contents of the little salad jars, you're really winning. A post-dinner walk along the boardwalk to watch the boats is usually a hit or just go home and put your feet up.
Jamie's Italian 1 Harbourfront Walk, #01-165-167 Vivocity, Singapore, 098585, p. 6733 5500
Jamie's Italian
Sunday Breakfast
It's maids day off and we're guessing you don't want to do any washing up. A great escape is The Riders Café at Bukit Timah Saddle Club. It's a bit cowboy, a bit country and a calm break for the sake of your sanity. The best bit? Pony rides are available between 10:30am and 1pm for a very reasonable $10. Ride'em!
Riders Cafe 51 Fairways Drive, Singapore, 286965, p. 6466 9819. Open Sun-Thurs 8am to 9pm
Bukit Timah Saddle Club
Sunday Morning Activity
If the weather is fine, a place not too far from The Saddle Club where the kids can burn off more energy is Watten Estate Park. This is a park like so many others but what makes it good is the shade provided by big leafy branches. You still need to slip, slop, slap and douse your little ones in insect repellent but they're less exposed here. Pack a bucket and spade for sand play and rub them down with talcum powder afterwards so you don't take a beach home with you.
Watten Estate Park, Corner of Watten Estate Road and Hillcrest Road, off Bukit Timah Rd
Rain contingency
To bring the outdoors inside head to the Flower Dome at Gardens By The Bay. Cool, calm and dry. Another option is the Science Centre Singapore where there are too many activities to mention and the kids can keep busy and interested for hours. We currently love the Human Body Experience exhibition where you get to go inside the squishy oversized insides of a person.
Gardens by the Bay 18 Marina Gardens Drive, Singapore, 018953, p.6420 6841, Daily 9am-9pm
Science Centre Singapore 15 Science Centre Road, Singapore, 609081, p. 6425-2500, Daily 10am-6pm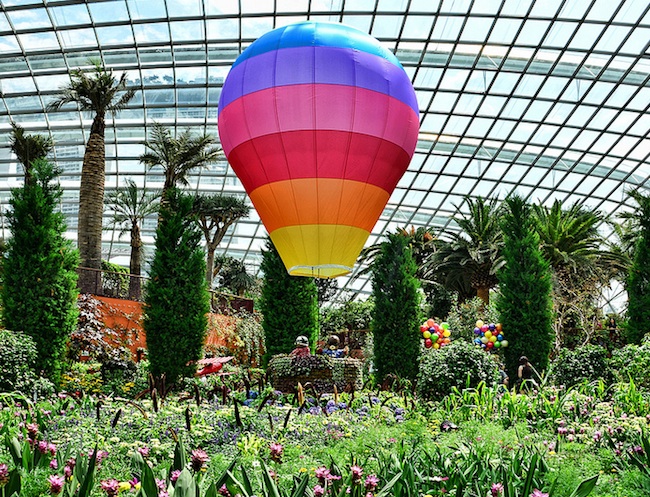 Gardens By The Bay
Sunday Lunch
No roast today but we reckon Din Tai Fung should become a family custom. It's good because the kids will eat it, they will make a huge mess that you are not responsible for and it's a novel way to get greens inside little bodies (if they don't fall on the floor). The Paragon branch is handy because you can use the valet parking. But if you ended up at The Flower Dome try the one at Marina Bay Sands.
Din Tai Fung, Paragon Shopping Centre, 290 Orchard Road #B1-03 Singapore 238859, +65 6836 8336
Din Tai Fung
Sunday Afternoon Activity
A not-so-oldie-but-a-goodie, Port Of Lost Wonder is a good way to beat the heat and guarantee tired bodies at bedtime. It's fairly manageable with multiple rugrats and one parent, provided they're not too little. Otherwise, opt for the wet weather suggestion. Don't be a pirate – we know you want to get on their level and role play but you just seem scary. Do pack swimmers, swim hats and swim nappies if required.
Port of Lost Wonder Palawan Beach, Sentosa, p. 6736 8672. Daily 10am-6:30pm
Rain contingency:
Speaking of role-play, The City at Liang Court is an immersive playground for kids where they can pretend to shop, visit the doctor or be a policeman. They can even be superheroes. Note: the costumes are too small for you. Alternatively, visit Eat Play Love for caffeine (you) and crafting (them).
The City 177 River Valley Road, #03-04A Liang Court, Singapore, 179030, p. 6250 6507, Open Daily 10am-7pm
Eat Play Love  Aliwal Arts Centre, 28 Aliwal Street #01-07 Singapore 199918, Daily 12pm-10pm
Sunday Dinner
High-five. You're on the home stretch now. You've also earned one more beer. For an easy dinner where the food is decent, the kids can play, the outlook is good and the beer is cold, descend on Brussel Sprouts at Sentosa. After the kids have enjoyed a free meal (yep, free all weekend apparently), kick back and relax while the kids scooter as the sun goes down.
Brussel Sprouts, 31 Ocean Way, #1-01 Quayside Isle, Singapore, 098375, p. 6684 4344
Well done, you've survived! And more importantly, so have they. Job done!